Harnessing Labor Vote Essential to Clinton's Chances in Nevada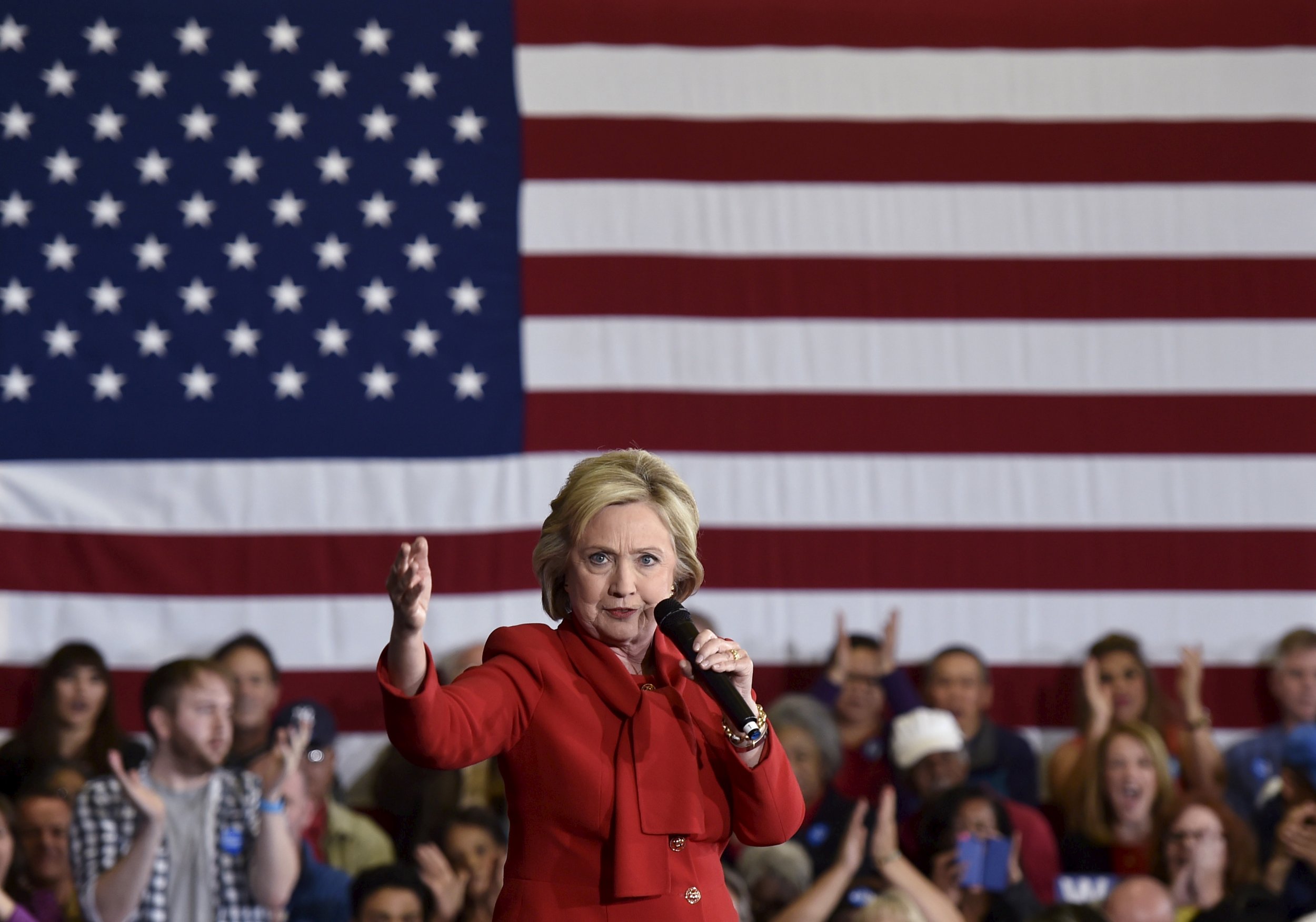 With polls showing a tightening race in Nevada, presidential candidate Hillary Clinton's labor allies are going all out to turn out the vote for her in Saturday's Democratic caucuses. Clinton's backing from some of Nevada's major labor unions gives her a significant operational edge in a state known for low turnout. If Bernie Sanders can overcome that disadvantage on the ground and still win the Silver State caucuses Saturday, it will be the most telling sign yet that Clinton's campaign is in trouble.
A poll of Nevada voters released Wednesday night shows the Democratic race in a dead heat, which caught prognosticators by surprise. The assumption has been that Clinton's organizational advantage—in addition to having more labor support, Clinton had staff on the ground six months before Sanders did—would make her impossible to catch in the state. That Sanders has been able to close the gap, thanks to enthusiasm of his supporters, has lent even more urgency to the pro-Clinton voter drives.
Professor Eric Herzik, chairman of the political science department at University of Nevada Reno, cautions that "it's hard to measure" where voters stand in a caucus, which requires more commitment than primary voting. Voters can also register to vote as Democrats the morning of the caucuses, which start at 11 a.m. PT. But, Herzik says, "I do think it's close."
"Labor knows it, the Democratic Party mainstream knows it—and they're really pulling out all the stops for Clinton," he adds.
Their ground game has ramped up accordingly. The Service Employee International Union's (SEIU) Nevada state director, Brian Shepherd, says his organization has knocked on roughly 37,000 doors and enlisted 10,000 voters who've pledged to back Clinton. And it has 59 precinct captains on the ground organizing, all of whom are first time caucus goers. Teachers unions have been hosting daily precinct walks in Clark and Washoe counties. And members of the American Federation of State, County and Municipal Employees (AFSCME) have knocked on more than 3,500 doors, while teaming with other unions backing Clinton to conduct more than 10,000 personal conversations about how to caucus for the former secretary of state.
Ruben Murillo, president of the Nevada State Education Association, says his organization is working with other labor groups, such as the SEIU, AFSCME and the building trades union, to conduct voter outreach in the days and hours leading up to Nevada's caucuses. "We anticipate our members are going to be turning out," Murillo says.
But neither he nor others are expecting the record turnout the caucuses saw in 2008. That Democratic primary featured a fierce contest between Clinton and Barack Obama, drawing nearly 120,000 voters to caucus sites across the state. Herzik says credible estimates he's seeing this time around are "saying 70,000, tops."
That is likely to hurt Sanders more than Clinton. As in Iowa and New Hampshire, the Vermont senator is relying on young people and other first time voters to buoy him at the polls. But Nevada has "nowhere near the voting base that you had in Iowa and New Hampshire, we just don't have that many college students," says Herzik.
Sanders does have one major labor backer: National Nurses United, which has brought in 200 nurses from around the country to knock on doors in the Las Vegas area in the final days and urge voters to caucus for Sanders.
There's also a major labor X factor: Las Vegas's Culinary Union Local 226, the single most powerful labor force in the state, decided to stay out of the Democratic primary this year. In 2008, the union gave a late endorsement to Obama, sparking a tug-of-war between the Illinois senator and Clinton supporters over caucus locations and more. Clinton, however, ultimately won the election, with many votes from Culinary Union members.
Culinary Union spokeswoman Bethany Khan says the organization has educated its members about polling locations and how to caucus, but "we have left it up to the members" who to vote for. The union, Khan says, is more focused now on contract negotiations for tens of thousands of its member and organizing campaigns at several Las Vegas casinos (including one owned by GOP frontrunner Donald Trump).
That doesn't mean Clinton and Sanders haven't tried to court the union's members. Both showed up to walk the picket line with members protesting their health care costs at Las Vegas's Sunrise Hospital on Thursday. And both Clinton and Sanders are making heavy plays to Latino voters, who make up a majority of the Culinary Union, including television ads pledging their support for immigration reform. But the Culinary Union's decision not to flex its considerable organizing muscle muscle Saturday means more voters are likely to stay home.
The SEIU's Shepherd says that in his many hours of door knocking, mostly in low-income Latino, African-American and Asian neighborhoods, he's hearing strong enthusiasm for Clinton, which he doesn't think is reflected in the polls. "Bernie is just not someone people know very well on the ground," Shepherd says. "They're supporting Hillary."
Clinton's campaign is hoping he's right. Though they're likely to more or less split the state's delegates, a loss to Sanders in the caucuses would still be "pretty damaging," says Herzik. "People have said that Nevada is the first firewall. If she loses it, then she's down to one firewall."