Hillary Clinton and Democrats Likely to Joust Over Immigration at Debate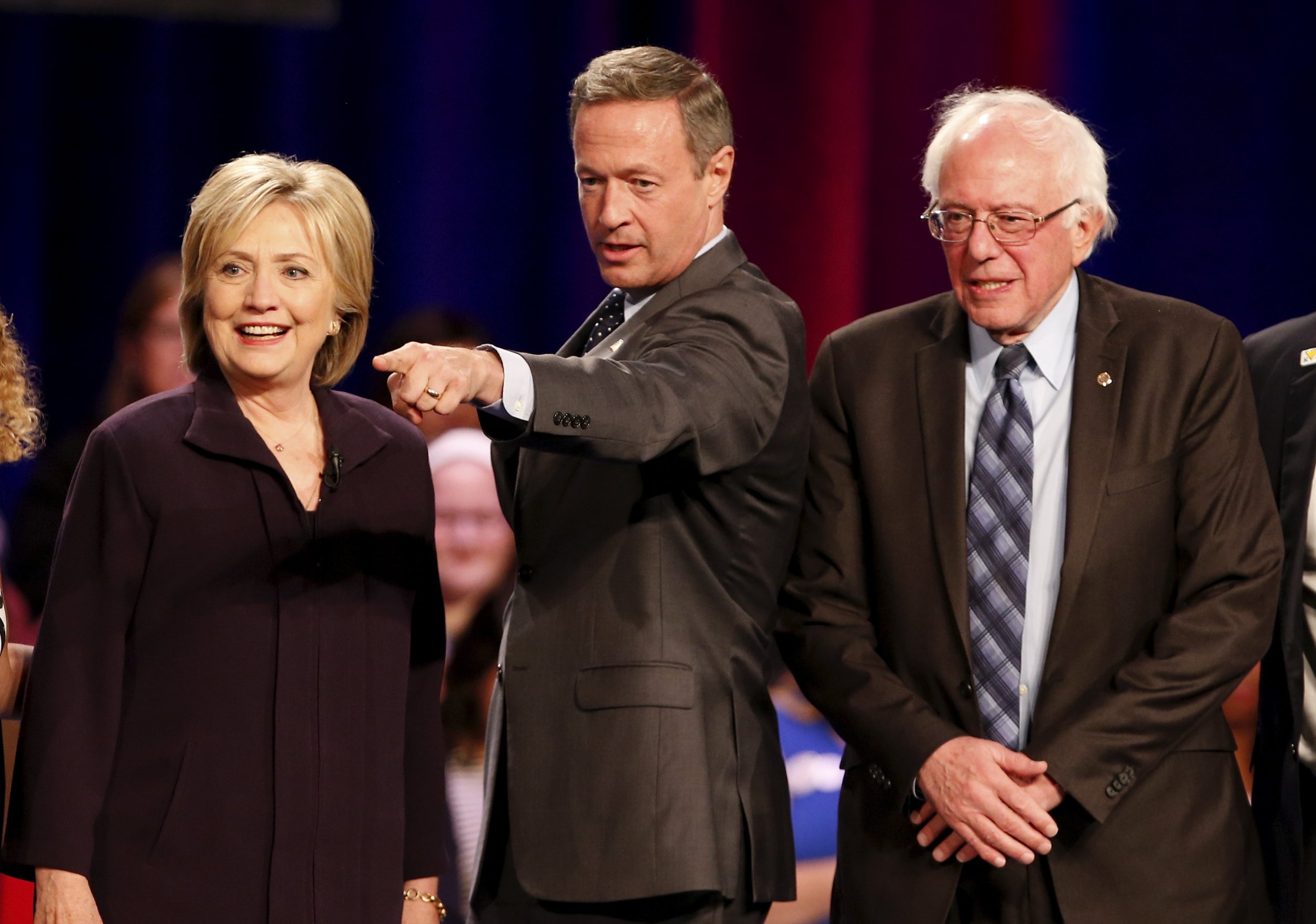 Immigration has become a hugely divisive subject in the Republican Party. Now Democrats are seeing their own unity on the subject start to fray, with differences among the presidential candidates poised to be front and center at the presidential debate Saturday night in Iowa.
Democrats' disagreements on immigration policy aren't nearly as deep as the Republicans', to be sure. All three candidates—former Secretary of State Hillary Clinton, Vermont Senator Bernie Sanders and former Maryland Governor Martin O'Malley—agree on the need for comprehensive reform that includes a path to citizenship for immigrants in this country illegally—and, barring that, for executive action to protect many classes of people living here from deportation. Instead, the debate that's sprung up on the campaign trail in recent weeks is over who is the strongest devotee to the cause and is aimed, mainly, at peeling away Clinton's overwhelming advantage among Latino voters.
O'Malley, who languishes in the single digits in the polls, is trying to claim that mantle. He seized on Clinton's decision not to attend an immigration forum in Las Vegas last weekend, with his campaign accusing her of "dodging questions" from immigration reform advocates and attacking her record on immigration in the Senate. At the forum, O'Malley went after Sanders as well, accusing him of "falsely asserting that immigrants take our jobs or lower our wages."
O'Malley is poised to continue his assault on Clinton's and Sanders' immigration records on the debate stage at Drake University in Des Moines on Saturday. But they may try to turn the spotlight onto his own background on immigration reform as a mayor and governor of Maryland.
Much of the scrutiny facing Clinton and Sanders zeroes in on 2006 and 2007, when efforts to pass comprehensive immigration reform gained steam in Washington, pushed by President George W. Bush and Senate leaders. Clinton voted for the final bill; Sanders voted against it, unhappy with its guest worker provisions, which he suggested at the time would hurt U.S. workers. However, at the Democrats' first presidential debate, in October, the Vermont senator framed his 2007 opposition as a defense of guest workers. "They're working under terrible conditions, but if they stand up for their rights, they're thrown out of the country," Sanders said in October.
Moreover, both Sanders and Clinton voted for amendments to the proposed 2007 legislation that raised questions about their commitment to reform at the time. The two senators (along with then-Senator Barack Obama) supported an amendment that would have required the guest worker program to sunset after five years. The labor-backed proposal was dubbed a "poison pill" by conservative Washington Post columnist Robert Novak and others, because its narrow passage weakened business support for the reform bill.
Sanders also sponsored an amendment to dramatically increase fees for high-skilled worker visas, which was approved despite opposition from the business community and particularly tech companies. The income from the high-skill fees would go to a scholarship program for native-born students. Sanders has continued to push for limits on high-skilled worker visas, known as H1-B visas, in the years since, arguing that companies should hire Americans instead. And his rhetoric on guest workers and borders continues to be affected by concerns over the impact on American labor, something that came through at a Q&A with the U.S. Hispanic Chamber of Commerce in July.
Clinton, it's worth noting, sponsored an amendment to the 2007 immigration bill that would have removed limits on visas for the spouses and minor children of immigrants with permanent resident status. It was voted down. And in 2003, 2005 and 2007, Clinton co-sponsored the Dream Act, which would have legalized immigrants living here illegally who came to this country as children. Sanders joined as a co-sponsor in 2007.
Clinton, however, was also one of 26 Democrats (Obama was another) to vote for a 2006 bill that would have required more fencing, as well as other forms of security, along the southern border with Mexico. Sanders voted against the Secure Fence Act in the House that year. Both Clinton and Obama backed away from their support in the 2008 presidential race.
Clinton's support for border security measures has come back to the fore in recent days, in light of comments she made at a New Hampshire town hall Monday. "I voted numerous times as a senator to spend money to build a barrier to try and prevent illegal immigrants from coming in, and I do think you have to control your borders," she said in response to a question. She continued, "We also need to deal with the families, workers who are here who have made contributions and their children."
The O'Malley campaign immediately attacked her language and focus on border security. Immigration reform activists are also expressing dismay.
"The use of the words illegal immigrants is offensive," says Kica Matos, director of immigrant rights and racial justice at the Center for Community Change, one of the groups in the Fair Immigration Reform Movement that hosted the forum in Nevada last weekend. Matos also expressed disappointment at Clinton's absence from that forum. "The fact that she wasn't there sent a very strong and disappointing message to the immigrant rights movement."
O'Malley has been playing offense on immigration policy, talking up his signing of Maryland's version of the Dream Act in 2011, which granted in-state college tuition to immigrants living here illegally. When he was mayor of Baltimore from 2000 to 2006, O'Malley's administration proactively recruited Latinos to move to the city to make up for its population loss, even offering grants to Hispanic homebuyers (which raised some eyebrows in the legal community). Earlier this year, Forbes rated Baltimore the No. 3 city where Hispanics are thriving economically.
Gustavo Torres, executive director of the Maryland-based immigrant rights organization CASA, points out that as mayor, O'Malley "played an extraordinary role to open the first day labor center for Latinos and African-Americans" in Baltimore.
But he might have to play some defense as well. The Maryland Democrat's record on driver's licenses for immigrants in this country without legal permission is a twisty one. In 2008, the new governor reversed his state's policy allowing people to get licenses without having to prove they were legally in the country. At the time, Maryland was under pressure from Obama's Department of Justice to comply with a new federal law that barred states from granting licenses to immigrants in the country illegally, acknowledges Maryland Delegate Ana Sol Gutierrez, a longtime state lawmaker now running for Congress.
Still, she and other immigration activists were disappointed by O'Malley's move. They continued to push for a new law that would both comply with federal mandates and grant the immigrants licenses to use in the state. And O'Malley's spokeswoman, Haley Morris, says the governor "never stopped fighting on this issue." In 2013, he signed legislation granting restricted licenses.
O'Malley may also face questions about deportation. The Baltimore Sun found last year that since 2009, Maryland had one of the country's highest rates of deportation of immigrants living here illegally but with no prior criminal record, while O'Malley was governor. Though the state didn't have authority over most of these deportation cases—which were carried out by local law enforcement—activists like Gutierrez believe O'Malley could have used his platform to speak out against them, or declare that the state opposed the deportation policy.
"We asked him, 'Show your leadership on this issue,'" recalls Gutierrez, who endorsed Clinton in 2008 but is staying out of the primary this time around.
After the Sun's analysis came out, however, O'Malley did move to reduce deportations at the one state-controlled facility, announcing that Baltimore's state-run jail would no longer comply with a U.S. Immigration and Customs Enforcement program to hold and deport immigrants living in the country illegally. And to CASA's Torres, O'Malley "did was exactly what governor was supposed to do."
While the candidates are likely to spar over these and other stances taken in the past, Matos, for one, is more interested in the present. Asked about Sanders's opposition to the 2007 immigration reform law, she replies, "The Sanders from 2007 is a very different Sanders than today. At our forum, he was very clear where he stands on immigration," including pledging to make reform a priority in his first 100 days in office. Matos also lauded the O'Malley campaign's immigration policy platform. But she's concerned about Clinton, saying the past week "has been a huge setback."
It's unlikely that one week of bad press is going to be enough to topple Clinton's standing among Latinos—a September MSNBC/Telemundo/Marist poll showed the former first lady enjoying a double-digit advantage over the rest of the Democratic field in her favorability rating with Latinos. And she has plenty of defenders, including Gutierrez, who credits O'Malley's advocacy but insists Clinton has been "an absolute champion for immigration reform."
Enthusiasm, however, will be a factor. Democrats need Latinos to turn out to win the general election. So everyone, not just activists, will be watching closely to see how Clinton and other Democrats respond to immigration policy questions Saturday night.