Democrats Compromised on State, Local Aid, COVID Vaccine Funding in Bipartisan Relief Deal
Legislators have just weeks to pass another relief bill before the end of the year and while a bipartisan proposal may be a sign that there's still hope, it's unclear if Speaker Nancy Pelosi will sign onto it since it's missing quite a number of items from the House-led HEROES Act.
More than 50 legislators are backing a bipartisan relief package that was unveiled on Tuesday, one of the few bipartisan plans to be proposed since the CARES Act passed eight months ago. If passed, it would provide much-needed aid to businesses and people who are unemployed, whose crucial benefits are set to expire at the end of the month, as well as end a months-long stalemate between Democrats and Republicans.
At $908 billion, it's more than a trillion dollars less than the $2.2 trillion updated HEROES Act that the House passed along party lines in October, meaning getting Democrats on board will require them to make concessions.
While the bipartisan bill has yet to be crafted, based on the outline legislators provided at the unveiling, Democrats will have to be willing to give up another round of stimulus checks, funding for the census and election resources, money for the prison system, Second Chance grants and Violence Against Women's Act programs, as well as a number of other provisions in the HEROES Act.
Newsweek reached out to Speaker Pelosi for comment but did not receive a response in time for publication.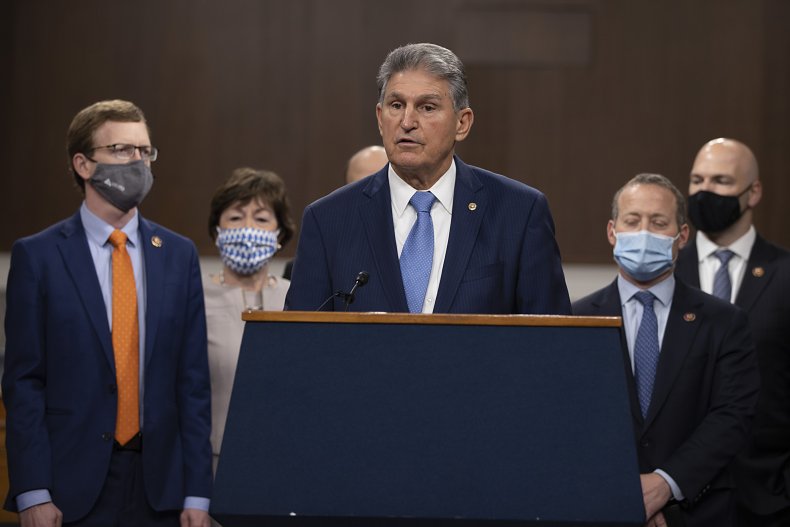 A major sticking point for Democrats has been providing sufficient aid to state and local governments who have had added expenses because of the pandemic and are taking in less revenue. Republicans have pushed back on the idea, calling it a "bailout" for poorly run Democratic cities and states.
Legislators included $160 billion for state, local and tribal governments in the bipartisan package, $276 billion less than Democrats had in the HEROES Act. Democrats also included territories in their bill, allocating $9.5 billion to assist them with the fiscal impacts of the pandemic. Since the bipartisan bill hasn't been drafted yet, it's possible the language could change to include territories.
Based on the framework provided, it also appears there's no funding for COVID-19 treatment, a provision that was in the HEROES Act. The Democrat bill included $103 billion for vaccine development and distribution, testing and contact tracing and treatment. The bipartisan plan, as it stands now, allocates $16 billion for vaccine development and distribution and testing and tracing. The framework did not specifically include treatment.
Legislators who crafted the package acknowledged that neither side of the aisle would be entirely happy with the package. It doesn't include everything Democrats had in their packages and for Republicans, it's about $300 billion more than what many GOP members were looking to spend.
In the "spirit of compromise," Pelosi and Senate Minority Leader Chuck Schumer said they believe the bipartisan framework should be used as the "basis for immediate bipartisan, bicameral negotiations." The Democratic Party leaders plan to offer "improvements" and highlighted the need for funding to distribute the vaccine and aid to the state and local governments that will be tasked with carrying out the distribution effort.
They urged Senate Majority Leader Mitch McConnell to come to the negotiating table, but it's unclear if the two sides will be able to find common ground. The Republican Senate leader has pushed for a targeted relief package and rejected the bipartisan proposal, saying "we don't have time to waste."
Adding in more of what Democrats incorporated into the HEROES Act will likely only push McConnell and some other Republicans farther away from the bipartisan plan. Despite legislators coming together to try to move a package through both Chambers to President Donald Trump's desk, it seems the one thing both Democrat and Republican leaders agree on is that the other side is to blame for why Americans haven't received the relief they need.