Democrats Condemn Betsy DeVos Over 'Downright Cruel' Decision to Bar DACA Students From Getting Coronavirus Relief
Education Secretary Betsy DeVos has come under fire after her department announced that it would be barring "Dreamers," or people brought to the U.S. illegally as children, from accessing emergency funding set aside for students who have experienced disruptions due to the coronavirus pandemic.
The announcement came on Tuesday, as the Department of Education sought to provide clarification on how funding in the $2.2 trillion CARES Act stimulus package, which was approved by Congress last month, could be used to support college students.
In a fact sheet released on the emergency relief fund, the department made clear that grants could only be given to students who are eligible for federal aid under Title IV of the Higher Education Act, thereby excluding students who are Dreamers, who are able to live, study and work in the U.S. under the Deferred Action for Childhood Arrivals program.
In a statement shared with The Hill, Education Department spokesperson Angela Morabito defended the decision, saying: "The CARES Act makes clear that this taxpayer funded relief fund should be targeted to U.S. citizens, which is consistently echoed throughout the law."
While the Education Department has defended the decision, saying that relief funds should be dedicated to U.S. citizens specifically, the decision to exclude Dreamers has been met with widespread condemnation, with Democrats accusing DeVos and the Trump administration of being unnecessarily "cruel."
"This is downright cruel," California Sen. Kamala Harris, who had previously been a contender in the 2020 Democratic presidential race, said in a tweet. "Betsy DeVos proves once again she's unfit to serve all our nation's students."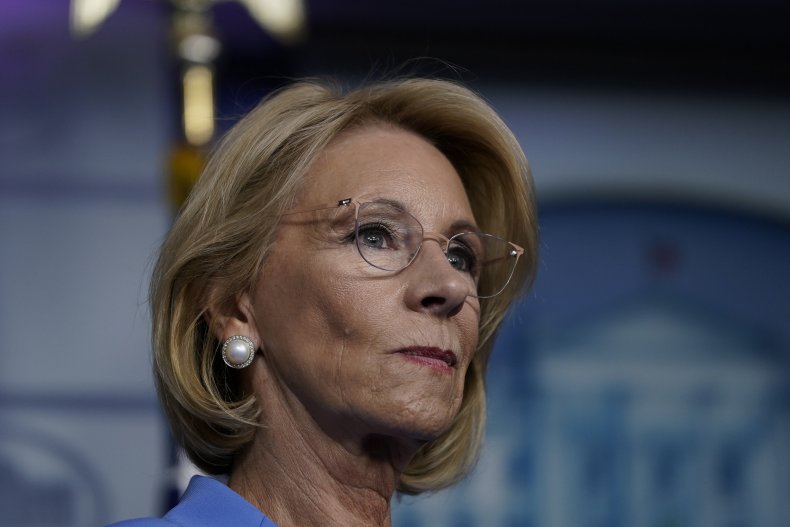 Connecticut Sen. Richard Blumenthal also struck out at the exclusion, saying "DeVos denying aid to DACA students hurts [and] hinders these young people [and] America."
"Our nation needs their talents & training," Blumenthal said, before accusing DeVos of emulating "Trump's most insidious instincts."
California Rep. Barbara Lee also admonished the Trump administration's plan, pointing out that in the wake of the coronavirus pandemic, DACA recipients trained as healthcare workers in the U.S. have been among those on the frontlines in combating the coronavirus pandemic.
"Immigrants are many of the frontline workers, putting their lives at risk every day to keep the rest of us safe," Lee said. "Betsy DeVos blocking DACA students from receiving federal funding is dangerous and wrong," she said.
"DACA students already face barriers to accessing higher education and getting work," Arizona Rep. Ann Kirkpatrick said. "Excluding them from relief funds is just setting them up for failure."
Newsweek has contacted the Education Department and Democrats for further comment.