Some Democratic lawmakers and other immigrant advocates condemned U.S. Immigration and Customs Enforcement (ICE) on Monday after the federal agency shared what many saw as a tone-deaf message in commemoration of Martin Luther King Jr. Day.
ICE has faced significant backlash under the administration of President Donald Trump, due to hardline immigration policies such as the highly controversial decision to separate thousands of childrens from their parents at the southern U.S. border with Mexico. Progressive Democratic lawmakers have become staunch critics of the agency and its targeting of undocumented immigrants. They have repeatedly called for the government to abolish or defund ICE altogether.
In a Monday Twitter post, ICE wrote: "Today we honor Dr. Martin Luther King Jr.'s message of hope, justice and equality." The tweet included an image featuring the dates of the Civil Rights leader's life and a quote: "The time is always right to do what's right." Many scoffed at the message.
"You should sit this one out," former Democratic presidential hopeful Julián Castro, who served as Housing and Urban Development Secretary under former President Barack Obama, tweeted.
Representative Alexandria Ocasio-Cortez, a New York Democrat, retweeted ICE's post and wrote: "Abolish ICE."
Representative Rashida Tlaib, a Michigan Democrat, shared the same message as a hashtag: "#AbolishICE."
Civil Rights lawyer Zahra Billoo told the agency: "Delete your account. Abolish ICE."
"hey are you the guys who just spent four years kidnapping brown kids, adopting them out to white families, and then forcibly sterilizing a bunch of people," journalist Sam Thielman wrote, replying to the ICE post. He continued: "Remember when y'all disappeared all the parents at the meatpacking plant on the first day of school? That was a real MLK moment."
Some on Twitter pointed out that King would have likely called for the abolition of ICE if he had been alive today, while others described the post as "disrespectful" to the Civil Rights leaders' legacy. "Ice tweeting about MLK feels like peak irony," Daily Beast editor-at-large Molly Jong-Fast tweeted.
Newsweek reached out to ICE's media office for comment but did not immediately receive a response.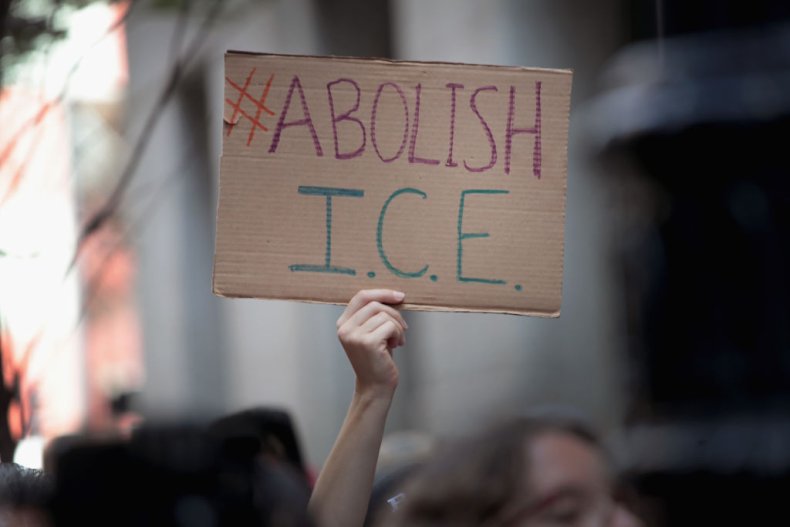 During his lifetime, King was often vilified by politicians and law enforcement. He was viewed by many as a radical as he advocated for progressive policies—such as universal basic income—that progressive Democrats push for today.
"Injustice anywhere is a threat to justice everywhere. We are caught in an inescapable network of mutuality, tied in a single garment of destiny. Whatever affects one directly, affects all indirectly," King wrote in Letter from the Birmingham Jail, which was first published in 1963.