Democrats Confident House Will Pass $2 Trillion Social Spending Bill This Week
House Democrats will iron out intraparty tensions to pass the roughly $2 trillion social spending and climate package through the chamber when lawmakers return this week, said a Biden administration official and top progressive lawmaker on Sunday.
After months of negotiations and delay, Democratic leaders passed President Joe Biden's bipartisan infrastructure bill through the House last week, with six progressive defectors and 13 Republicans breaking with their party to push the sweeping package over the finish line.
With Congress reconvening Monday, Democrats are now turning their attention to advancing the larger, revised spending bill, which has been linked for months with the infrastructure bill.
"We will have a vote this week on the Build Back Better Act," Rep. Pramila Jayapal, the chair of the Congressional Progressive Caucus, said on MSNBC's The Sunday Show. "The vast majority of this, thanks to the work of the progressive caucus over the past five weeks, has been agreed to by everybody."
Democrats have reached an agreement about passing the bill through the House, the Washington Democrat added, but it will be up to Biden to unify moderates behind the package once it reaches the Senate.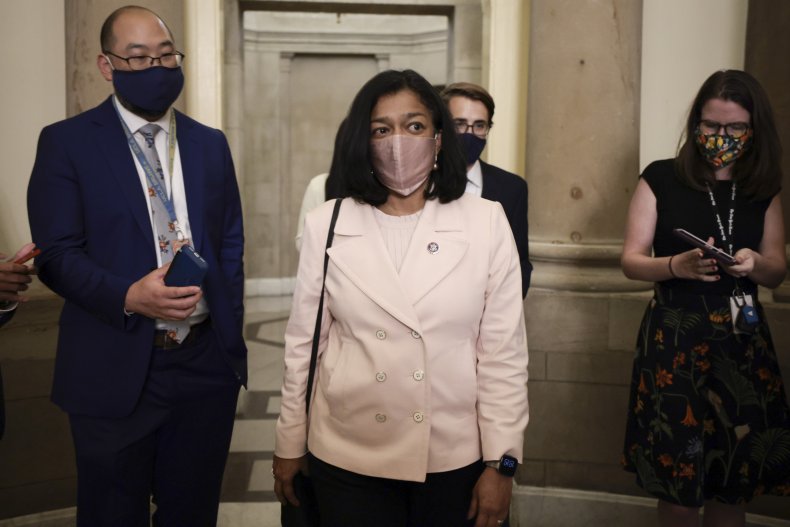 Brian Deese, a top White House economic adviser, confirmed that the House is scheduled to consider the legislation this week.
"It will get a vote, it will pass," he said on CNN's State of the Union.
The White House released a framework for the revised spending bill late last month, which includes universal pre-kindergarten, expanded access to health care for seniors, climate change initiatives, and other Democratic priorities.
However, free two-year community college and lower prescription drug prices were among some of the measures removed from the initial $3.5 trillion package.
With several self-imposed deadlines already missed over the past few months, Senate Democrats signaled this weekend that debate in the chamber over the spending bill will likely slip to later November or early December.
Senate Majority Leader Chuck Schumer told his caucus in a letter sent Sunday that the party will "likely" prioritize the National Defense Authorization Act "as we await the House passage of the Build Back Better Act."
Schumer had previously predicted that the Senate could pass the bill one week after it's approved by the House.
The fractured party plans to pass the bill through a budget process called reconciliation, with a simple majority and without Republican support.
For it to clear the 50-50 split Senate, the bill will need the support of moderate Sens. Joe Manchin and Kyrsten Sinema who have yet to fully endorse the package despite negotiating significant cuts, frustrating progressives in the caucus.
Newsweek reached out to the White House for comment.