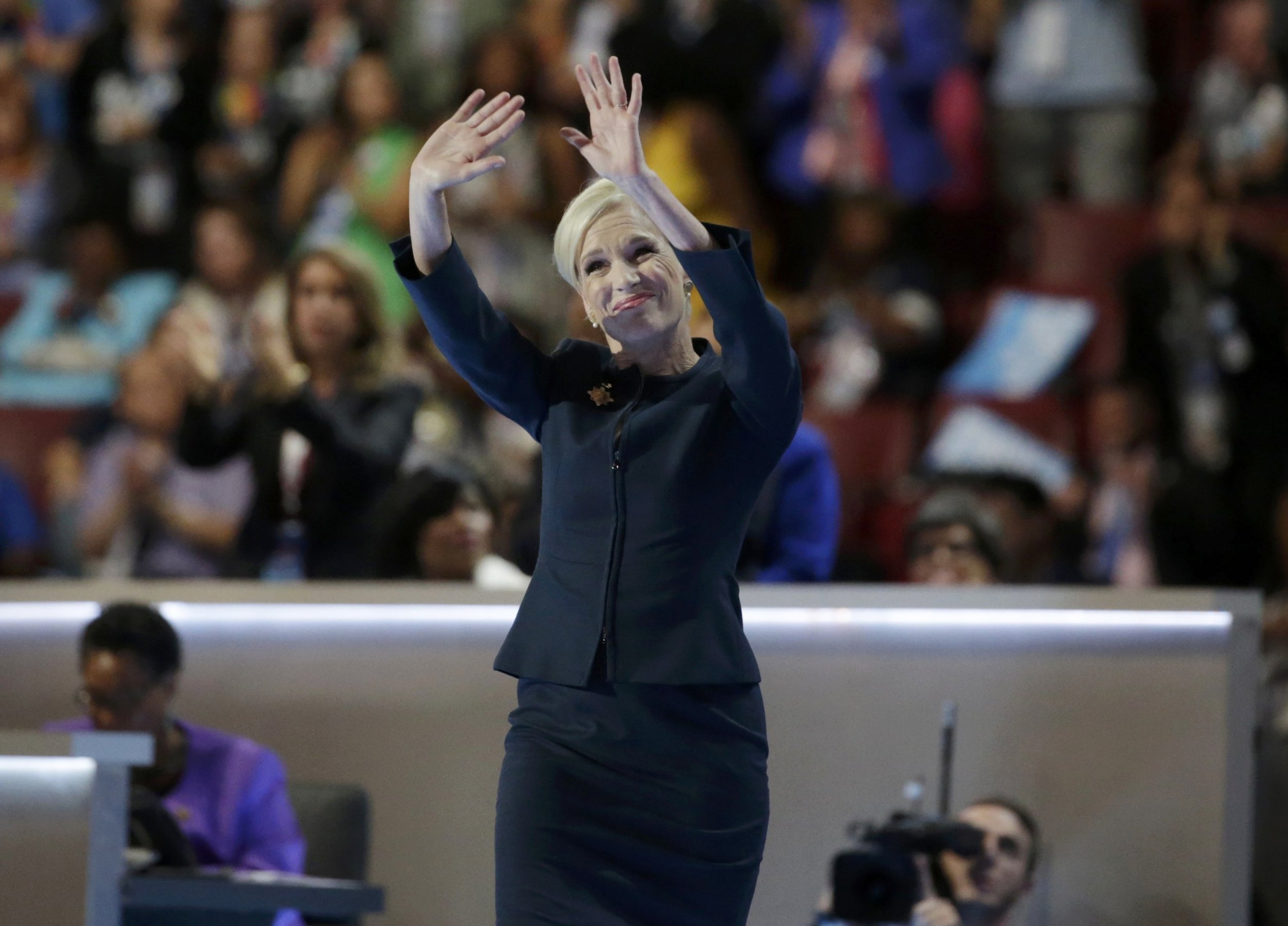 Abortion rights activists were on the defensive last year, pummeled by conservatives and Republicans in Congress after a series of anti-abortion sting videos stirred controversy, ultimately debunked, about Planned Parenthood. But the movement has come roaring back in 2016, and nowhere is this more obvious than at the Democratic National Convention in Philadelphia. Groups such as Planned Parenthood and NARAL have a big presence in the city this week and on the convention lineup—a stark contrast to Republicans' convention in Cleveland last week. For a party that made strict regulation of abortion a major plank of its 2016 platform, there were surprisingly few mentions of abortion and Planned Parenthood at the GOP confab.
It is perhaps the starkest example of the gaping divide between the parties, at least as to how they've chosen to present themselves to the nation during the wall-to-wall convention coverage this month. It's no longer just that Republicans and Democrats disagree: On some issues that are usually political touchstones, like abortion and terrorism, one or the other party is hardly speaking at all, leading to some pretty one-sided conversations.
On Monday night at the Wells Fargo Center, former President Bill Clinton was shown on TV cameras taking in the convention speeches in a box above the crowd. Sitting right next to him was Cecile Richards, president of national women's health at abortion provider Planned Parenthood. Richards had her own speaking slot on Tuesday night, when she told the crowd that Democratic nominee Hillary Clinton "will always stand up for Roe v. Wade," the Supreme Court decision that legalized abortion "and the right of every woman to access a full range of reproductive health care, including abortion, no matter her economic status." Meanwhile, she warned that GOP nominee Donald Trump "has pledged to appoint justices who will overturn Roe v. Wade and undo decades of progress."
In addition to Richards, Ilyse Hogue, president of reproductive rights advocacy group NARAL Pro-Choice America, and Stephanie Schriock, president of the group EMILY's List, which raises money for Democratic women candidates who favor abortion rights, will address the Democratic convention on Wednesday evening. According to anti-abortion group Susan B. Anthony's List, that lineup reveals the Democrats' "abortion extremism."
Trump, for his part, did not mention the word abortion once last Thursday during a convention speech that set a record for length among presidential nominees. (Nor did he say anything about protecting the sanctity of life or Planned Parenthood, for that matter.) His running mate, Mike Pence, has been one of the anti-abortion movement's most staunch supporters in recent years but mentioned the "sanctity of life" just once during his remarks in Cleveland.
Abortion and women's reproductive health aren't the only issues that are getting marquee billing in Philadelphia but flew under the radar in Cleveland. Climate change and energy policy are also front of mind among Democrats—elected officials and activists alike—but got far less traction with Republicans last week. A few speakers at the GOP convention did criticize Clinton's attacks on the coal industry and promised to support coal energy, most prominently West Virginia Senator Shelley Moore Capito. And a prominent Trump surrogate on energy, Harold Hamm, founder and CEO of Oklahoma-based oil company Continental Resources, talked up efforts to promote American energy independence and the role of fossil fuels. But the volume of Republican discussion in Cleveland doesn't come close to rivaling the bounty of energy- and climate-related discussions (and protests) going on in Philadelphia.
It all started with an anti-fracking, pro-green-energy march that drew thousands of environmental activists to the city's streets on Sunday. An anti-fracking activist also interrupted a Politico forum on energy and climate change on Wednesday. Tom Steyer, a billionaire environmentalist who is a major Democratic donor, has been a regular presence at convention-related functions this week, while League of Conservation Voters President Gene Karpinski is slated to address the convention on Thursday to advocate for policies to prevent climate change. Other convention speakers, including most prominently Senator Bernie Sanders, have also emphasized the issue during the first two days.
Both Steyer and Karpinski spoke Tuesday at a reception in Philadelphia put on by leading environmental groups, where a who's who of activists and progressive Democratic officials celebrated the party's move to the left on energy: The Democrats' platform calls for a carbon tax and makes it a goal to get 100 percent of the country's energy from renewable sources by 2050. "It's a historic platform," says Rhea Suh, president of the National Resources Defense Council Action Fund, a climate advocacy group that made its first presidential endorsement—of Clinton—this year. "Eight years ago, we didn't discuss climate in the DNC platform. Fast-forward eight years: We're not only talking about climate—we're going really big. That's a profound shift that demonstrates the commitment of the party," Suh tells Newsweek at the event.
For their part, Republicans have made much of the very noticeable lack of focus on national security—and specifically terrorism—among the Democrats' convention speakers thus far. "Last night we heard 61 speeches and not one mention of ISIS," Republican National Committee Deputy Communications Director Raj Shah pointed out in an email to reporters late Tuesday night, referring to the Islamic State militant group that has inspired attacks in the Middle East, Europe and the United States. "And tonight, after hearing so few mentions they could be counted on one hand, the convention played a 4 minute, 47 second video designed to burnish Clinton's foreign policy bona fides, without a single mention of the greatest terror threat we face."
Terrorism and security are likely to come up more on Wednesday night, with a slate of speakers that includes military veterans and spouses. But for a convention that has nominated a former secretary of state as president, the Democrats' gathering has been remarkably light on security talk, both inside and outside the convention hall. Part of that is by design: The party has opted to highlight "togetherness" (the word is in the theme of three of the four nights of the convention) and efforts to support all stripes of Americans, in order to set up a contrast to the doom-and-gloom message that came out of the Republican convention. And it certainly makes for a stark comparison.
Shaped by Trump, the Republicans last week painted a picture of an America under attack—from border crossers, from criminals and, yes, from ISIS. Crime and law and order were repeated themes in Trump's speech, as well as those of many speakers throughout the week, including former Attorney General Michael Mukasey and former New York Mayor Rudy Giuliani. When the Democrats have mentioned crime in Philadelphia, it's either been to debunk claims by Trump and his supporters that crime is rising (as former Attorney General Eric Holder did last night) or to call for criminal justice reform.
One surprising area where the two parties have found agreement: Wall Street reform. Both the Democratic and the Republican platforms this year call for a reinstatement of a banking regulation known as Glass-Steagall, which separates investment and commercial banking operations. Few people in Cleveland or Philadelphia, however, have been talking about that rare piece of common ground.