Democrats Criticize Trump Administration Over 'False Equivalences' Between Iranian and Russian Election Interference
Democratic lawmakers have criticized President Donald Trump's administration over what they see as conflating Iranian election interference with Russian efforts, which they argue are far more serious and pose a significantly greater threat.
Director of National Intelligence John Ratcliffe—who was appointed by Trump and took office in May despite significant objections from Democrats—said Wednesday that Iran had been behind a series of emails threatening voters to back the president in the election. He said that Iran and Russia had both obtained voter registration information, but suggested that the U.S. was seeing more action from Tehran than Moscow.
Democrats were quick to question this assessment.
"America should fight back against any foreign country that is trying to interfere in our election, no matter what that country's agenda is. But all year, the Trump administration has been desperately trying to bury information about Russian interference and overhype efforts by Iran and China. The truth is simple—only Russia has both the capability and intent to significantly disrupt our election," Senator Chris Murphy, a Connecticut Democrat, who sits on the Senate Foreign Affairs Committee, said in a statement emailed to Newsweek.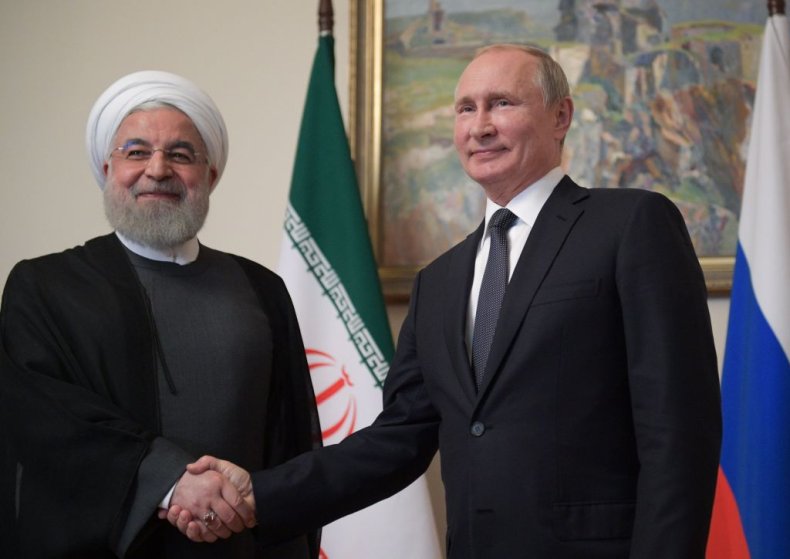 "If Director Ratcliffe is serious when he says we will not allow foreign interference in our elections, then this administration would actually do something to deter the Kremlin rather than withhold information about Russian interference and create false equivalences with other nation's efforts," the senator said.
Representative Eric Swalwell, a California Democrat, raised similar concerns in a Thursday interview with CNN.
"To put them [Iran and Russia] in the same league would be like putting a serial killer and a pickpocket on America's Most Wanted," the congressman said. Swalwell suggested that the Trump administration is attempting to distract from a Russian influence campaign, as 2016 efforts were confirmed by special counsel Roberty Mueller's probe as well as multiple intelligence agencies to have attempted to bolster Trump and disparage former Democratic presidential nominee Hillary Clinton.
Newsweek reached out to the White House for comment, but did not receive a response by the time of publication.
Intelligence agencies have repeatedly warned that Russia is once again working to interfere in the U.S. election. They have also pointed to efforts by China and Iran. But Trump has long been dismissive of Russian efforts, which have cast a long shadow over his tenure in the White House. At a summit with Russian President Vladimir Putin in June 2018, Trump suggested publicly that he trusted his counterpart in Moscow over U.S. intelligence agencies.
"President Putin says it's not Russia. I don't see any reason why it would be," he said. Although Trump later tried to walk back the comment, Democrats and critics of the president have seized on the remark, along with other similar comments, to repeatedly raise concerns about his domestic leadership and foreign policy goals.
As for Iran and Russia, both nations have vehemently denied any effort to interfere in the election.
"You said that Russia is actively meddling. And I am saying that we are not meddling in anything. Moreover, all investigations that have been officially conducted in the U.S., including using such an institution as a special prosecutor, did not lead to anything, they resulted in the assertion of absence of proof of Russia's interference," Putin claimed inaccurately during a Thursday meeting, Russian news agency Tass reported.
Iran dismissed the allegations as well. "Unlike the U.S., Iran does not interfere in other country's elections," Alireza Miryousefi, the spokesperson for Iranian mission to the United Nations tweeted on Wednesday.