Many Democrats Don't Want to Hear About Donald Trump at the Upcoming Primary Debates
Democratic voters largely do not want to hear about President Donald Trump on the debate stage in Miami on Wednesday, when the party will kick off a two-day round of primary debates, the first of the 2020 election cycle.
According to a new Morning Consult/Politico poll ahead of Miami's matchup, Democratic voters are most concerned with hearing from candidates about public policy issues, such as climate change, gun violence prevention and abortion access.
Sixty-three percent of self-identified Democrats indicated that a discussion of climate change was "very important" during the first pair of debates, the largest share to indicate a strong preference for any policy issue surveyed. A further 23 percent thought the issue was "somewhat important" for candidates to address.
Notably, the Democratic National Committee ruled out a dedicated primary debate focused on climate change, spurning Washington governor and 2020 candidate Jay Inslee's calls for a climate-centered event.
Newsweek subscription offers >
"The DNC is silencing the voices of Democratic activists, many of our progressive partner organizations, and nearly half of the Democratic presidential field, who want to debate the existential crisis of our time," Inslee said in a statement in early June. "Democratic voters say that climate change is their top issue; the Democratic National Committee must listen to the grassroots of the party."
Inslee is the most vocal candidate running in the Democratic primary on a platform to combat the climate crisis. On Tuesday, the climate advocacy organization Greenpeace deemed Inslee's Fossil Fuel Free plan, which would attempt to wean America's energy infrastructure off of oil and natural gas, a "gold standard" for environmental policy.
Democratic voters were similarly unified in their desire to hear from 2020 candidates on gun policy, with 62 percent saying it is very important to feature the topic at the upcoming debates. Democratic women, while aligned with their male counterparts on nearly every other issue, pulled out ahead of Democratic men by 10 points on the importance of including gun policy. Fifty-seven percent and 67 percent of Democratic men and women, respectively, thought the addition of gun policy questions was "very important" on the debate stage in Miami.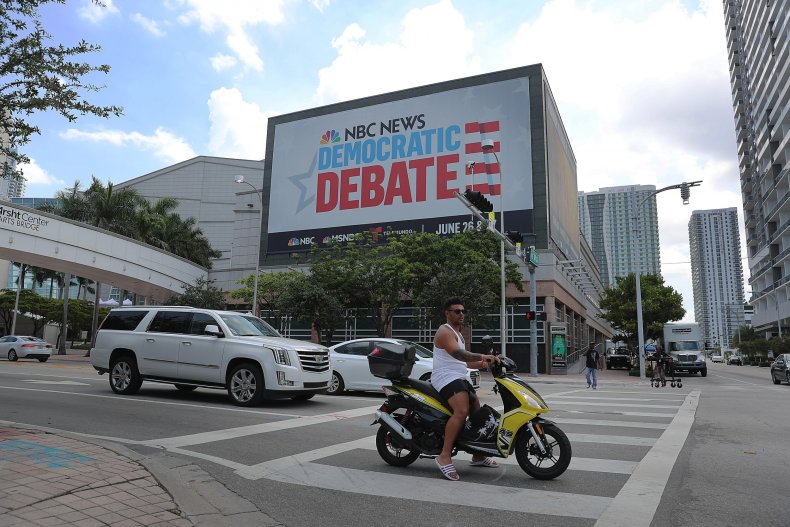 Newsweek subscription offers >
As much as Republicans believe the crop of new abortion bans in Midwestern and southern states would galvanize conservative voters, it appears the measures have had a comparable impact on left-wing voters. Sixty percent of self-identified Democrats want to hear from the party's candidates about the recent abortion bans, one of which would effectively outlaw abortion at nearly every stage of pregnancy if it goes into effect later this year. The issue has gained an urgency on the left that mirrors the swiftness with which the bans that have been enacted since January.
In the first six months of 2019 alone, nine states passed severe new restrictions or effective bans on abortion, setting up a protracted court fight that has alarmed Democrats now that President Trump's nominee Brett Kavanaugh has taken his seat on the Supreme Court. The recent polling around abortion reflects the escalating conflict, especially among Democratic women, who believe it's very important for candidates to discuss the issue by a margin of seven points over their male counterparts.
Healthcare issues outrank other broad policy categories as the top item for Democratic voters during the debates. When asked to select a singular issue that the party's candidates should focus on, 22 percent of self-identified Democrats chose healthcare, including discussions around the Affordable Care Act, Medicaid and reproductive health, as the most important by a slim margin. Nineteen percent chose issues related to the economy and 15 percent chose issues important to elderly Americans.
Despite the president's dominance of national news headlines and his foreign policy interventions that have rattled global markets, Democratic voters are not keen on hearing much about the current administration. While Trump remains historically unpopular, only 44 percent of Democratic voters think it very important to discuss the president specifically during the primary debates, less than the share of Democrats who want to hear about infrastructure or education reform.
An even smaller proportion of Democrats want to hear about the signature items of Trump's campaign platform, such as the U.S.-Mexico border wall and relations with North Korea. Twenty-five percent and 38 percent, respectively, of Democratic voters find it "very important" for their party's candidates to discuss those issues.
According to the survey, only 38 percent of Democrats feel "very motivated" to watch the first primary debates, though 56 percent of Democrats believe the debates are very important.
The first Democratic primary debates will occur on Wednesday and Thursday from 9 p.m. to 11 p.m. ET in Miami and will be co-hosted by NBC News, MSNBC and Telemundo.
Many Democrats Don't Want to Hear About Donald Trump at the Upcoming Primary Debates | Politics