Democrats Deliver Rubbish Labelled 'Trump Trash' From National Parks to White House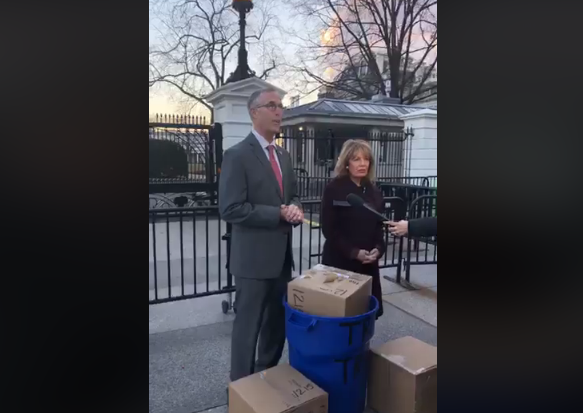 Two Democratic representatives collected garbage from national parks and delivered it to Donald Trump at the White House today to remind the president of the consequences of the government shutdown.
In a Facebook live video, California Reps. Jackie Speier and Jared Huffman can be seen carrying bins labeled "Trump Trash" to the White House before addressing awaiting reporters. "Together on a very rainy Saturday in San Francisco, we joined with volunteers to clean up trash that was overflowing at the Golden Gate National Recreation Area because of Donald Trump's government shutdown," Huffman said in front of the White House.
The congresssman went on to urge the president to end the government shutdown, pointing to the trash as one of the tangible consequences that Americans currently face.
"We are doing this to provide hopefully a reality check to our president … So that he understands that his political stunt, shutting down the government over the border wall, has real world consequences," he said. "Trash like this—diapers, burrito wrappers, coffee cups—is building up in parks we represent and in national parks all over the country."
"Soon we'll have enough to build a wall perhaps, but it's a real problem for people that want to visit these parks, the volunteers that have stepped up to try to maintain them and for hundreds of thousands of federal employees who shouldn't have to go weeks and weeks without knowing if they're going to get a paycheck," Huffman added.
Although a majority of national parks have remained open during the partial government shutdown, which entered it's 18th day today with no breakthrough in sight, maintenance has been halted, resulting in piles of rubbish overflowing from bins across America.
The shutdown went into effect last month after Trump declined to sign a stop-gap bill to keep it running through the New Year because it didn't include the $5 billion worth of funding he demanded for a wall along the U.S-Mexico border. This evening the president is set to address the nation on primetime television to explain the situation.
Commenting on the scheduled primetime address, Huffman said: "We don't need a nationally televised address from the White House to solve this problem tonight, what we need is for president Trump to wake up and smell the coffee cups and the diapers and the burrito wrappers and the trash that is piling up."
Approximately one quarter of U.S. departments have been impacted by the shutdown, with more than 800,000 workers either furloughed or working unpaid. Throughout the past three weeks, Speaker of the House Nancy Pelosi has repeatedly stated that Democrats will not cave and allow Trump funding for the wall.