Democrats Discuss Imposing New Taxes on Stocks, CEOs and Carbon Emitters
Democrats on the Senate Finance Committee are discussing proposals to implement a variety of new taxes in an effort to fund President Joe Biden's $3.5 trillion budget reconciliation package.
According to a document circulated to a number of news outlets, the taxes could include a levy on stock buybacks where a company repurchases shares it originally placed on the market. The move could also reduce corporate deductions on the compensation of CEOs and impose further taxes on companies whose payment to executives exceeds the average worker pay by a certain ratio. The document also proposed raising taxes on carbon emitters.
News of the proposals follows a number of meetings held by Senate Finance Chair Ron Wyden (D-Ore.), who has worked to gauge the interest of committee members about what measures they might support as the party looks to secure new funding streams.
Moderate Senators Joe Manchin (D-W.Va.) and Kyrsten Sinema (D-Ariz.) have expressed concerns over the price tag tied to Biden's budget proposal. Sinema has said she does not support the $3.5 trillion cost and Manchin recently penned a Wall Street Journal op-ed expressing concerns over inflation.
"Ignoring the fiscal consequences of our policy choices will create a disastrous future for the next generation of Americans," Manchin wrote in his op-ed. "I, for one, won't support a $3.5 trillion bill, or anywhere near that level of additional spending, without greater clarity about why Congress chooses to ignore the serious effects inflation and debt have on existing government programs."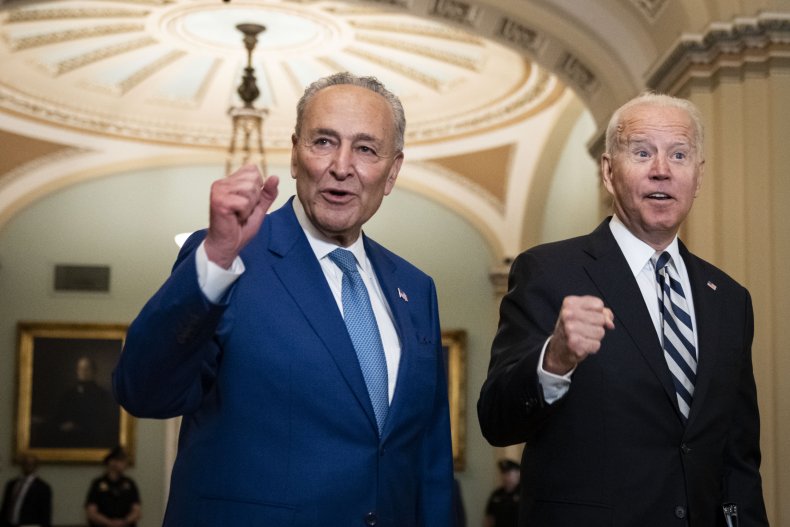 Economists for years have debated over what effect the national debt could have on the future of the country. Some have said it would hurt private investment and result in inflation while others have said that phenomenon has not proved true, urging the nation to invest while interest rates stand at historically low levels.
NBC reported that the document does not stand as a final set of policy proposals. Instead, it said that the bill is meant to spark discussions around ways in which the party could look to increase tax revenue.
Biden's proposal includes $726 billion allocated to health and education investments that would include universal pre-k, tuition-free community college and childcare funding. It also designates $198 billion to clean energy development aimed to combat climate change. As the United States continues to combat environmental devastation, most recently following the destruction left by Hurricane Ida, Senate Majority Leader Charles Schumer (D-N.Y.) sees the bill as a step forward.
"In our analysis of the combined impact of both the Infrastructure Investment and Jobs Act and the Budget Resolution's instructions, we are on track to reduce U.S. emissions to approximately 45 percent beneath 2005 levels by 2030," Schumer wrote in a "Dear Colleague" letter.