Democrats Edge Over Republicans With Latinos Lowest Since 1994, Poll Shows
Citing the state of the economy as a critical issue, a new Bienvenido poll offers the latest evidence that Democrats may continue to slip with Latino voters in November, and also provides very early data that could come into play next year as the Republican presidential primary kicks into high gear.
The poll, conducted by WPA Intelligence, which has worked for Senator Ted Cruz, Virginia Governor Glenn Youngkin, and the Republican National Committee, found that 54% of Hispanics planned to vote for Democrats, while 33% backed Republicans on the generic ballot.
The poll showed that the 21-point margin would be the closest Republicans have come with Latinos since 1994, with the Democrats' lead cut nearly in half in just four years, from the 40-point advantage they enjoyed in the "blue wave" of 2018.
"Republicans are on track to maintain their 2020 gains with Hispanic voters, who are clearly frustrated with an economy they see as leaving them behind," WPA Intelligence partner Bryon Allen told Newsweek.
"Improving upon 2020 won't be easy," he added, "with nearly 40% of Hispanics living in California, Illinois, New York, and New Jersey. But as this poll shows, the GOP can improve, especially with Spanish-dominant Latinos."
The Republican-led poll was weighted against census data and a Pew-verified voters study, which is derived from a breakdown of 2020 voters. WPA Intelligence partnered with Visto Media to conduct a national poll of 1,288 registered Hispanic voters that included 1,086 likely voters.
Recent robust samples of Latino voters this fall have produced similar findings to the Bienvenido poll, with a Pew survey of 3,029 Latinos showing a 25-point Democratic lead, 53% to 28%.
A National Association of Latino Elected and Appointed Officials (NALEO) tracking poll of 532 voters found the same 25-point margin as Pew did, at 55% to 30%.
"Five weeks into our tracking poll, it's becoming clear that Republicans have gained significant ground with Latino voters since the last midterm cycle," NALEO CEO Arturo Vargas said. "Latino voters are perceiving Republicans as less hostile towards them compared to 2018, and Republican outreach to Latino voters is at its highest level in our five weeks of polling."
A Democratic pollster said the slight difference in the generic ballot could be due to the partisan breakdown of voters. The Bienvenido poll has a breakdown of 50% Democrat, 32% Republican, and 15% independent, which the pollster argued is about 7 points high for the GOP and 5 points low for independents.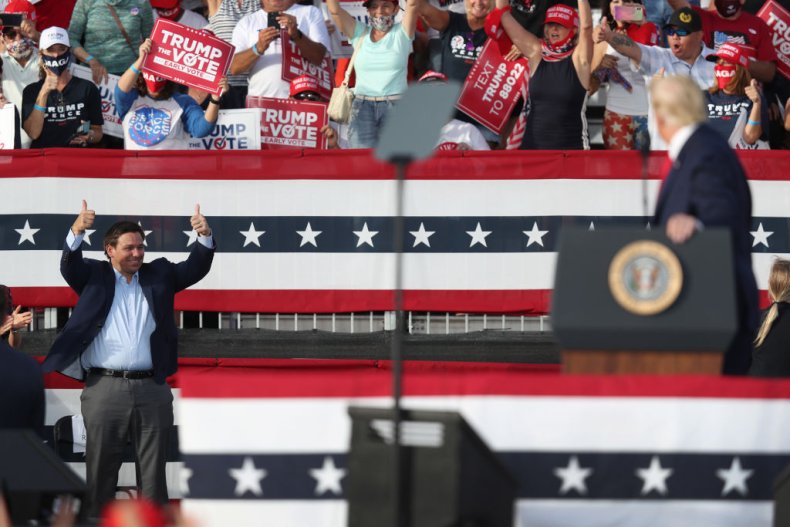 The poll, which found that 56% of Hispanics believe the country is on the wrong track, also showed 56% of Latinos do not want President Joe Biden to run for re-election. The poll pinpointed the economy as the issue bringing Biden and Democrats down, with 26% saying it is in good or excellent condition, but 74% calling the economy fair or poor.
Republicans involved with the poll see opportunity in specific issues in the findings.
While the 21-point Democratic advantage in the generic ballot is good news for Republicans, the margin is closer on inflation, the economy and jobs, and crime, which leads them to believe there is further room to improve with Hispanic voters.
The poll also found nuance on the issue of immigration.
While 76% agreed that those in the U.S. illegally who committed serious crimes should be deported, 74% supported allowing undocumented immigrants to remain in the country if they are otherwise law-abiding, pass a background check, and pay any associated fines.
Beyond the midterms, one of the polls most interesting findings may relate to the coming 2024 presidential election, where former President Donald Trump is expected to announce his run after November, and Florida Governor Ron DeSantis has seemingly also positioned himself for a run for the presidency.
DeSantis had a higher net favorability rating among Latino voters, at 5%, while Trump's was the lowest of those polled, at -13%, an 18-point differential.
In comparison, the poll found Biden's net favorability to be 7%, with Vice President Kamala Harris at 4%.