Democrats' Election Advice to Candidates: Make It All About Health Care
Health care, health care, health care.
If Democrats and their congressional hopefuls didn't already know the 2020 election and the fight to fill a Supreme Court vacancy is all about health care, they do now.
Rep. Cheri Bustos, chairwoman of the Democratic Congressional Campaign Committee (DCCC), explained to House Democrats and candidates across the country on Friday why "Americans' health care is on the ballot," and Justice Ruth Bader Ginsburg's recent death "only raises the stakes for Americans who need health care."
That is according to an internal memo sent by the Illinois Democrat that was provided to Newsweek.
The two-page document briefly outlines the messaging strategy as November 3 approaches, further representing the belief among party leaders that the vacant seat Republicans are so quickly trying to fill is a winning issue for Democrats at the ballot box.
"The choice in this election is clear: Democrats are the party of health care," Bustos wrote. "Republicans are the party of unrelenting attacks on your health care so insurance companies can turn away Americans battling COVID-19, cancer or diabetes."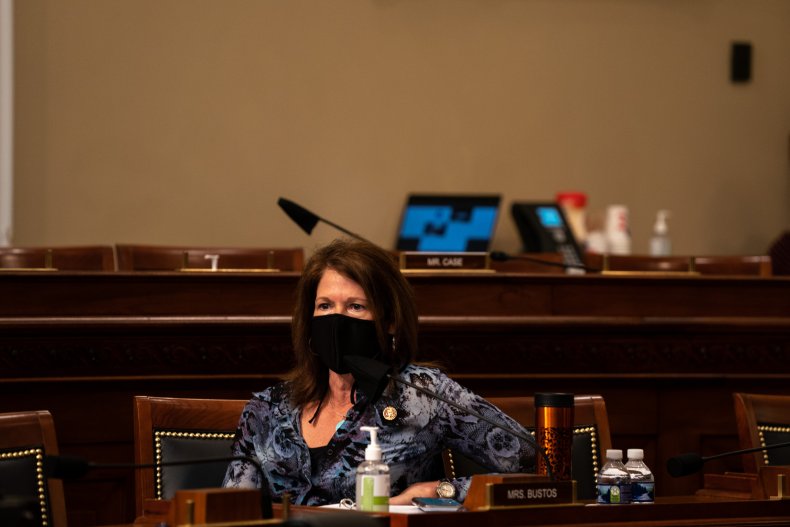 Senate Majority Leader Mitch McConnell (R-Ky.) is moving at breakneck pace to replace Ginsburg before Election Day. Democrats warn that by doing so, abortion rights and access to health care through the Affordable Care Act are at stake. President Donald Trump is expected to nominate a pro-life candidate, who would give the highest court a 6-3 conservative slant and likely strike down—or severely restrict—the Obama-era health care law and Roe v. Wade.
"[McConnell] will turn over heaven and earth to confirm a Justice to the Supreme Court who will strike down protections for people with pre-existing conditions," Bustos said.
The Supreme Court will hear oral arguments in a case brought by Republican attorneys general and supported by the Justice Department that seeks to dismantle the Affordable Care Act one week after Election Day. Congressional Republicans remain without a potential fix, should tens of millions of Americans suddenly find themselves without insurance and protections for pre-existing conditions. And despite Trump making promises since he was a candidate in 2016, he's yet to unveil an alternative health care replacement.
Bustos' memo came a day after Trump signed two executive orders aimed at protecting pre-existing conditions and surprise medical billing. However, the directives appeared to be more of a messaging strategy just weeks before an election that is so focused on health care.
Trump touted his move as one that "reduces the cost of prescription drugs," among other things, but failed to mention it requires congressional approval. And pre-existing conditions are already covered under the Affordable Care Act.
Bustos advised Democrats to campaign on the uncertainty that lies ahead in a post-Ginsburg world.
"Republicans have not paused their assaults in the wake of her passing," Bustos said. "Rather, it has presented them with another opportunity to eliminate protections for people with pre-existing conditions, and they are all too eager to grasp it."