Democrats Expand Investigation into Personal Email Use by Ivanka Trump, Jared Kushner and Others
House Democrats are expanding their probe into whether certain current and former White House officials may have violated federal records laws by conducting official government business on personal devices or accounts and then failed to properly preserve such communications.
In a letter to White House counsel Pat Cipollone on Monday that was released by the House Oversight Committee, Democratic Chairman Elijah Cummings requested all communications by White House officials who sent or received government business messages through personal accounts and did not forward them to their government accounts within 20 days, as is required by the Presidential Records Act for preservation.
Those White House officials include senior adviser Ivanka Trump, the president's eldest daughter, and her husband, Jared Kushner, also a senior adviser.
The request by Cummings for the content of the communications goes a step further than previous requests issued by the committee in recent years.
The congressional investigation into the administration's compliance with the Presidential Records Act originated with bipartisan roots and stems back to the early months of the Trump administration in 2017. Since then, previous requests by the Republican chairmen of the committee regarding the names and email accounts of White House officials not complying with the records law—as well as how the White House stores such records—went unanswered, according to Cummings.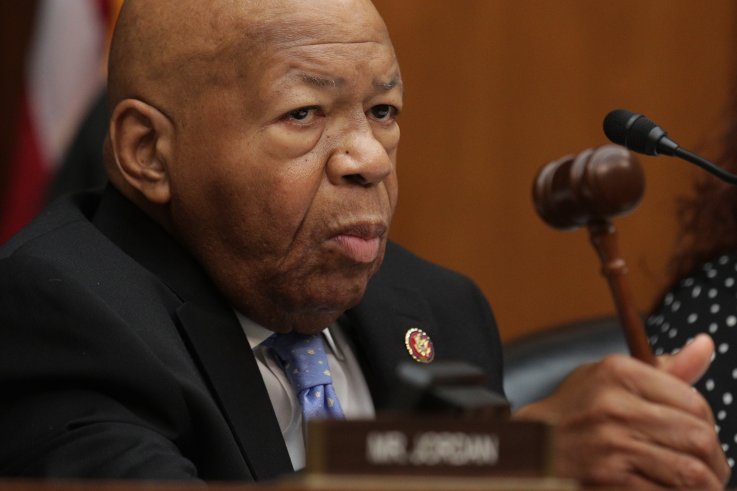 Ivanka Trump, who is alleged to have repeatedly used her personal email account to contact Trump administration officials, has argued that her use of private email for government business has "no equivalency" to that of Hillary Clinton's, a political foe who Trump and his supporters reference when they often chant "lock her up!" at rallies. She said that all of the emails are still available and have not been deleted.
Kushner, who reportedly has used the encrypted texting application WhatsApp to communicate with foreign leaders, took screenshots of his conversations and forwarded them to his official White House email address, according to prior statements by his attorney, Abbe Lowell.
But Cummings expressed skepticism in March following closed-door deposition by Lowell about his client's messaging practices. In a letter to Cipollone, which Lowell later disputed, Cummings claimed that the Kushner attorney acknowledged there were messages by Kushner on WhatsApp to foreign leaders.
Other Trump administration officials who have used their personal email accounts include former chief strategist Steve Bannon. The Mueller report stated that Bannon "regularly used his personal Blackberry and personal email for work-related communications," including with the founder of private military company Blackwater, Erik Prince, and that Bannon "took no steps to preserve these work communications."
In May, Education Secretary Betsy DeVos became the eight administration official believed to have used a personal email account for government business. The remaining officials are senior policy adviser Stephen Miller, former chief economic adviser Gary Cohn, former Deputy National Security Adviser K.T. McFarland and former Chief of Staff Reince Priebus.
Cummings said that his previous requests made to the White House within the past six months for briefings and answers to questions on the matter have also been ignored.
"Unfortunately, over the past six months since I sent my letter, you have not produced a single document, you have not provided any of the requested briefings, and you have not offered any timeline by which these requests will be fulfilled," Cummings wrote to Cipolline. "The White House's complete obstruction of the Committee's investigation for the past six months is an affront to our constitutional system of government."
A GOP spokesperson for Republican members of the Oversight Committee ridiculed Cummings' request for the officials' communications as over-the-top and not the intended purpose of the Presidential Records Act.
"The Presidential Records Act was not intended to create a fishing license for Chairman Cummings to pry into the private communications of the first family," they said in a statement. "This is yet another example of Democrats' unquenchable thirst for any information that would give them the pretense of a predicate for impeachment."
Democrats Expand Investigation into Personal Email Use by Ivanka Trump, Jared Kushner and Others | U.S.