Huge voter turnout in Texas has raised Democratic Party hopes the Lone Star state could be about to turn blue for the first time in more than four decades.
As of Monday, more than nine million Texans had already cast their ballots ahead of the November 3 poll, according to the U.S. Elections Project at the University of Florida.
The turnout to date has already exceeded the entirety of the 2016 vote by 8 percent with early voting surging in all corners of the state, including Democratic strongholds such as Harris County, which includes Houston, and Bexar County.
The developments have given hope to Democrat strategists, who now sense an opportunity to win some of the state's 38 electoral votes to assist with Joe Biden's push for the White House.
A Biden win in Texas, which hasn't voted for a Democratic nominee for president since 1976, would all but eliminate any chance of incumbent President Donald Trump securing re-election.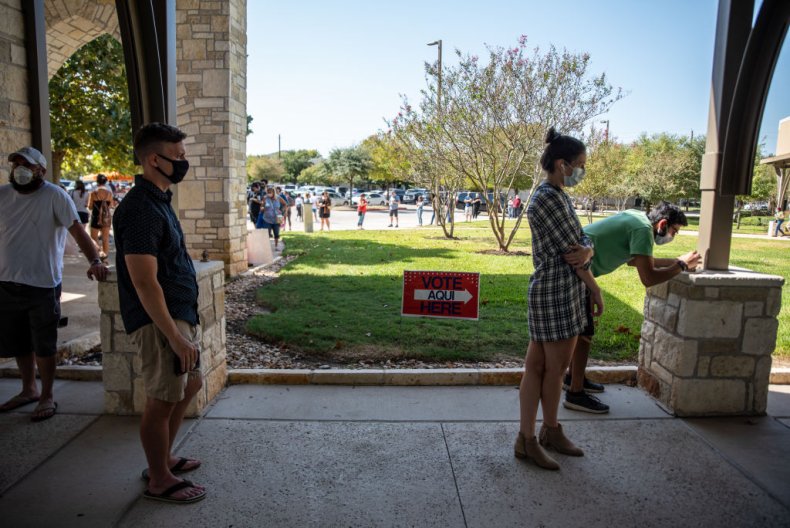 A recent poll conducted by Mark Jones, a political science professor at Rice University, with the University of Houston showed Biden leading among those who had already voted by a 59 percent to 39 percent margin.
Trump, however, led by a similar amount among those who planned to vote on November 3, according to the poll, which was conducted from October 13-20.
"Democrats are clearly dominating the early turnout," Jones told Reuters news agency. "The pivotal issue for Republicans is whether they can get their voters to turn out on Election Day."
But the Chairman of the Republican Party of Texas dismissed speculation the state could be about to turn blue for the first time in 44 years, saying it was "not ready" to be taken by the Democratic Party.
Speaking to Fox & Friends on Sunday, Allan West said 2020 would instead see Trump win again in Texas, following up his 2016 success in the state.
"When President Trump comes out here and as he has been before, you get an incredible response," he said.
West added that the positions taken by Biden on issues such as fracking and the Second Amendment were opposed by Texans, who he said are against the former Vice President's "progressive, socialist, leftist policies."
"Vice President Biden said he wanted to transition away from oil and gas industry. That's not gonna work here in Texas," he said. "Kamala Harris says she wants to take away the Second Amendment by way of executive orders. That is not going to work."
National polling currently shows Biden with a more than 8 percent lead over his rival.
But in Texas, the president and Biden are almost neck-and-neck, according to FiveThirtyEight's poll tracker.
Trump, who carried the state in the 2016 election with more than 53 percent of the popular vote, enjoys the support of slightly more than 48 percent of voters this time around, according to the data collated by FiveThirtyEight. Biden is meanwhile backed by just over 47 percent of the electorate.