Democrats Face 'Time of Intensity' as Biden Bills, Budget Items Await Action, Pelosi Says
Democratic leaders are at a critical crossroads this week as they attempt to pull together support for two of President Joe Biden's sweeping proposals—a $3.5 trillion expansion of the social safety net and a nearly $1.5 trillion infrastructure upgrade—while also trying to prevent a federal government shutdown and avert a looming debt crisis.
House Speaker Nancy Pelosi, in a letter to colleagues over the weekend, described the week as "a time of intensity," describing the confluence of issues coming to a head in the coming days.
"The initiatives of the Build Back Better Act are ones in which President Biden takes a great pride, which House and Senate Democrats share," the California Democrat wrote in her letter announcing a caucus meeting Monday evening.
Biden told reporters on Monday that "victory is what's at stake." And Senate Majority Leader Chuck Schumer, a New York Democrat, accused Republicans of trying to tank the economy, "deliberately sabotaging our country's ability to pay the bills and likely causing the first-ever default in American history."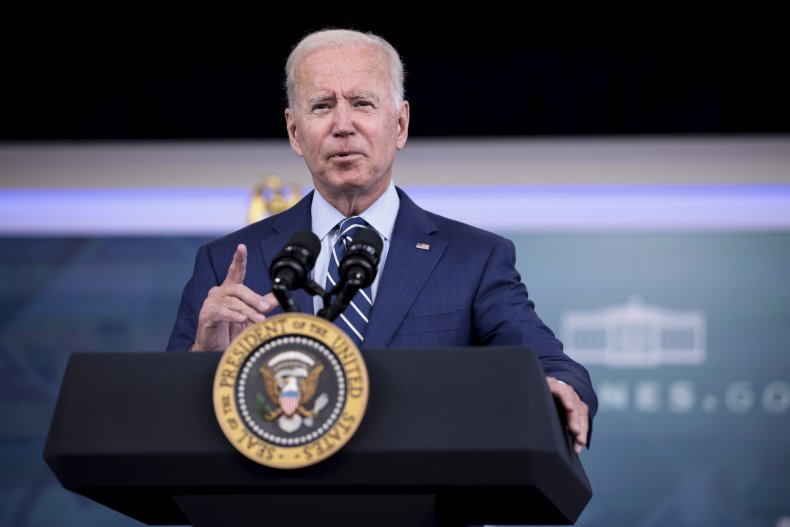 The two Biden bills—some $5 trillion that would be paid for by increased taxes on the wealthy and other revenue raisers—have no hard deadlines and will likely face delays amid internal splintering among the Democrats, who hold razor-thin majorities in the House and Senate.
"It may not be by the end of the week—I hope it's by the end of the week," Biden told reporters during a Monday event where he got his COVID-19 booster shot.
The two bills make up the bulk of Biden's legislative agenda. A failure to pass them while Democrats control the White House and both chambers of Congress could threaten his presidential legacy.
Late last week, Biden acknowledged that negotiations had hit a "hard spot."
"I think this is a process," he said. "I don't expect this to be done—and us being in a position where we can look back and say, 'OK, did we get it done?'—until basically the end of the year."
Biden has spent recent days taking private phone calls and meetings with Democrats across the party's ideological spectrum to try to bust through the stalemate, which has largely arisen over the timing of the legislation and jockeying by progressives or moderates to keep leverage.
Pelosi has delayed a vote on the trillion-dollar infrastructure bill—money for roads, bridges, internet expansion and other proposals that have won bipartisan support—from Monday to Thursday. Biden has called the bill a "once-in-a-generation investment in America" and traveled to promote it at public events.
Meanwhile, leaders continue to try to hash out a clearer, tighter proposal for the larger $3.5 trillion spending package that would offer universal prekindergarten, two free years of community college, paid family leave and Medicaid expansion, among other social programs.
Senate Minority Leader Mitch McConnell dismissed the Democrats' priorities on Monday during remarks on the Senate floor. "Democrats will want to use this temporary pandemic as a Trojan horse for permanent socialism," the Kentucky Republican said.
But the specter of a government shutdown or the nation defaulting on its debt looms. If these more pressing issues are not resolved, they could disrupt financial markets and prompt furloughs for federal employees.
"We got three things to do: the debt ceiling, the continuing resolution and the two pieces of legislation. If we do that, the country is going to be in great shape," Biden said.
The federal government will enter into a partial shutdown at midnight Friday if members of Congress don't pass a stopgap measure that would fund the government through early December. Republicans have said they won't support the temporary spending if it's linked directly to raising the nation's debt ceiling. So far, Democrats have linked the two items but suggested they could be decoupled.