Democrats Flood Facebook With Georgia Senate Runoff Ads After Ban Lifted
Facebook has lifted its political advertising ban for posts targeting voters in Georgia, just in time for final campaigning ahead of the Senate runoff elections on January 5.
The two runoff races are set to be close and many factors, including the Republican administration's COVID management and the state of the economy, could sway voters.
Georgia was the state decided by the slimmest margin in the presidential election and no Senate candidate won a majority on November 3. Now Republican incumbents Kelly Loeffler and David Perdue will again face Democrats Raphael Warnock and Jon Ossoff. Two Democratic wins in Georgia would take away Republicans' majority in the Senate.
Ossoff was quick off the mark with his social media campaigning, running more than 50 ads on Facebook within hours of the ban being lifted.
Ads also went live from Democratic group the Working Families Party, calling on Georgians to "take [the Senate] back" and "mobilize working families for Warnock."
The ad went on: "The Working Families Party has HUGE plans for 2021, but to make sure our agenda is fully realized, progressives need control of the Senate."
Republican PAC Georgia United Victory also ran an ad urging voters to "send Kelly Loeffler and David Perdue to the U.S. Senate." It continued: "The future of America depends on your vote!"
Facebook's analytics tool shows this ad has a potential reach of 500,000 to 1 million people.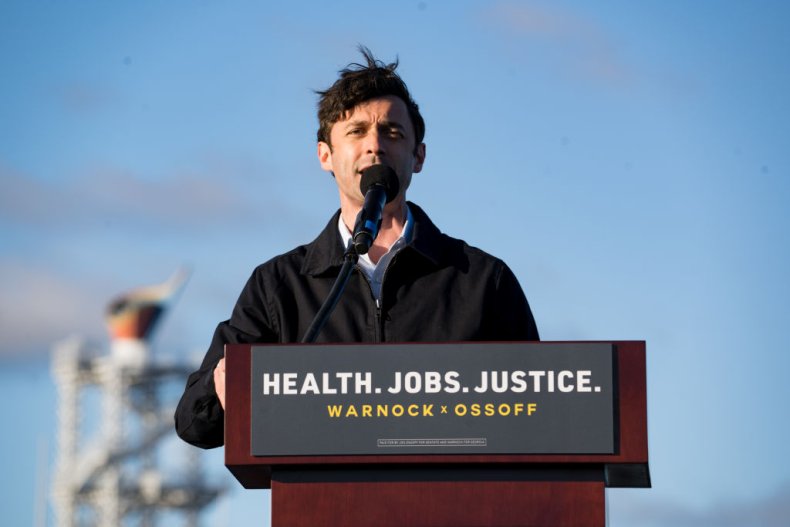 Facebook's decision to allow advertising for the Georgia runoffs comes even though its broader ban on political ads remains in place.
Sarah Schiff, Facebook's product manager, wrote in a blog post: "In recent weeks we've heard feedback from experts and advertisers across the political spectrum about the importance of expressing voice and using our tools to reach voters ahead of Georgia's runoff elections.
"We agree that our ad tools are an important way for people to get information about these elections. So we have developed a process to allow advertisers to run ads with the purpose of reaching voters in Georgia about Georgia's runoff elections."
The move came just days after Google lifted its post-election ban on political ads, which came into effect as polls closed on 3 November.
Both companies had earlier announced their plans to bar ads after Election Day, extending the restrictions to minimize confusion around the elections.
New polls show that Loeffler and Perdue lead their Democratic rivals by slim margins as early voting begins.
According to the latest Emerson College polls, Sen. Loeffler is three points ahead of Warnock, with 51 percent of likely voters in Georgia saying they would back the Republican incumbent, and 48 percent opting for her rival. A further 1 percent of polled voters said they were undecided.
The poll between Perdue and Ossoff produced the same results. Fifty-one percent of Georgians favored the GOP senator, putting him three points ahead of his challenger—which is within the survey's margin of error.
Voters are set to turn out in droves: more than 1 million absentee ballots have already been requested for next month, which is 75 percent of the total number issued for November 3.