Democrats Fret Over Low Black and Latino Voter Turnout in Florida Primaries
Florida Democrats saw a largely positive outcome in Tuesday's primary results, with Charlie Crist and Representative Val Demings at the top of the ticket moving on to face Governor Ron DeSantis and Senator Marco Rubio in November, respectively.
Turnout was also up slightly in the contested governor's race, while DeSantis ran unopposed.
But one grassroots group sees troubling signs within the turnout data, and worries about what it could mean for the general election in increasingly red Florida if Democrats don't take the right lessons from the results.
Mi Vecino, a group created in the wake of the 2020 election to turn around Democratic fortunes in the state, has raised $1.8 million so far. Data it shared with Newsweek reveals turnout among African Americans supporting Democrats ahead of election day down sharply, at less than half what it was in 2018, and Latino turnout down 7 points, from 136,193 votes to 93,899.
"The makeup of the electorate is different than it was in 2018," said co-founder Alex Berrios. "White people over 50 drove Democratic turnout in this election, and communities of color are depressed."
He argued that while some state Democrats might wave away concerns because the end result was positive, understanding the makeup of the electorate before the final push to November is critical for strategic reasons.
"Enthusiasm is not going to be successful without African American and Latino turnout," he added.
While Democrats enjoyed a 60,000-person advantage over Republicans in registered voters in 2018, yet still lost the races for governor and senate, Republicans now enjoy a 116,000 voter registration advantage in the state.
Mi Vecino co-founder Devon Murphy-Anderson said that's why the Democratic Party needs to know who its voters are, and critically, how they're voting,
"If Democrats want to win, they need to understand the majority of their vote is coming in through vote-by-mail," she said. "Their GOTV strategy has to shift."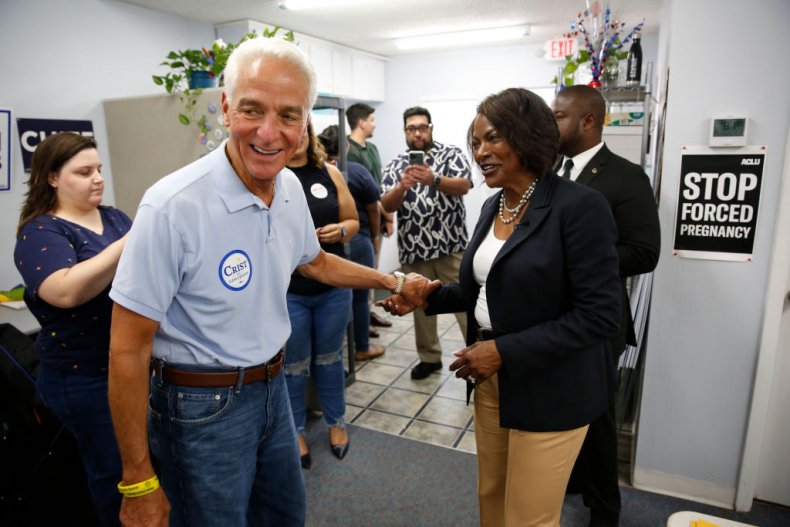 But Jose Parra, a senior advisor to Manny Diaz, the Florida Democratic Party chair, told Newsweek that off-year primary numbers themselves don't necessarily forecast what will happen in the general election in November.
"Only the most committed of the most committed turn out to vote in a primary in an off-year," he said.
Of the Mi Vecino concerns around voters of color, he assured Democrats that Diaz represents a "night and day change" from the previous leaders of the state party.
The change is having "a Hispanic running it who understands the needs and dynamics of communities of color," he said, "how crucial they are and that you can not take communities for granted. He's built a team that reflects that."
Others, like Ricardo Negron-Almodovar, the Florida campaign manager for All Voting is Local, argue that new obstacles have been placed in front of voters of color since the last election, including a new election police task force and "anti-voter" groups entering polling stations to "monitor" voting.
On election day, his group noticed an absence of signage and assistance in Spanish in counties like Seminole, which is 23% Latino, and has language-access issues from the 2020 election that remain unresolved.
Additionally, in counties like Osceola and Miami-Dade, which are 56% and 72% Hispanic, respectively, his group identified police presence at early voting and polling sites, which he said contributes to intimidation of voters.
Along with structural obstacles, Democrats have something else to worry about — DeSantis isn't just playing to win, but to win big.
When Mi Vecino knocks on the doors of identified Latino Democrats in Miami-Dade, they often find that the DeSantis campaign has already been there, leaving literature on the doors.
"What we've seen on the ground is that the GOP in Florida, and particularly DeSantis, is not taking any vote for granted," Murphy-Anderson said. "He's not looking at it as purely a base election, he's looking at every vote as on the table for him."
A longtime veteran of Florida Republican politics who lives in Miami agreed, noting that DeSantis campaign is "very active" in neighborhoods like Kendall, calling it "an operation that's not leaving anything on the table, not leaving things to chance."
Andrea Mercado, the executive director of Florida Rising, said the overall 2022 turnout equaled that of 2018, when many expected it to be lower, which is a positive sign, but acknowledged the "need to energize black communities to get out to the polls in November," and that people "are making a choice between voting or sitting it out and not voting at all."
She said Black women like Aramis Ayala, who won the Democratic nomination for Florida attorney general, and Val Demings, running at a time when there are no Black women in the U.S. Senate, have the ability "to energize and motivate voters — if we talk to them."
"Oftentimes what we see is an obsession with suburban and white voters," she continued. "We're not seeing the same level of investment to energize Black and Latino voters, not just to mobilize them, but to persuade them that voting matters."
The Republican operative said that the problem for Democrats in the governor's race is that DeSantis is looking to use his performance as a springboard for future national ambitions.
"For DeSantis this is a little bit of a race to flex his muscle," the source said. "If you're going to run for president, if you have ambition beyond this year, you want to show donors, other states, and other candidates what you can do."