Democrats in the House and Senate took steps on Friday toward passing a new COVID-19 relief bill through reconciliation, a process that enables a simple majority in the Senate to push legislation through without the threat of filibuster.
The $1.9 trillion relief package has support from President Joe Biden, who met with a group of Republican senators on Monday in an attempt to negotiate the gap between the Democratic aid proposal and the one backed by Republicans, which has a price tag of about $600 billion. Biden has a long history of working across the aisle, but he entered the White House last month at a time when the country was deeply divided.
When his Monday meeting with Republicans ended without a compromise, Biden had limited options for how to proceed, according to Ross Baker, a distinguished professor with Rutgers University's Political Science Department.
"The president really had no choice," Baker told Newsweek. "Other than to yield in compromising in the interest of bipartisanship to the Republicans, he would really have given up most of what he wanted to achieve. The principal downside is that they couldn't reach a bipartisan agreement."
In addition to his role at Rutgers, Baker worked as a scholar in residence in the Office of the Democratic Leader of the U.S. Senate when former Nevada Sen. Harry Reid held the position. Baker has also worked as a senior adviser to Vermont Sen. Patrick Leahy, a Democrat, and former Nebraska Sen. Chuck Hagel, a Republican.
Baker told Newsweek that while pursuing reconciliation to get the new relief bill through enabled Democrats to move forward with their preferred legislation, he had "mixed feelings" about use of the process in this instance.
"The Democrats simply realized they were not going to get a buy-in from the Republicans on anything remotely resembling the magnitude of what President Biden wanted," Baker said. "It would have been better if they had been able to come to some kind of a figure that was acceptable to both sides. But it just wasn't going to happen."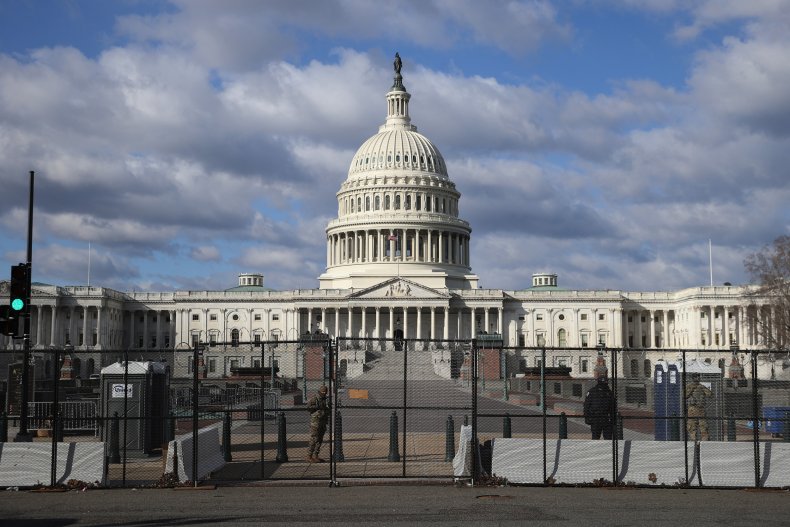 Some Republicans in Congress have criticized the move to use reconciliation, which they have said does not mesh with Biden's call for unity in his inaugural address.
"We've passed multiple bipartisan COVID-19 relief bills using the normal legislative process, but Democrats are using budget reconciliation to pass this bloated, controversial legislation," Republican Sen. John Cornyn of Texas tweeted on Friday. "So much for 'unity' and bipartisanship."
Senate Minority Leader Mitch McConnell of Kentucky also criticized the "totally partisan path" of reconciliation, which he used in 2017 to pass tax cuts in the Senate's most recent use of the strategy.
This isn't the first time reconciliation has been used in the legislative process—in fact, it has been used to pass 25 pieces of legislation before, 21 of which were successfully signed into law, according to the Congressional Research Service. The strategy dates back to 1974, when it was introduced as part of that year's Congressional Budget Act. It was used for the first time in 1980 and was most recently put to use twice in 2017, when a Republican-controlled Congress tried unsuccessfully to repeal the Affordable Care Act but successfully employed reconciliation to pass the Tax Cuts and Jobs Act of 2017.
Seth Hanlon, a senior fellow at the liberal think tank Center for American Progress, said it was "not surprising" that Democrats chose to pursue reconciliation for this relief package. He compared the move to the bipartisan economic relief package passed following the Great Recession, which was achieved without reconciliation.
"There were lots of reasons that the Recovery Act was not large enough, but I think some of the compromises that were made were among the reasons," Hanlon told Newsweek. "I think policymakers and Democrats have learned a lesson from 2009 that you need to go big. And I think in this political context, reconciliation was the best choice of how to do that."
Reconciliation is a legislative process that Baker described as "dauntingly complex." While a budget bill typically needs 60 senators to support it in order to defeat a filibuster and move to the president's desk for approval or veto, a bill pursued through reconciliation only needs a majority in the Senate in order to bypass a filibuster. Though the process offers the majority party a faster way to pursue budget-related legislation, senators are limited in terms of what they can include in a bill under the Byrd Rule, which was added to the reconciliation process in 1985.
While Democrats control both chambers of Congress, they have slim majorities in each. In the Senate, Democrats only have 50 seats, meaning they would need 10 Republicans to vote with them in order to bypass a filibuster and pass legislation with 60 votes.
Fifty Democratic senators voted to move forward with the $1.9 trillion COVID-19 relief bill through reconciliation early Friday, with Vice President Kamala Harris casting the tie-breaking vote. The House of Representatives also voted to move forward with the bill through reconciliation later Friday.
Aside from reconciliation, the only options Democrats had in pursuing their preferred bill was to continue working toward bipartisanship, which Baker said would likely have "watered down" the legislation, or abolishing the filibuster entirely.
"There would have been blood on the floor on that one," Baker said of the option for abolishing the filibuster, which most Republicans and some Democrats have warned against.
Since reconciliation has been used by both parties in the past, neither Hanlon nor Baker thought the Democrats' use of it this time would disincentivize attempts at bipartisanship in the future. In fact, some bipartisanship could even occur as the reconciliation process moves forward.
"Senator Joe Manchin is always a good indicator of whether or not you're likely to pick up any Republicans," Baker said, referring to the West Virginia Democrat who is considered to be a more conservative member of his party.
"Manchin decided to go along with it—which was not just important, it was indispensable. If there are things that Manchin likes in the bill, that may indicate down the road that some Republicans might sign on to it," Baker said, using Republican senators Shelley Moore Capito of West Virginia and Susan Collins of Maine as examples. "It's an elongated process, and it is possible that, at some point, you're going to get some Republicans to sign on. And I think that would be a good thing."
The reconciliation process for the proposed COVID-19 relief package is expected to continue through February and could extend into March. Once the process has ended, Democrats could have another opportunity to use reconciliation when discussions begin for the 2022 fiscal year budget.
It is too early to predict whether Democrats will opt to use reconciliation a second time this year, Hanlon said, but Republicans did put the strategy to use twice while McConnell led the Senate during former President Donald Trump's administration in 2017.
"I do think there's a good chance that they'll try to use reconciliation again for another longer-term investment package," Hanlon said.