Democrats Hammer Trump on Health Care, Gun Control to Combat His State of the Union Address
As President Donald Trump prepares to give his third State of the Union address Tuesday evening, some of America's most contentious and partisan political topics are ones that Democrats believe are winning issues for them: health care and gun control.
Democrats want to paint Trump as a president who has failed in the past year—and throughout his presidency—to follow through on his promises to lower prescription drug costs, protect Americans with pre-existing medical conditions and enact measures to curb future gun violence.
"Health care, health care, health care, the three most important issues to America's working families," House Speaker Nancy Pelosi (D-Calif.) said Tuesday afternoon, flanked by other Democrats and their guests for the State of the Union, who had various medical conditions.
Democrats invited more than 80 patients, doctors and health care advocates to attend the annual speech by the president to a joint session of Congress. And Wednesday morning, a group of Democratic lawmakers and gun control advocates will gather in front of the Capitol building to address gun violence prevention measures.
The party's official Spanish-language response to Trump, which will be delivered by Rep. Veronica Escobar (D-Texas), is also expected to focus on health care and guns.
"It's pretty simple. Democrats are trying to make your health care better," Michigan Gov. Gretchen Whitmer will say in the official Democratic rebuttal to Trump, according to prepared excerpts. "Republicans in Washington are trying to take it away."
At the press event with Pelosi, House Majority Leader Steny Hoyer (D-Md.) said "Democrats will be highlighting the dismal state of his record on health care" while Senate Minority Leader Chuck Schumer (D-N.Y.) denounced a "Republican sabotage on our health care system."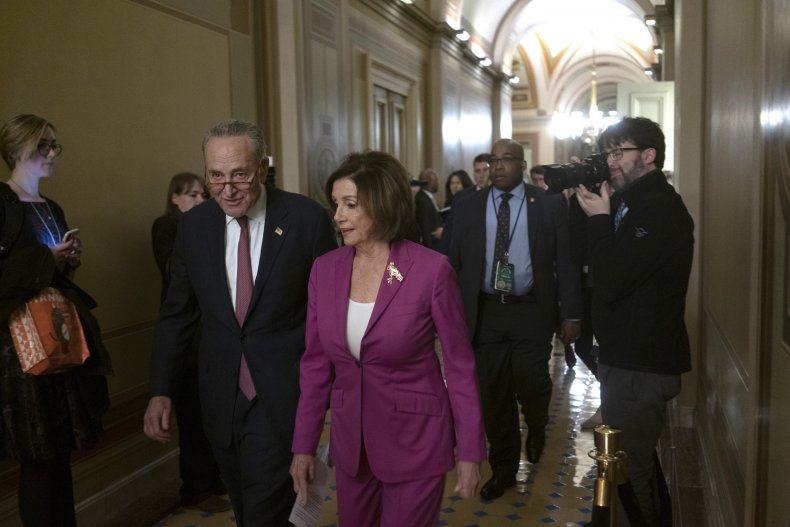 Trump has—unsuccessfully—tried to kill the Affordable Care Act (ACA), the flagship health insurance law enacted by former President Barack Obama, for several years. Currently, his administration and Republican attorneys general across the country are advocating in a legal case in Texas for the courts to strike down the law.
Among other things, the ACA ensures those with pre-existing conditions can't be denied coverage or charged exuberantly more due to a pricy medical ailment. None of the Trump-backed proposals that sought to replace the decade-old law have offered as strong of protections, according to a PolitiFact analysis.
Trump is set to repeat the false claim that his administration has worked to save pre-existing protections in his State of the Union speech. "We will always protect patients with pre-existing conditions," the president will say, according to prepared excerpts.
If Trump "really cares about health care," Democrats said, he would cease his court effort and undo a new plan announced last week to scale back Medicaid spending.
"Tonight, President Trump will desperately try to distract the American people from the reality of his all-out assault on health care," Pelosi said. "But the public won't be fooled, because they know in their own lives what it means."
The Senate, under Majority Leader Mitch McConnell (R-Ky.), has declined to consider a proposal to lower the cost of prescription drugs, which passed the Democratic House almost entirely along party lines in September.
"He's now been in office for three-plus years: no bill giving more health care at less cost and higher quality," Hoyer said. "Stop sabotaging health care access for millions of Americans."
Amid mass shootings across the country that many have said is part of a gun violence epidemic gripping the nation, Democrats will also focus their criticism of Trump on gun control legislation.
Even in the wake of two mass shootings in Texas and Ohio that left dozens of people dead last summer, Congress failed to muster enough support to pass increased background checks or enact so-called "red flag" laws that help restrict access to firearms for people who have mental illnesses.
Democrats have little-to-no expectation for the president to address gun violence in his address.
A group of House Democrats, comprised of Reps. Joe Neguse of Colorado, Lucy McBath and Ted Deutch of Florida, and Mike Thompson of California, along with family members of gun violence victims, will seek to highlight the administration's inaction on the topic Wednesday morning. McBath's son, Jordan Davis, was shot and killed in 2012 by a white man who said the car Davis was in was playing music too loudly.
The lawmakers are expected to highlight a universal background check bill the House passed along mostly party lines last year that McConnell has not considered. They'll also advocate for red flag laws and a high-capacity magazine ban for assault weapons, according to a Democratic aide.
Despite Trump's stated support for "common sense background checks" in the wake of the firearm massacres last summer, McConnell deferred to Trump. The Kentucky Republican said the president needed to first take a position on a specific proposal before he would push his chamber on any gun control measures.
Ultimately, no new measures received a vote. Democrats pit part of the blame on McConnell, who refused to consider any gun violence prevention bills passed by the House.