The Democrats Have Awful Friends | Opinion
America got some very good news this week, with the Labor Department reporting that it's seeing the lowest jobless claims since 1969. In a functioning political system, this good news would translate into praise for the Democrats and their leader, President Joe Biden. But this is not a functioning political system.
The Democrats have awful friends. They minimize or ignore the party's accomplishments. They amplify the party's flaws while minimizing the flaws of their opponents. They make it easier for Republicans to focus on implementing anti-democratic policies throughout the country and harder for progressive policies designed to help the poor and working-class become law.
The jobless claims low is no accident, after all; Democrats have spent the bulk of President Biden's first year in office trying to implement the most wide-ranging and potentially-transformative economic policies in generations. That's after the previous Democratic president put together one of the most progressive track records in decades. (Friends of Democrats would like to remind you that President Barack Obama didn't punish Wall Street or bailout everyday homeowners, though.)
This year, Democrats made real a policy that is expected to cut the child poverty rate in nearly half and are trying desperately to make it permanent. They are fighting for a stronger safety net. They are fighting to ensure working-class families have even better access to health care—after passing the transformative Affordable Care Act about a decade ago—as well as paternity and maternity leave and affordable child care and housing. They are fighting to improve the already-popular Medicare for seniors and establish universal pre-K for the little ones. They are fighting to provide assistance to families struggling to take care of the elderly and disabled. And they want to put higher education in reach of more poor and working-class Americans.
Democrats have been so successful that income increases for poor and working-class families have outpaced a decades-high increase in inflation. The unemployment rate dropped to 4.2 percent last month, an improvement several months ahead of forecasts. The longest war in American history was ended. And Americans have more than enough access to vital vaccines during a once-in-a-century pandemic. An eligible American can walk into a grocery or drug store without paying a dime and often without appointment and get vaccinated.
Yet Friends of Democrats would like you to know that a provision in the Build Back Better proposal would mean that white-wealthy liberals in blue states would get a tax break, too. Never mind that BBB is overwhelming designed to help the poor and working-class while adding next to nothing to the deficit.
It bears repeating: The Democratic focus this year has primarily been on economic policies designed to help the poor and working-class. These haven't been side issues. They've been front and center. It's why the progressive wing of the party delayed voting for the transformative infrastructure package, because they wanted to use it as leverage to help the poor and working-class even more.
Do they get credit for this? Of course not. They get excoriated by Friends of Democrats for "distracting" us from kitchen table issues. Democrats have been demeaned as drowning in "stupid wokeness" by savvy political strategists. They've been pilloried by Left-of-center pundits and blamed for an increase in Trump's Hispanic vote share because some of them say "Latinx" instead of Latino. That's when they're not being blamed for activists who have been screaming "Defund the Police" no matter how many times Democrats say they disagree with such a sentiment.
Here's an under-discussed, under-appreciated reality: In 2020, Democrats had a choice to make: Work with then-President Donald Trump to help struggling families make it through the pandemic or refuse to work with him because of his bigotry. They chose the former, all the while knowing that allowing Trump to send out checks with his name on them to tens of millions of Americans in the middle of a presidential campaign was likely to help Trump in his reelection bid. Though they are supposedly blinded by the culture war, Democrats swallowed hard and put the well being of the poor above their disgust for Trump's bigotry—precisely the thing Friends of Democrats say they should do and don't.
Did Friends of Democrats praise Democrats for prioritizing the financial health of the poor and working-class of all races above discussions of white privilege and systemic racism?
No. Hell no.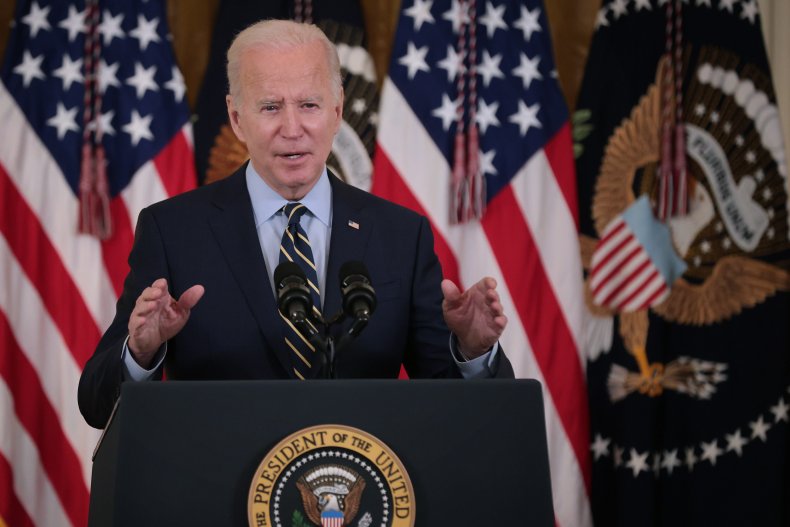 Friends of Democrats seem incapable of imagining that Democrats' unselfishness in 2020, working with Trump to save the economy from COVID, is one of the reasons Trump saw an uptick in his support among the poor and working-class, who were happy to have received governmental assistance when they needed it most.
The list goes on: Friends of Democrats just had to hand it to Trump for bucking the GOP by talking about ending the Afghanistan war—then Friends of Democrats heavily criticized Biden for having actually ended it, just not perfectly.
Friends of Democrats are quick to praise Sen. Mitt Romney or talk show host Tucker Carlson for proposing moderate plans to help struggling families or sounding like populists, despite Romney writing off 47 percent of the country as lazy freeloaders who want handouts and Carlson pushing a conspiracy theory about population replacement. And while excusing the missteps of white men like Romney and Carlson, Friends of Democrats just can't stop attacking Black and brown women like the members of The Squad. Few of these "friends" are willing to ask themselves why. They'll likely ignore the observation or call it a symptom of a "wokeness" that is beneath their dignity to respond to.
These Friends of Democrats express outrage if even one non-racist white person is unfairly tarred with the racist label. And what this ends up doing is creating zero incentive—absolutely none—for Republicans to commit to helping the poor and working-class. There's no incentive for Republicans to fight against voter suppression laws and the elevation of officials in numerous states who believe in The Big Lie and will make it harder for our democracy to withstand another attack in 2024.
Worse, they make it easier for "moderates" and "centrists" in D.C. to come up with excuses to not embrace transformative policies such as a higher minimum wage and a path to citizenship that would help every American on the bottom rung of the economic ladder.
Maybe these Friends of Democrats aren't really friends or allies. Maybe they are just concern trolling and using the poor and working-class to fight against the social justice policies progressive Democrats are also championing. Maybe they care about neither class nor race, just the ability to say they are so virtuous that they are willing to criticize their own—even if it makes helping the poor and working-class that much harder.
Issac Bailey is professor of public policy at Davidson College, a 2014 Nieman fellow at Harvard University and author of Why Didn't We Riot? A Black Man in Trumpland. Twitter: @ijbailey.
The views in this article are the writer's own.