Democrats, Blocked by GOP and Trump in Washington, Expand Healthcare Access at State Level
Democratic governors and other state leaders are rolling out massive health care initiatives, boosting public options and touting expansions to former President Barack Obama's 2010 ACA overhaul moving into the new year.
Despite repeated attempts by Republicans to undermine and destroy the Affordable Care Act, less frequently being referred to in 2019 as "Obamacare," Democrats are proposing ambitious health care plans to assist millions of citizens and undocumented residents alike. In New York City, Mayor Bill de Blasio announced a plan last week to offer comprehensive primary care to the city's 600,000 uninsured residents. And in New Mexico, where Democrats recently won the legislature and the governor's office, liberal-leaning lawmakers are pushing options to let anyone buy into a Medicaid insurance plan.
Health care wins have been few and far between for Democrats in recent years under the "Resist Trump" banners, as states including California, Colorado and Vermont have all tried and given up on universal health care proposals. But in Washington state, where Democrats are enjoying large new post-midterm majorities, Democratic Gov. Jay Inslee proposed a public health insurance option for those not covered by Medicaid or who work at companies whose executives say they can't afford policies on the private insurance market.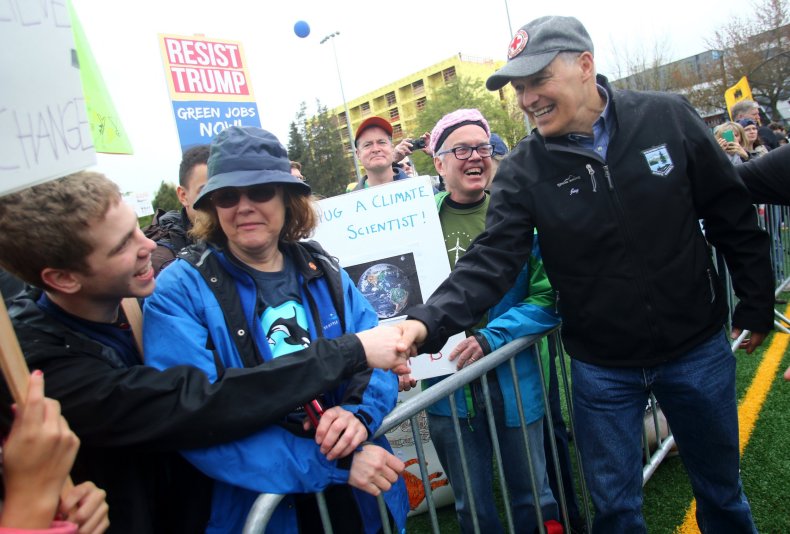 Inslee said "this is not just a moral right" during his announcement of the public option last week. "It is an economic wisdom, and this is very possible."
Coming off of midterm wins, Democrats are emboldened to double down on their support for the Affordable Care Act. Politicians across the country are lauding its coverage benefits for people with pre-existing conditions and young adults looking to stay on their parents' health policies through age 26. Meanwhile, Democrats such as Washington House Rep. Eileen Cody tell the Associated Press they are also pointing out to voters how the GOP seeks only to reduce coverage for middle and lower-class Americans.
"Once you give something to somebody, it's pretty hard to take it away, and I think we see that with how the support for the (Affordable Care Act) has grown over the last two years," Cody, a 65-year-old Democrat for the state's 34th Legislative District, told the AP.
Democrats including newly elected Nevada Gov. Steve Sisolak -- where Dems also gained full control of the legislature in November -- are revisiting past experiments in state-run health insurance proposals. A 2017 bill that would have allowed any state resident to buy a Medicaid insurance plan was vetoed by then-Republican Gov. Brian Sandoval. But now, Sisolak and New Mexico Democrats are looking to push similar large-scale health care plans. Among them, the AP reports, is potentially requiring all state residents to have health insurance.
That mandate for required insurance is already in effect in New Jersey and Massachusetts and will go into effect in Vermont in 2020.
In California, newly elected Democratic Gov. Gavin Newsom announced plans over the past few weeks to expand Medicaid for people living in the country illegall up to the age of 26. The state is also perusing plans to levy a fine on any resident who refuses to buy insurance and attempting to reduce drug costs by consoliding the state's prescription drug purchase market.