Democrats Hold a Double-Digit Lead Over Republicans in Congressional Races, Poll Finds
Democratic candidates hold a double-digit lead over their Republican counterparts in U.S. congressional races ahead of the November 3 election, a recent poll found.
The USA Today/Suffolk University poll, conducted from October 23 through 27, found that 49 percent of respondents said they were more likely to vote for an unnamed Democratic U.S. House of Representatives candidate than an unnamed Republican candidate. Thirty-nine percent of the likely voters surveyed said they would choose a Republican over a Democrat.
The Democratic Party currently holds the majority in the House, 232 to 197. All 435 House seats are up for election on November 3. In the Senate, where Republicans currently hold the majority, 35 seats are up for election.
The poll comes as Democrats are vying to take control of both chambers of Congress and the presidency. Democratic candidate Joe Biden held an 8-point lead over President Donald Trump in the nationwide poll, 52 to 44 percent.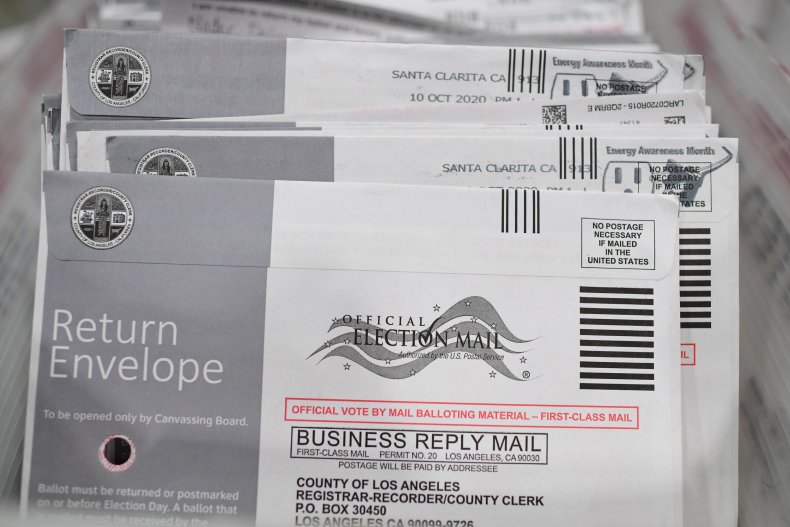 Pollsters surveyed the 1,000 likely voters just one day after the final presidential debate on October 22, where Biden and Trump sparred over a number of subjects, including the coronavirus pandemic and the economy.
The majority of those surveyed (53 percent) said that the coronavirus pandemic has had a "major impact" on their lives. Only 30 percent of respondents said it has had a minor impact, the poll found.
But among those surveyed, 10 percent named the pandemic as the single-most important issue in deciding which candidate to vote for this year, compared with the 19 percent who said the economy and jobs. Another 10 percent of likely voters chose "character/honesty/trust" as their most important issue.
There was a partisan divide among these issues, with 32 percent of Republicans citing the economy as their driving concern, compared with the 4 percent who chose the pandemic. Fifteen percent of Democrats, comparatively, cited the pandemic as their primary concern, whereas only 5 percent said the economy, the poll found. Other hot-button issues like abortion rights, climate change, education, gun control and immigration were named by 3 percent or less of voters as their primary issue.
One question in particular highlighted a stark contrast in circumstances surrounding the election between 2016 and 2020. Three out of every four survey respondents said they are concerned about the possibility of violence on Election Day and afterward, according to USA Today.
This marks a significant shift from October 2016, when the poll asked voters the same question. Then, almost half of Americans (47 percent) said they had little or no concern about violence around the election.
The 2016 poll also asked Americans about the likelihood of a peaceful transition of power following Election Day. At this point four years ago, 73.1 percent of those polled were confident that there would be a peaceful transition of power with 40 percent saying they were "very confident" power would transfer peacefully to the president-elect.
But this year, Trump has repeatedly refused to commit to a peaceful transfer of power if he is to lose next week. As such, only 55.2 percent of those polled were confident that would happen with just 23 percent saying they were "very confident" that power would transfer peacefully.