Democrats Renew Call for DHS Secretary Nielsen to Resign Over Child Separations, Support House Investigation
On the same June day that a federal judge ordered the Trump administration to begin reunifying the thousands of migrant families it had separated under its "zero tolerance" immigration policy, an internal government watchdog began quietly investigating Department of Homeland Security facilities where those migrants were being held.
The 18-page report, conducted by the DHS Office of Inspector General, was issued on September 27 and made public in the following days. The watchdog agency documented the administration's lack of preparedness, inability to internally communicate to track and reunite families, and government agencies' apparent willingness to lie to federal investigators.
On the heels of that report, at least eight House and Senate Democrats reignited their calls for DHS Secretary Kirstjen Nielsen to step aside. In addition, four Democrats who sit on the House Committee on Homeland Security told Newsweek that, should Democrats regain control of the House after the midterm elections, they were prepared to push for a congressional investigation into Nielsen and the administration's handling of separating families.
The highest-ranking Democrat on the committee, Representative Bennie Thompson, would oversee that investigation. Thompson has said that if Nielsen remains "Donald Trump's puppet, continues to flout the law, lie to Congress and ignore the plight of these children in the face of these findings," then she should resign. A congressional staff member working for Thompson would not say whether the Democrat would support a House investigation. The staff member would only go so far as to say that Thompson hoped to "conduct oversight of DHS, including its family separation and zero tolerance policies."
Four of Thompson's Democratic colleagues on the committee—Lou Correa and Nanette Barragán of California, Val Demings of Florida and James Langevin of Rhode Island—told Newsweek they believed a House investigation should take place in the public eye, should their party regain control and have the power to initiate one.
"I think this report only scratches the surface," Barragan said. "There is a great deal more that we need to know, and Congress has a responsibility to investigate."
Other Democratic lawmakers not on the committee, including Representatives Eliot Engel of New York, Jimmy Gomez of California and Senator Jeff Merkley of Oregon, told Newsweek they, too, would support a congressional investigation.
Gomez, though not on the House Committee on Homeland Security, had two underlying questions: "Did administration officials know that agencies," such as Homeland Security, Health and Human Services, U.S. Customs and Border Patrol and Immigration Customs Enforcement, "were not prepared to implement the 'zero tolerance' policy? And were they warned that they would have major problems when they implemented it?"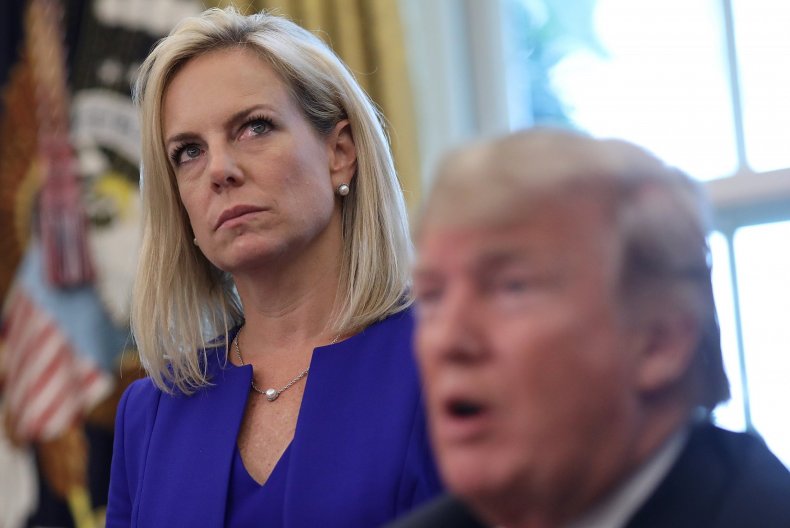 It's been more than two months since the Trump administration missed its first court-ordered July 26 deadline to reunite the 2,551 migrant children who were separated from their parents after illegally crossing the U.S.-Mexico border. As of last week, 136 children, three of whom were under 5 years old, had still not been reunited with their parents. The parents of 96 of those children had already been deported, only further complicating the task of reunification.
The family separation crisis was self-imposed by the administration in April after Attorney General Jeff Sessions announced the government would begin its "zero tolerance" policy of more aggressively prosecuting those who crossed the border illegally, resulting in separating minors from their parents. Before this policy, in both the early part of the Trump administration and in previous administrations, families were largely kept together while they awaited an immigration hearing.
As the head of DHS, Nielsen was tasked with managing how the separated children were handled under the department's umbrella organizations, such as Health and Human Services, U.S. Customs and Border Patrol and Immigration Customs and Enforcement. In June, she said she would not "apologize for doing our job," and that the administration "has a simple message: If you cross the border illegally, we will prosecute you."
To conduct the watchdog report, a team of attorneys, inspectors and criminal investigators were sent to the El Paso and McAllen, Texas, which sit along the southern border. Once there, the team conducted unannounced visits between June 26 and June 28 at Customs and Border Protection and Immigration Customs Enforcement, or ICE, facilities. What investigators found was an administration woefully unprepared to handle thousands of migrant children. The Trump administration and DHS failed to track the migrant children, later resulting in months of only partially successfully reuniting them with their parents.
Investigators concluded that government officials—including Nielsen and Sessions—"publicly encouraged asylum-seeking adults to enter the United States legally through a port of entry to avoid prosecution and separation from their accompanying children." However, Customs and Border Patrol "was regulating the flow of asylum-seekers at ports of entry" at the same time, resulting in increased illegal border crossings.
Customs and Border Patrol also detained migrant children in government facilities longer than was legally allowed. "The law generally permits CBP to hold unaccompanied alien children in its custody for up to 72 hours [or three days] before transferring them to the HHS Office of Refugee Resettlement pending resolution of their immigration proceedings," the report said. Despite this, the government's lack of planning and resources caused investigators to discover that 33 percent, or 860, children were kept in facilities for longer than three days. The most time any one child spent in the short-term facilities was 25 days.
The chaotic separation process also lacked a proper central database to track children who came in and out of the facilities. "As a result," the report stated, "DHS has struggled to provide accurate, complete, reliable data on family separations and reunifications, raising concerns about the accuracy of its reporting." The government also lacked even the basic forms of internal communication. Investigators said U.S. officials had to manually enter information into a Microsoft Word document on each child, which they then sent to other agencies as an email attachment.
"Each step of this manual process is vulnerable to human error, increasing the risk that a child could become lost in the system," the report said. After DHS and HHS claimed on June 23 to have a central database containing location information on separated parents and children that "both departments could access and update," investigators later found "no evidence that such a database exists."
Included with the Inspector General's report was a letter from DHS in response to the watchdog agency's findings. DHS refuted some of the report's conclusions and offered explanations for others, but ultimately pushed back at the report by saying it "[provided] no mention of the Department's significant accomplishments to reunify families." The DHS letter went on to say that the government took "exhaustive efforts to overcome" communication challenges between agencies and provide a process that "safely reunified families expeditiously in compliance" with the June 26 court order.
Numerous Democratic lawmakers first called for Nielsen's resignation in mid-June in the days leading up to the June 26 court order for the government to begin reunifying the families it had separated. Prominent senators, such as Kamala Harris, Dianne Feinstein, Mazie Hirono, Richard Blumenthal and Merkley, as well as representatives on the House Committee on Homeland Security, including Kathleen Rice, Donald Payne Jr. and Barragan, all publicly called for her resignation.
In a mix of public statements and comments made to Newsweek, at least eight Democrats have renewed their calls for Nielsen to step aside in the wake of the Inspector General's report: Senators Dick Durbin, Jeanne Shahen and Merkley, as well as Representatives Sheila Jackson Lee, Gomez, Barragan, Engel and Thompson.
DHS did not respond to Newsweek's request for comment Wednesday morning on the Democrats' calls for Nielsen's resignation and their intention to open a House investigation into Nielsen and the department.
"There wasn't a thought-out implementation strategy, and that falls directly on Secretary Kirstjen Nielsen," Gomez said. He explained to Newsweek that on July 17, Republicans on the House Committee on Oversight and Government Reform had a closed-door meeting with Customs and Border Patrol, ICE, DHS and HHS. Claims made by the administration, both in the meeting and in public, that everything was business as usual was, in his view, simply not true.
"I had conversations with [Nielsen] two days before the [July 26] deadline where she said the kids would be reunited with their parents by the court deadline," Gomez said. "Either she knew and she directly lied to us that they would be reunited, or she was really misinformed about their conditions on the ground and exactly what was going on."
Correction: Lou Correa was originally counted as one of the Democrats who would support Nielsen's resignation. After speaking with Newsweek by phone, Correa specified that a House investigation should take place prior to a call for her resignation.