House Democrats Reach Majority, but Republicans Ahead in Most Remaining Races
Democrats clinched control of the House of Representatives on Tuesday night as they won the 218th seat needed to hold onto their majority in the lower chamber for another two years, but Republican candidates are ahead in many of the remaining races.
According to the latest Associated Press (AP) tally, 16 House races have yet to be called more than a week after Election Day. Democrats have won 218 seats in the 435-seat lower chamber so far, while Republicans have picked up 201 seats.
The Cook Political Report, which has called five more races in favor of the GOP and an extra four for Democratic candidates, shows seven races still hanging in the balance and Republicans leading the vote in all of them.
"Now that #CA39 is over, the House count stands at 222 [Democrat] to 206 [Republican], with seven races uncalled," Cook Political Report House Editor Dave Wasserman tweeted on Monday night. "Republicans currently lead the vote count in all seven, but it's easy to imagine Dems ultimately coming out on top in one or two of them."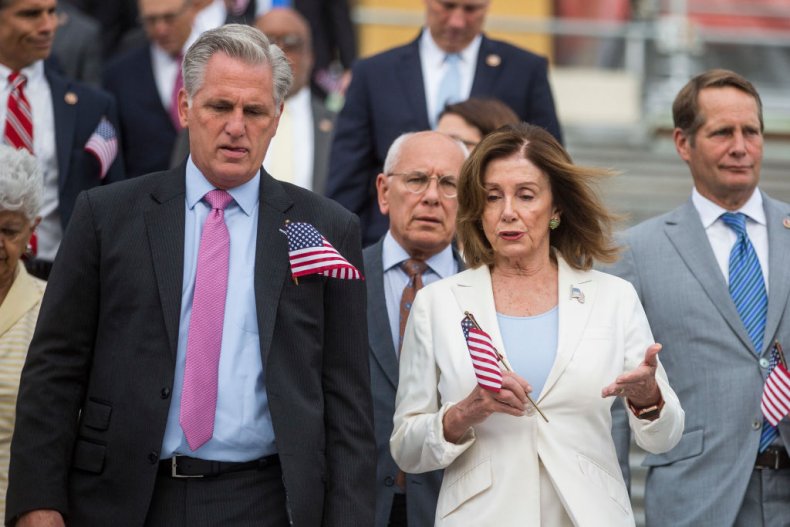 At least two of the GOP's leads are in congressional districts that Democrats were expected to keep before election night.
In California's 39th Congressional District, the Republican challenger Young Kim is a little more than 4,000 votes and 1.2 points ahead of the Democratic incumbent Gil Cisneros with 98 percent of the vote reported, according to the latest AP tally.
Democratic Representative Thomas Suozzi of New York's 3rd District trails GOP rival George Santos by a similar margin. The Republican is leading the race by a little under 4,200 votes and 1.5 points with 72 percent of the vote counted. However, Rep. Suozzi is expected to keep the seat when the remaining 28 percent is tallied.
A further four districts in New York that were rated "toss up" contests by the New York Times' tracker ahead of Election Day are also leaning heavily Republican with anywhere between 15 and 22 percent of the estimated vote left to count—meaning there is still a chance they could swing in favor of the Democrats.
In the state's 11th Congressional District, which covers Staten Island, GOP candidate Nicole Malliotakis looks likely to unseat the Democratic incumbent Rep. Max Rose with 15 percent of the estimated vote left to be counted.
The Republican challenger endorsed by President Donald Trump is more than 15 points and 37,000 votes ahead of Rose, who won the district in the 2018 midterm elections. According to Cook Political Report analysts, the latest results mark a 22-point swing to the to the Democrat's opponent.
Over in Utah's 4th Congressional District, an incredibly tight race between Democratic Rep. Ben McAdams and his Republican rival Burgess Owens has yet to be called as the GOP candidate and ex-football player leads by 0.5 points.
Around 1,700 votes separate the candidates with more than 96 percent of the vote tallied, according to AP data. When McAdams took the district from ex-Congresswoman Mia Love (R) at the 2018 midterm elections, he won by a little under 700 votes.
In Iowa's 2nd Congressional District race, Republican candidate Mariannette Miller-Meeks is leading the Democratic candidate Rita Hart by just 48 votes with almost 100 percent of the vote counted. It has been reported that a second recount is expected in the district.