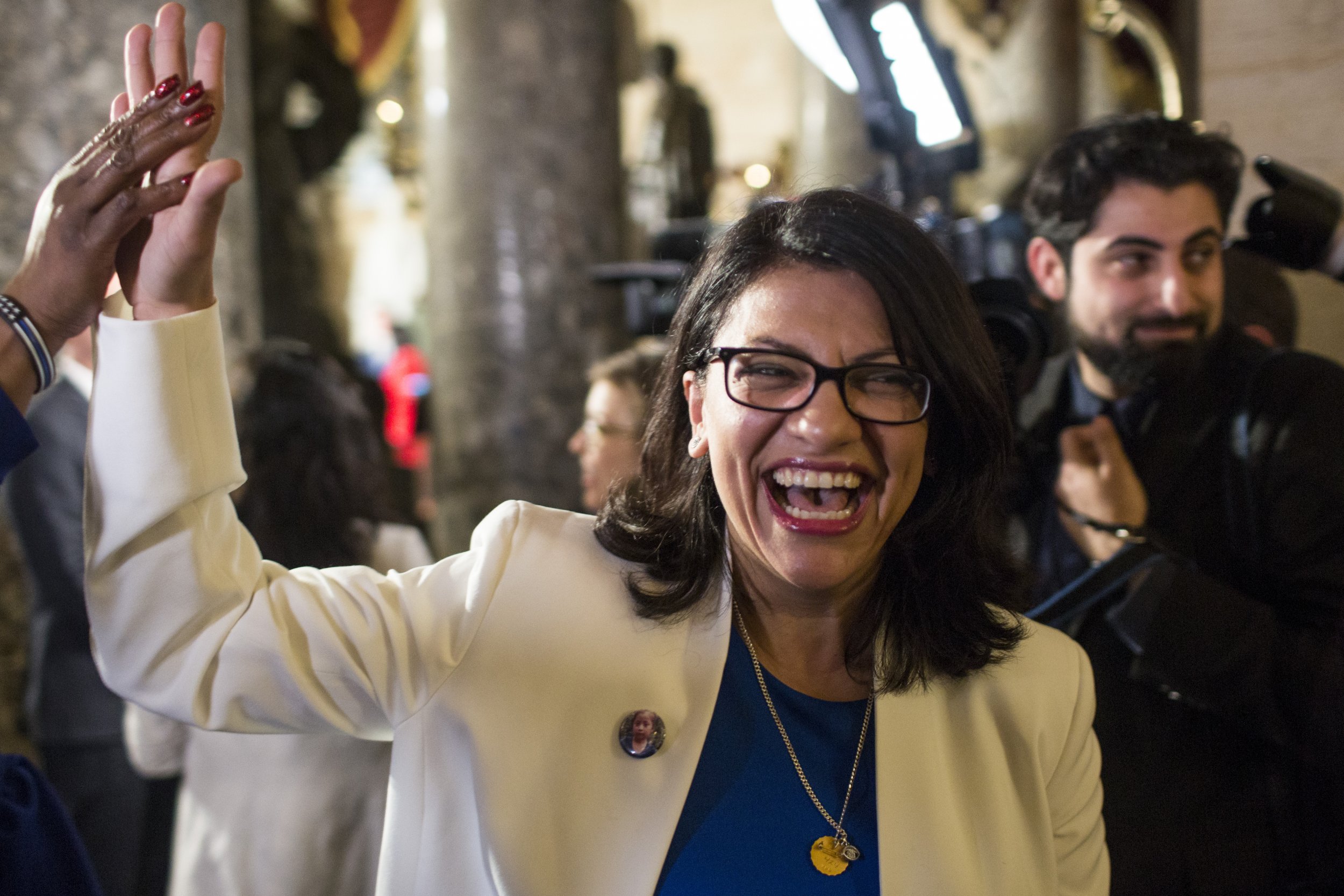 The vast majority of Democratic lawmakers have been reluctant or hesitant to begin impeachment proceedings against President Donald Trump, but the small circle that do want to remove Trump is growing, with Michigan Representative Rashida Tlaib vowing Wednesday she will introduce legislation to that end.
Tlaib, a freshman who has long been in favor of removing Trump, announced she would introduce a resolution to have the House Judiciary Committee look into grounds for impeachment, before the end of the month.
"We saw record turnout in an election year, where people wanted to elect a jury that would begin the impeachment proceedings to Donald Trump," Tlaib said during a press conference Wednesday morning outside her Capitol Hill office.
"We want to work on these economic justice issues, racial justice issues and everything. But guess what?" Tlaib continued. "There is a wall there, and a constitutional crisis that is not going to [let us] do our jobs as American Congress members to push a lot of these agendas forward."
Tlaib on Wednesday also tweeted a link to an opinion piece published in the Detroit Free Press in January that she co-wrote with Free Speech For People president John Bonifaz, arguing that it was time to impeach Trump.
Last week, Tlaib and Minnesota Representative Ilhan Omar signed a pledge promising to impeach Trump, created by the advocacy group By the People.
"I believe that impeachment is inevitable," Omar tweeted last week. "It also is a terrifying notion. Nations struggle any time they overthrow a dictator, and Trump really has the markings of a dictator.
On Wednesday, Texas Representative Al Green, who previously forced two impeachment votes that failed by large margins, renewed his call to remove Trump.
"We can investigate to the extent that we engage in what Dr. [Martin Luther] King [Jr.] called 'paralysis of analysis,' just investigate until it's time for another election, and then the election becomes the focal point," Green said. "Those who desire to wait may do so. I will not wait."
California Representative Brad Sherman introduced articles of impeachment in January when the new Congress convened with Democrats in control of the House.
Tennessee Representative Steve Cohen, who brought impeachment articles to the House floor in November 2017 but has not reintroduced them in the new session, last week told The New York Times that impeachment "is almost going to be impossible not to deal with."
But Democratic leaders including House Speaker Nancy Pelosi continue to say they want to wait to see special counsel Robert Mueller's report before acting on impeachment. A Quinnipiac University National Poll released Tuesday indicated that 59 percent of American voters think Congress should not begin impeachment proceedings against Trump.