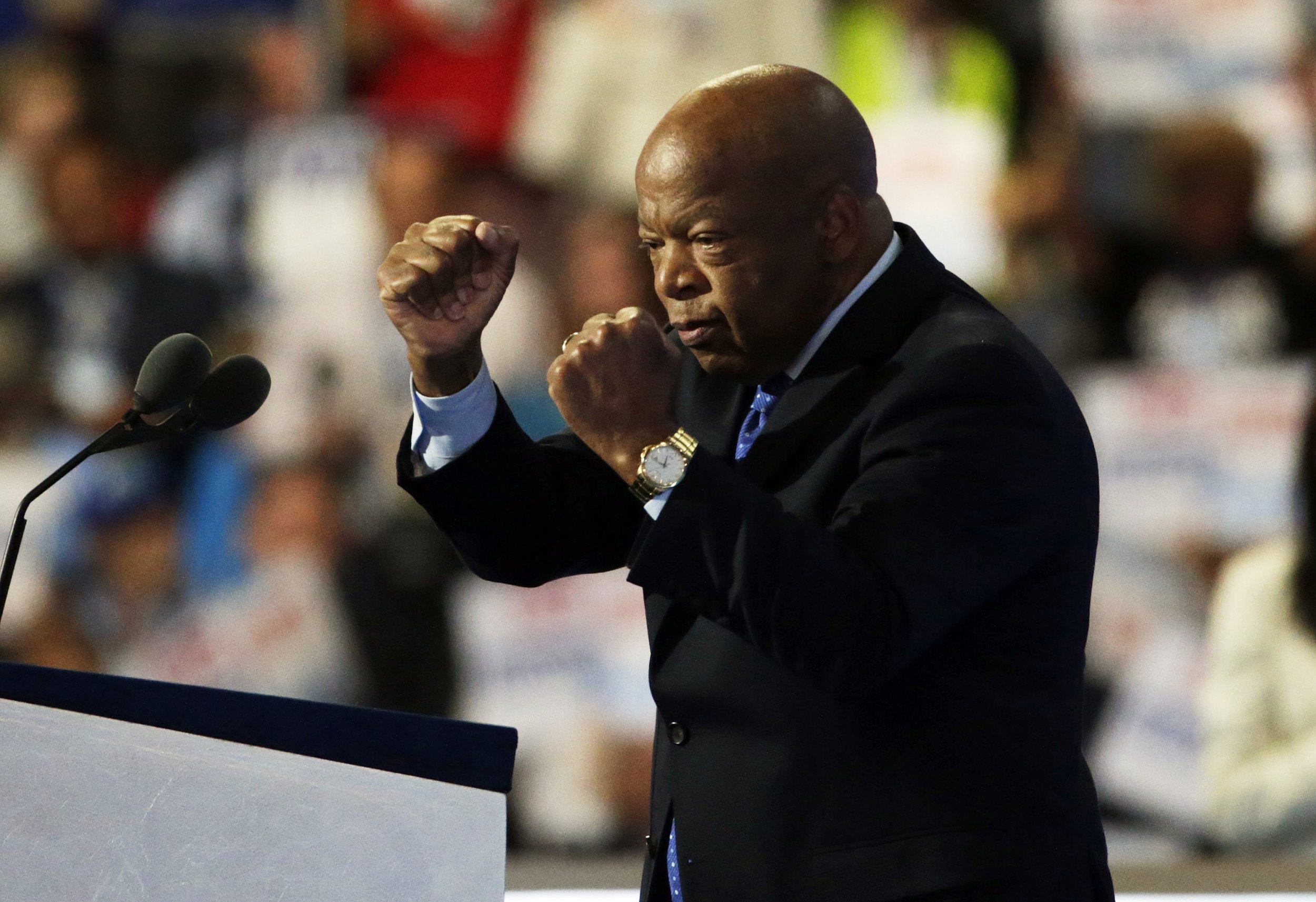 The list of Democratic lawmakers who will boycott Donald Trump's inauguration is growing following a Martin Luther King weekend spat between the president-elect and Congressman John Lewis that the Trump team tried to tamp down on Sunday.
Lewis is among at least 24 legislators who will skip Friday's swearing-in ceremony after questioning Trump's legitimacy in an interview with NBC's "Meet the Press" that was publicized in advance of its Sunday airing. Vice President-elect Mike Pence and incoming Chief of Staff Reince Priebus both addressed the controversy on the Sunday news shows, expressing disappointment in Lewis's decision and criticizing his comments on Trump's validity as president.
RELATED: John Lewis, questioning Trump's legitimacy, skipping inauguration
"I think it's incredibly disappointing, and I think it's irresponsible for people like himself to question the legitimacy of the next United States president. I think putting the United States down across the world is not something that a responsible person does," Priebus said in an appearance on ABC's "This Week."
"President-elect Trump won 30 of 50 states, more counties since Ronald Reagan. This man won in an electoral landslide. And to question the legitimacy of the next United States president, you know, and you're worried about a tweet that says, hey, why don't you get back to work instead of questioning my legitimacy? Too bad," Priebus said, referring to a Trump tweet in response to Lewis that labeled him "all talk, talk, talk—no action or results."
Pence was far more conciliatory in an appearance on CBS's "Face the Nation." Pence acknowledged that "we honor the sacrifice" made by Lewis, a civil rights icon who chaired the Student Nonviolent Coordinating Committee in the 1960s and helped organize King's famous March on Washington. "For someone of his stature, not just in the civil rights movement, but in voting rights, to make a comment that he did not consider Donald Trump to be a legitimate president I think is deeply disappointing."
Trump was harshly criticized by Democrats and Republicans alike for his dismissal of Lewis on Saturday and suggestion that he focus on his Georgia district—"which is in horrible shape and falling apart." He again addressed the controversy Saturday evening, tweeting, "Congressman John Lewis should finally focus on the burning and crime infested inner-cities of the U.S. I can use all the help I can get!"
Trump's inauguration will be met with protests along the National Mall, followed by the Women's March on Washington on Saturday. However, the public defections of two dozen lawmakers is occurring alongside a petition effort to convince all Democrats to skip the ceremonies. More than 126,000 people have signed a petition organized by progressive social activism organization CREDO Action that says: "Democrats have a choice: They can either champion progressive values, join the public resistance against Trump's hate and refuse to attend the inauguration, or they can attend the inauguration, normalize Trump's bigotry and stand idly by while he sets his dangerous agenda in motion. This is not the time for compromise or decorum."
Pence dismissed the boycott efforts on "Face the Nation," saying "inaugurations are a moment when we should come together around the person who has been elected president of the United States." He hopes Lewis "will reconsider his statement and will reconsider attending the inauguration and join us so we can come together to take on the intractable problems that have been facing Americans."
But Lewis is far from alone in his unwillingness to witness Trump's ascension to the presidency. While several lawmakers had announced their boycott prior to Lewis's statements, the congressman's comments on Trump have inspired others to join the effort. Congressman Ted Lieu of California said, "For me, the personal decision not to attend Inauguration is quite simple," according to NBC News. "Do I stand with Donald Trump, or do I stand with John Lewis? I am standing with John Lewis."
The lawmakers who will boycott the inauguration include:
Illinois Congressman Luis Gutierrez;
Massachusetts Congresswoman Katherine Clark;
California Congressman Jared Huffman;
California Congresswoman Barbara Lee;
California Congressman Ted Lieu;
California Congressman Mark Takano;
California Congresswoman Judy Chu;
California Congresswoman Maxine Waters;
Arizona Congressman Raul Grijalva;
California Congressman Mark DeSaulnier;
Missouri Congressman Lacy Clay;
Oregon Congressman Earl Blumenauer;
Oregon Congressman Kurt Schrader;
Oregon Congressman Peter DeFazio;
Georgia Congressman John Lewis;
Michigan Congressman John Conyers;
New York Congressman Jose Serrano;
New York Congresswoman Nydia Velazquez;
New York Congresswoman Ivette D. Clarke;
New York Congressman Adriano Espaillat;
Ohio Congresswoman Marcia Fudge;
Washington Congressman Adam Smith;
Washington Congresswoman Pramila Jayapal;
Wisconsin Congressman Mark Pocan.