Democrats Introduce Bill to Save Eviction Moratorium After Supreme Court Blocks Policy
Democrats are again trying to save the eviction moratorium after the Supreme Court blocked the Biden administration's ban.
On Tuesday, Representative Cori Bush, Senator Elizabeth Warren and others introduced the Keeping Renters Safe Act of 2021 to give the Department of Health and Human Services (HHS) the authority to halt evictions in the interest of public health.
In response to the coronavirus pandemic, the legislation would direct HHS to automatically ban evictions nationwide for all residential renters. The moratorium would be in effect until at least 60 days following the end of the crisis.
"This pandemic isn't over, and we have to do everything we can to protect renters from the harm and trauma of needless eviction, which upends the lives of those struggling to get back on their feet," Warren said in a statement.
The legislation, the lawmakers said, is a direct response to the high court's ruling last month.
In a 6-3 decision, the court's conservative majority lifted the federal ban on evicting renters. The decision was a legal victory for a group of landlords and Realtors, who had argued that the administration didn't have the authority to extend the moratorium through October 3 for areas hardest hit by the virus.
The judges wrote that the ban had put millions of landlords across the U.S. at "risk of irreparable harm" by depriving them of payments with no guarantee of financial recovery.
The Supreme Court also specifically said that if a federal ban is to continue, "Congress must specifically authorize it."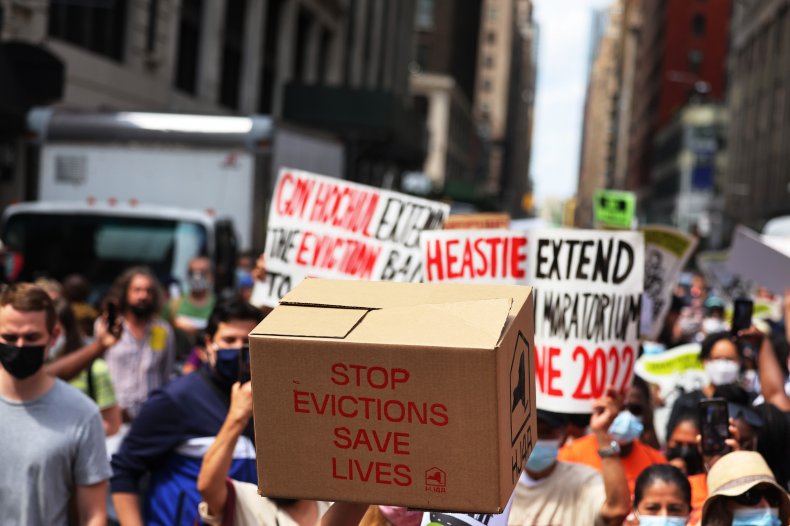 Progressives on Capitol Hill immediately called for congressional action after the court's decision. The White House also called on all entities that can prevent evictions, such as city governments and local courts, to do so as soon as possible.
Bush—who led the charge on extending the moratorium past its July 30 expiration by sleeping outside the U.S. Capitol for several nights—said the legislation introduced this week will "save lives and give us more time: time for renters to receive financial assistance, time for the economy to fully recover, and time for the pandemic to finally come to an end."
The Keeping Renters Safe Act of 2021 currently has 38 sponsors in the House of Representatives and five sponsors in the Senate.
But it's unclear whether a bill to extend the moratorium will pass Congress. House Democrats failed to gain enough votes to continue the federal ban this summer, and Republicans have generally opposed continuing the eviction ban.
Newsweek reached out to the offices of House Speaker Nancy Pelosi and Senate Majority Leader Chuck Schumer for comment on whether they support the bill but didn't receive a response before publication.