Senate Democrats Take up Sweeping Ethics, Voting Rights and Campaign Finance Bill in Defiance of GOP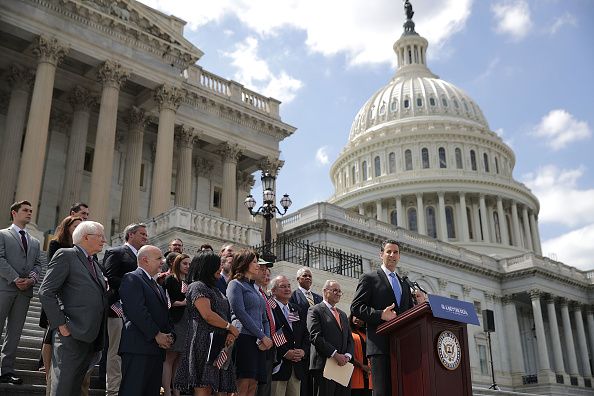 Following their historic midterm victory, congressional Democrats are trying to make good on their campaign promise to "fix our broken democracy" by introducing sweeping legislation on ethics, voting rights and campaign finance.
Senate Democrats, led by New Mexico's Tom Udall, are working toward introducing a bill largely devoted to election and ethics reform. The legislation would piggyback off a major political and electoral reform bill already introduced by House Democrats earlier this month.
"This was the message that Democrats ran on and won in 2018 ― fixing our broken democracy ― and we intend to keep the promise to the American people," Udall told Huffpost on Thursday.
The For the People Act, introduced by the House in early January, laid out rules to make voting easier, weaken the power of wealthy political donors and reduce government corruption. It was one of the first major legislative actions taken by Democrats since reclaiming control of the chamber this year.
"We put power back into the hands of the people," House Speaker Nancy Pelosi said during a press conference following the introduction of the act. "Restoring the peoples' faith in government is really our agenda."
The House bill would give millions of Americans the right to vote by forcing states to allow same day voter registration and banning post-release felon disenfranchisement. Voting rights became a hot-button issue during the 2018 midterms as minority voters in states like Georgia and North Carolina described instances of election fraud.
In addition to voting rights reform, the legislation also works to cut down government corruption by creating new campaign finance rules and forcing every presidential candidate to disclose 10 years worth of tax returns ― two noticeable jabs at President Donald Trump who has refused to release his tax information and has been named a co-conspirator in campaign finance violations.
The act has already been co-sponsored by over 220 Democrats, which is enough for the legislation to pass through the House of Representatives.
Udall's Senate bill will largely mirror what has already been proposed in the For the People Act, with slight differences in campaign financing rules. But it will likely have a hard time getting through the Senate, which is controlled by a Republican-majority. Senate Majority Leader Mitch McConnell already bluntly stated that the legislation is "not going to go anywhere."
"We are looking forward to leading a coalition in the Senate that is fully allied with House Democrats' efforts," Udall said in a statement earlier this month.
"Despite their past reluctance, Republican leadership in the Senate would be wise to heed the resounding calls of the American people – and recognize that Democrats and the American people will not rest until these badly-needed reforms are enacted into law," he added.