Democrats Join Call for State Senator to Resign After Making Facebook Post Calling Ilhan Omar a Terrorist
Democrats in North Dakota have called upon Republican State Senator Oley Larsen to resign after he admitted to spreading "fake news" on Facebook about Ilhan Omar, a Muslim Democratic Congresswoman from Minnesota.
Signed by ten Senate Democrats, the letter obtained by KFYR supports North Dakota Senate Majority Leader Rich Wardner's statement that Larsen should publicly apologize and resign from his position as interim president pro tempore of the state Senate. In their letter, the caucus refers to Larsen's behavior as "unbecoming."
Larsen, however, isn't budging. In a Facebook post which he labeled as an op-ed, he refused to apologize to Omar and stated that he would not resign.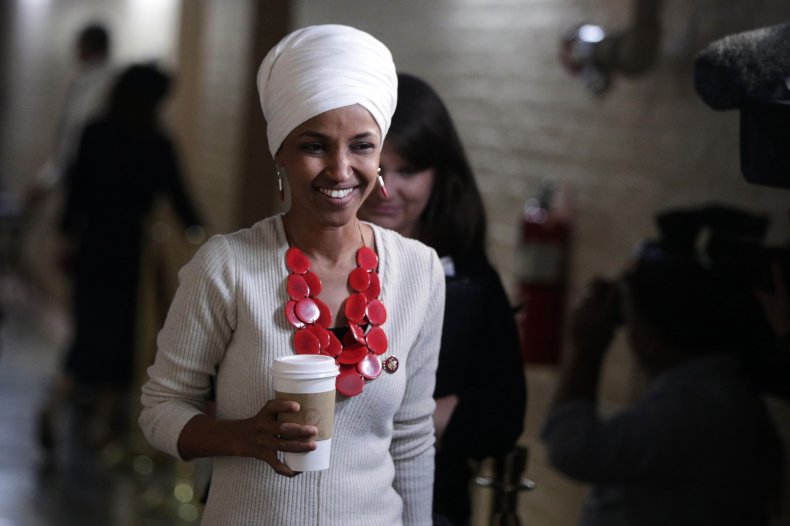 "I'm sorry for spreading fake news," Larsen wrote. "As an elected official, the public and the media are right to hold me to a higher standard. I'm willing to own my role in spreading misinformation but I will not be resigning any of my positions within the North Dakota State Legislature."
"However," he continued, "I want to be clear, this is by no means an apology to Ilhan Omar." Larsen then listed examples of what he called Omar's "suspect behavior" and said that her "rhetoric can be more easily likened to that of the Grand Ayatollah of Iran than that of an American congresswoman."
Larsen's controversial post showed a woman holding a gun with the comment, "Congresswoman at a Al' Qaida training camp in Somalia. She is trying to get this picture blocked. Share it everywhere."
The debunked photograph was taken four years before Omar was born, showing a female Somali army recruit undergoing military training in Mogadishu.
Omar denounced Larsen's post on Twitter as "pure propaganda."
Wardner said he didn't believe Larsen's post was inspired by racism.
"It has to do with political philosophy," Wardner said October 22, according to the Brainerd Dispatch. "[Larsen and Omar] are as far apart politically as you can be."
Wardner emailed his fellow senators asking for guidance concerning his next move.
"I personally do not feel that this action warrants resignation of my Pro Tempore status," Larsen wrote. "I ask each of you to provide me your opinion on this issue to assist me in deciding my next action."
Their reply came the next day.
"Your words and actions have negatively and unnecessarily drawn attention to you, our chamber, and this state and were unbecoming of both positions to which you were elected," wrote the North Dakota Senate Democratic Nonpartisan League Caucus. "We believe that collectively and individually, we play a role in holding one another accountable to the standards we have set for the Senate. As such, we support Majority Leader Wardner's call for you to resign your position as President Pro Tempore of the North Dakota Senate."