'Last-Minute Sabotage': Democrats Lambast Republican Lawmaker for Blocking Vote on Billions in Natural Disaster Aid
It took just one lawmaker to delay further the billions of dollars in long-awaited disaster relief funds for victims of hurricanes, floods and wildfires. Democrats let loose their ire on Representative Chip Roy, the Texas Republican who on Friday blocked a vote on the bipartisan relief agreement.
House Speaker Nancy Pelosi called it "last-minute sabotage" and "an act of staggering political cynicism." Majority Leader Steny Hoyer called it a "callous act." Democratic representatives from Florida labeled it "tragic" and "unforgivable."
Roy objected to the disaster relief bill because the $19 billion legislation did not include funding for President Donald Trump's long-sought border wall. The conservative House Freedom Caucus member also said the relief money would add to the federal deficit, and noted that only a few lawmakers were present to vote on it, because most had already left for the Memorial Day recess.
House members left town Thursday—before the Senate had yet struck a deal on the disaster aid bill—for the congressional recess, and will not return until June 3. The aid bill passed the Senate with overwhelming bipartisan support that afternoon after it received Trump's blessing, despite the fact that it did not include billions of dollars requested by the White House for the president's border wall.
The House tried to pass the bill on Friday by "unanimous consent"—or a voice vote—during a pro forma session when fewer than a handful of lawmakers are typically present. Roy's objection was all that was needed to defeat the vote, which means the next opportunity to pass the bill will be during the next pro forma session on Tuesday.
"There's no reason" why the bill should not have also included "the quite modest $4.4 billion" the White House requested for the wall, Roy said on the House floor. Moments later, however, he said the disaster aid would add to the country's "racking up [of] 100 million dollars of debt per hour."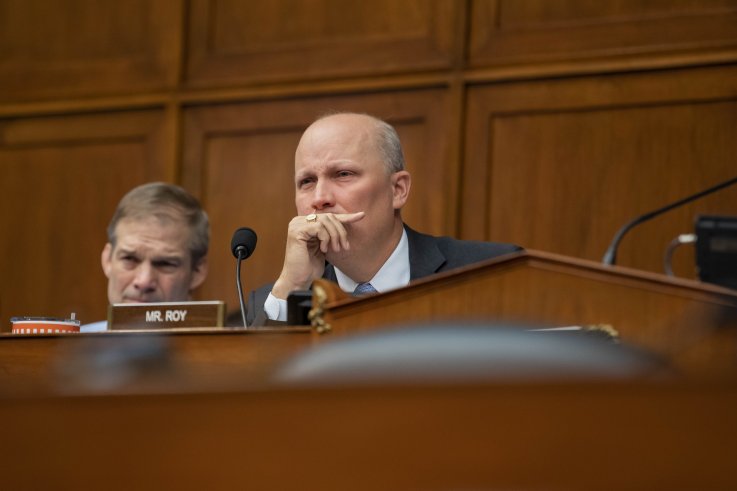 "We've had months to figure this out, and to do our job and secure our border," Roy continued. "We now are expected to let the swamp continue to mortgage the future of our children and grandchildren, making it less likely they want to earn a stronger and better country, with a government capable of defending the nation and responding to disasters such as these. And with that, I respectfully object."
The House then adjourned.
Congress has been trying to reach a deal on disaster aid funding for months, with the main sticking point being how much should be allocated to Puerto Rico, which is still recovering from the hurricane that wiped out much of the island's infrastructure in 2017. Since then, Trump has repeatedly claimed, incorrectly, that the U.S. territory has received billions of dollars more in aid than it actually had; some reports suggested the president had attempted to withhold money that was already allocated to the island.
"Countless American families hit by devastating natural disasters across the country will now be denied the relief they urgently need," Pelosi said in a statement. "Every House Republican needs to answer to the American people why they are standing in the way of urgently needed disaster relief for families struggling to heal and recover."
The House will "take action as early as next week" when it meets in pro forma session Tuesday, Hoyer said, adding that he was "outraged" by Roy's actions. "Shame on them," the Maryland Democrat said of House Republicans in a statement.
Representative Donna Shalala, a Florida Democrat who made the formal request on the House floor for the unanimous consent vote, told reporters it was "tragic" for Roy to block the aid. She later tweeted it was "irresponsible that Republicans would object and make these Americans wait longer to receive the help they desperately need."
Representative Debbie Mucarsel-Powell, a Florida Democrat whose district includes Miami, called Roy's actions "unbelievable," "unforgivable" and "unacceptable." In a tweet, she accused her House colleague of preventing Florida and Puerto Rico "from receiving aid we desperately need."
Florida GOP Senator Marco Rubio expressed frustration Thursday, as senators worked to hash out a bipartisan agreement both the House and the White House would accept. "There's no way to explain to someone anywhere in this country that's been hit by a natural disaster why Congress can't pass what everyone here agrees on," he told reporters.
'Last-Minute Sabotage': Democrats Lambast Republican Lawmaker for Blocking Vote on Billions in Natural Disaster Aid | U.S.