Democrats Launch Bill to Reunite All Separated Immigrant Families 'Immediately' Using ICE Funds
Democratic senators unveiled a new family reunification bill on Tuesday that seeks to "immediately" reunite 2,600 immigrant children with their parents after they were separated at the U.S.-Mexico border under the Trump administration's "zero tolerance" family separation practice.
The Reunite Every Unaccompanied Newborn Infant, Toddler and Other Children Expeditiously (REUNITE) bill, introduced by Democratic Senators Kamala Harris, of California, Jeff Merkley, of Oregon, and Catherine Cortez Masto, of Nevada, aims to see family reunification expedited and calls for the establishment of a "permanent system" to ensure the protection of detained immigrants with children.
The Trump administration is currently racing to meet a July 26 court-ordered deadline to reunify children with their parents.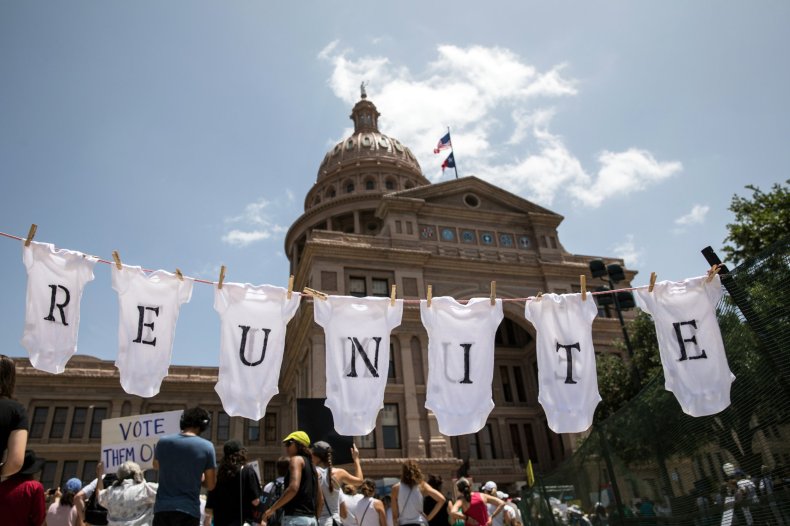 However, the three senators said government inactivity was to blame for the administration's failure to reunite thousands of children with their parents immediately after the widely condemned family separation practice was rescinded in June.
"This is a crisis created by this administration and has resulted in thousands of children being ripped from their mothers and fathers," Harris said in a statement published on her website.
"The government should be in the business of keeping families together not tearing them apart. A stunning lack of transparency and accountability has left thousands of children in need of reunification," she said. "That must happen immediately. We are better than this."
The new bill also seeks to "create the presumption" that parents will not be deported until their child's immigration proceeding is over, or if the child turns 18.
It also requires that the Department of Justice, Department of Homeland Security and the Health and Human Services Department work together to establish an interagency office aimed at locating and reuniting children with parents to "expedite and facilitate" reunification.
Furthermore, the new bill demands that $50 million in appropriations from the U.S. Immigration and Customs Enforcement agency's Enforcement and Removal Operations branch be redirected to cover the costs of enforcing the bill.
Calling the Trump administration's family separation practice an "evil deed," Merkley said the U.S. must "close this chapter and do so immediately."
"Trump's policy to deliberately inflict trauma on the children of families fleeing persecution is a dark and evil deed," Merkley said.
"This legislation, the REUNITE Act, creates a roadmap to move with urgency to reunite the more than 2,500 children Trump has separated from their families, and to treat these families with respect and decency as they await their hearing on their asylum claims," he said.
In a statement shared on Twitter, Cortez Masto claimed that the Trump administration "never had the intention of reuniting these families."
"Never ever. There was no plan," she said.
In addition to Harris, Merkley and Cortez Masto, the REUNITE bill has been cosponsored by Senators Elizabeth Warren (D-MA), Richard Blumenthal (D-CT), Ed Markey (D-MA), Tom Carper (D-DE), Bernie Sanders (I-VT), Kirsten Gillibrand (D-NY), Tim Kaine (D-VA), Cory Booker (D-NJ), Bob Menendez (D-NJ), Ron Wyden (D-OR), and Tammy Duckworth (D-IL), according to Harris's website.