Democrats Have a 12 Point Lead over Republicans as Midterms Approach, Poll Says
A recent poll conducted by NBC News and The Wall Street Journal signaled that the midterm elections could pose trouble for Republicans and President Donald Trump.
The poll, taken between September 16 and September 19, found that Democrats are leading Republicans in congressional preference by 12 points. Sixty percent of people polled also wanted to see a significant change in direction from the one President Donald Trump has been taking.
But the same poll found that almost 70 percent of voters polled were very satisfied or somewhat satisfied with the economy. The poll saw a six percent increase in satisfaction with the economy since June, the last time it was conducted, and a 13 percent increase since April 2017.
Of those surveyed, 26 percent considered themselves very or somewhat liberal and 37 percent identified as very or somewhat conservative. When it came to their opinions on various issues, the majority of those polled would likely vote for a candidate who:
Favors allowing young adults who were brought into the country illegally by their parents to stay in the United States legally to attend college or to work
Supports cutting the tax rate for business and corporations, as well as, cutting taxes for most Americans
Favors stricter regulations on assault and military-style firearms
Forty-seven percent of people said they were more likely to vote for a candidate who favors a single-payer system that allows the government to provide healthcare.
"I do believe Democrats will win back the House of Representatives," Representative Ben Ray Lujan, chairman of the Democratic Congressional Campaign Committee, told The Washington Times. "Our candidates are in a strong position."
However, other Democrats pointed to the 2016 presidential election and warned about being overly confident about a guaranteed win.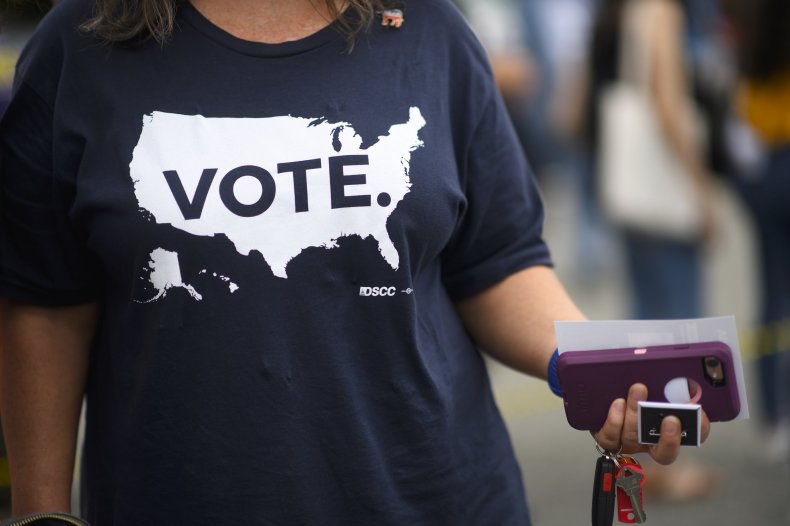 "This is no time for confidence. This is no time for braggadociousness or bluster," Booker said. "If there's any complacency, if there's any resting on their laurels, we need to go back to how people felt in the early days of November 2016."
Trump has been actively encouraging people to vote during the upcoming midterm election and disparaged Democrats for trying to use the issue of Russian collusion to hurt Republicans during the midterm.
"While my (our) poll numbers are good, with the Economy being the best ever, if it weren't for the Rigged Russian Witch Hunt, they would be 25 points higher! Highly conflicted Bob Mueller & the 17 Angry Democrats are using this Phony issue to hurt us in the Midterms. No Collusion!" Trump tweeted.
Similarly to other midterm elections, this year's, scheduled to take place on November 6, is being seen as a review of Trump's performance. The possibility has also been raised that if Democrats take over the majority in Congress, they'll move forward with an attempt to impeach the president.