Democrats Look to Hatch Act to Try to Stop Trump Administration from Politicizing Government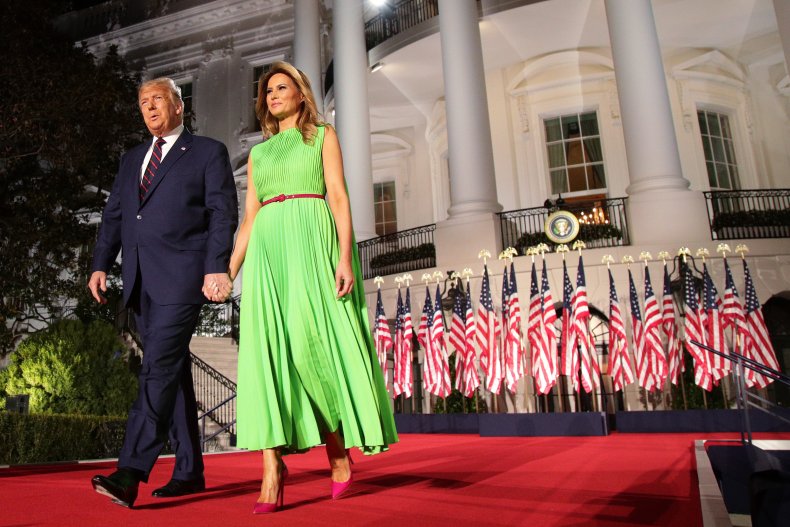 The Hatch Act—a law that prohibits federal employees from mixing politics with their official duties—may have gotten an inadvertent boost from the Republican National Convention this week.
Appearances by key members of President Donald Trump's administration, video of official actions, and a grand finale event on the grounds of the White House—complete with a fireworks spectacular from the National Mall—prompted repeated questions through the week of whether Trump was taking the benefits of incumbency too far and breaking the law passed in 1939.
"The basic rule is you are not allowed to use your official position to support or oppose a partisan candidate in an election," Richard Painter, law professor at the University of Minnesota, told Newsweek. "This administration is a perpetual Hatch Act-violating machine—it's just going on and on and on."
Data shows a dramatic increase in interest in the Hatch Act as Republicans gathered to renominate Donald Trump as the GOP presidential candidate. Based on Newsweek's analysis of trends, Google registered a significant uptick in "Hatch Act" searches throughout the week, with the biggest spike on Friday after the convention wrapped.
While critics of Trump have frequently accused members of his administration of Hatch Act violations, the matter had drawn little attention outside of select political circles.
"When people hear 'Hatch Act' they think of a narrow, technical rule that's not very important," Claire Finkelstein, a law and philosophy professor and director of the Center for Ethics and the Rule of Law at the University of Pennsylvania Carey Law School, told Newsweek. "That's how the administration portrays it."
The White House and Trump campaign officials have stressed that they kept the law in mind this week and have denied any wrongdoing. White House Chief of Staff Mark Meadows brushed aside concerns about Hatch Act violations during a live interview with Politico reporters this week.
"Nobody outside of the Beltway really cares," Meadows said. "They expect that Donald Trump is going to promote Republican values and they would expect that Barack Obama, when he was in office, that he would do the same for Democrats. This is a lot of hoopla that's being made about things, mainly because the convention has been so unbelievably successful."
But the increased interest this week prompted the Office of Special Counsel (OSC) to release a rare public statement noting that, while the agency is tasked with investigating Hatch Act complaints and issuing its determinations, it ultimately has no authority to enforce it. That lies solely to the U.S. Department of Justice (DOJ) and the Trump-appointed attorney general, the statement noted.
"Ultimately, officials and employees choose whether to comply with the law," Special Counsel Henry J. Kerner said in the statement. "Once they make that choice, it is OSC's statutory role to receive complaints, investigate alleged Hatch Act violations and determine which ones warrant prosecution. Through this statutory scheme, OSC holds officials and employees accountable when they don't comply with the law. OSC will continue to vigorously and even-handedly enforce the Hatch Act, consistent with its statutory authorities."
The law was adopted amid Republican fears of then-President Franklin Roosevelt using the federal government, newly expanded under the New Deal, as a political apparatus. Meadows argued that those who bring it up are misrepresenting its original intent.
"What it's really designed to do is to make sure people like myself and others do not use their political position to try to convince other employees, other federal employees, that they need to vote one way, need to register one way or need to campaign in one way," Meadows said.
But Secretary of State Mike Pompeo's video appearance, taped in Jerusalem's Old City, has come under particular scrutiny. Secretaries of state have typically abstained from political conventions, and Pompeo was on a diplomatic mission.
Finkelstein and Painter have filed a complaint alleging that Pompeo's speech violated the Hatch Act.
"He's obviously converging his diplomatic mission with partisan politics in a very dangerous way," Painter said.
Finkelstein called it "particularly egregious," and said that the move could threaten national security and put stress on the United States' relationship with Israel.
"He was on a diplomatic mission in a part of the world that is arguably the most delicate for our national interests," she said. "It will damage our standing abroad and our authority to solve world problems for a long time to come."
The OSC previously has determined that multiple high-ranking members of the Trump administration have violated the Hatch Act, including Interior Secretary Ryan Zinke, who wore Trump campaign socks on an official event and tweeted a photo of it, and special counselor Kellyanne Conway, who was found to have made political statements while giving televised interviews from the White House grounds. Neither faced official disciplinary action beyond public warnings.
Trump's administration isn't the first to face serious Hatch Act allegations. The OSC determined that at least two members of the Obama's cabinet—Housing and Urban Development Secretary Julian Castro and Health Secretary Kathleen Sebelius—had violated the law during his tenure.
According to OSC's budget request for the coming year, the agency has fielded record levels of complaints since the law was last tweaked in 2012.
"We believe this increase reflects a growing awareness of the Hatch Act and vigilance for apparent violations," the OSC wrote in its appeal to Congress. "OSC strongly expects this trend will continue."
It received 281 complaints last year, compared to 106 the year before Trump took office.
Most of the cases play out on levels much lower than the White House, and the OSC often was able to facilitate disciplinary agreements, or the employee left the federal government. Among the cases settled last year, an employee within the Department of Defense was suspended for 90 days because the employee was found to have sent multiple partisan political emails and posted political messages to Facebook while at work, the OSC noted in its annual report to Congress released earlier this year.
A DOJ immigration judge was found to have violated the Hatch Act by promoting then-presidential candidate Hillary Clinton's plan for immigration reform during a March 2016 hearing. The judge, who retired before the decision was issued, was given a $1,000 fine and banned from federal service for 30 months. Had the judge not already stepped down, the judge faced a 120-day suspension, according to the report to Congress.