Democrats Look for Midterm Rebound After String of Legislative Victories
Throughout this year, the Democratic Party has been criticized for "doing nothing" in the face of domestic tensions, geopolitical strife and decades-high inflation. But since vowing to make the economy his "top priority" in May, President Joe Biden has taken actions that, for now, seem to be making improvements to the state of Americans' finances.
Democrats are growing more optimistic that steadily declining gasoline prices and two significant legislative victories, including the passing of the CHIPS Act and the Inflation Reduction Act within the last two weeks, will act as catalysts for a surge in voter support in the midterm elections this fall.
Bruce Stokes, visiting senior fellow at the German Marshall Fund of the United States, cautiously agrees with their sense of optimism.
While noting that nobody can accurately predict a political outcome, he told Newsweek, "I think the timing is good for the Democrats in the sense that it is early."
"History has demonstrated that people have already made up their minds when things happen too close to the election," he said. "But the midterm elections are far enough away that the public opinion benefits of this legislation may have some time to settle in."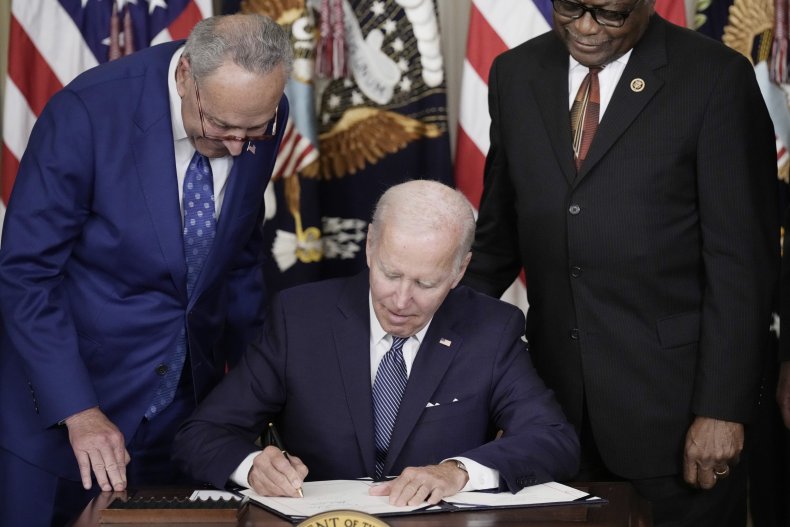 The U.S. economy has been highly volatile during Biden's first term. Last year saw record consumer spending, corporate profits and economic growth, while 2022 so far has brought rampant inflation, continued supply chain shortages, and fears of a recession.
This rapid swing should be a cause of concern for Democrats, said William Galston, a Senior Fellow at the Brookings Institution.
"If there are major economic problems, which there certainly are right now," he told Newsweek, "it becomes probably the single biggest factor determining presidential job approval."
Biden's approval rating stands at 38%, according to the latest Reuters/Ipsos poll, up from the term-low 36% rating he received in mid-July.
While there remains a wide gap from the 57% approval mark achieved during Biden's first month in office, the positive movement has Democrats sounding more confident.
"We've seen a dramatic change in numbers in the last few months, even before this major accomplishment of the Inflation Reduction Act," Senate Majority Leader Chuck Schumer said last Friday on MSNBC.
"The way I look at it," he added, "if we held the election today, there's a damn good chance we'd pick up a few seats."
The CHIPS and Science Act of 2022, signed into law on August 9, is intended to strengthen the American manufacturing sector. By investing $280 billion in research, development, education, and jobs, its goal is to keep the United States at the forefront of future industries like semiconductors, nanotechnology, clean energy, quantum computing, and artificial intelligence.
Additionally, the Inflation Reduction Act, signed into law on Tuesday, is intended to reduce energy costs, lower healthcare prices, create jobs, and push the U.S. towards a "clean energy future."
Passed with 220 votes in the House and 51 in the Senate, the $437 billion bill marks a step back from the $1.75 trillion Build Back Better plan Biden was pushing for last year. Nevertheless, the victory has been met with excitement, and is being touted as the "biggest climate investment in U.S. history."
"The public supports every element of this bill," Stokes said, "climate spending, strengthening American technology, infrastructure commitments, capping the cost of insulin, and negotiating drug prices to Medicare."
Yet he added a cautionary note.
"But the fact that they support these individual policies does not mean that they connect them to the work of the president or Democrats as a whole," Stokes said.
While some observers are growing more optimistic about the prospects of these legislative victories leading to midterm victories, skepticism remains.
"I do not think the bill's passage is going to have much of an impact," Galston said. "I say that because legislation passed in Washington D.C. rarely has much of an effect until people can feel the effects on the ground."
Referring to declining gas prices as a more reliable indicator, he suggested that a lower price at the pump is more likely to impact approval ratings than any "major" legislative victories.
"Not long ago, people were paying more than $5 a gallon for gasoline," he said, "and now they're finally getting some relief at the pump."
"The price of gasoline has declined for more than 50 consecutive days," Galston added. "If this keeps up, you can expect a favorable impact on his approval ratings. But with a lag."
While highlighting these legislative victories, Stokes said that Biden should also focus on reducing prices on essentials like food, energy and housing. He added that doing so will provide much-needed economic relief to American households, and potentially pay dividends for Democratic candidates in the fall.
"It is harder for Republicans to say now that the Biden administration has not accomplished anything," Stokes told Newsweek. "But ultimately, prices will have to come down for Democrats to stay steady ahead of the midterms."
Balancing the effects of legislative victories against the public opinion impact of rising costs, he noted that "the Democrats prospects are looking up a little bit."
"These are legislative accomplishments that normally would benefit the party in power," Stokes said. "But If prices start to go back up, that is bad news [for Democrats], because it's something that people notice every day."