Democrats Look to Trump Allies Lindsey Graham, William Barr in Making Their Case the President Abused His Power
On Day Four of the president's impeachment trial, Democrats turned to allies of Donald Trump when laying out their case for why he violated the Constitution by abusing his power and should be removed from office.
Those Trump sympathizers were Attorney General William Barr, Sen. Lindsey Graham (R-S.C.) and one of the attorneys on the president's legal defense team, Harvard Law professor Alan Dershowitz.
"Everyone except President Trump and his lawyers agree that presidents can be impeached for abuse of power," impeachment manager Jerrold Nadler (D-N.Y.) argued on the Senate floor.
House impeachment managers sought to use the Republicans' own words from the past to dispel the notion, held by Trump and other GOP members of Congress, that a president cannot be impeached for acts that do not amount to crimes. Those Republicans' former positions are now at odds with that of Trump's defense team.
"Frankly, that argument is itself terrifying," Nadler said. "The president's position amounts to nothing but self-serving, constitutional nonsense, and it is dangerous nonsense at that. A president who sees no limit on his power manifestly threatens the republic."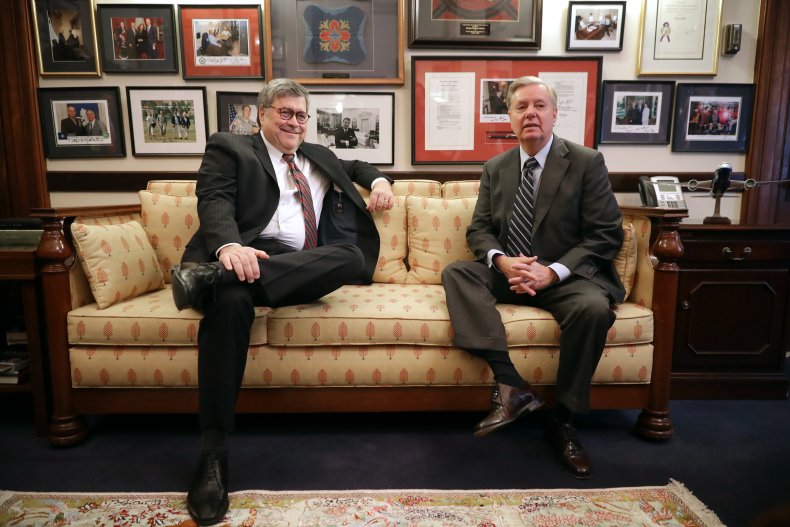 The Democrats also highlighted testimony given by four legal scholars to the House during its impeachment inquiry, three of whom said Trump committed impeachable offenses when he pressured Ukraine to conduct an investigation into the Bidens to aid his re-election bid while withholding military aid. A government watchdog determined last week that such a hold was, in fact, illegal.
Nadler turned to remarks made by Dershowitz in 1998 to Larry King on CNN, where the lawyer stated his belief that an impeachable offense "certainly doesn't have to be crime."
"If you have somebody who completely corrupts the office of president, and who abuses trust and who poses great danger to our liberty, you don't need a technical crime," Dershowitz added.
He's since walked back his decades-old comments, telling CNN in recent days that "without a crime, there can be no impeachment" and that he's "far more correct now." Elaborating, Dershowitz contended that while a "technical crime" is not needed, "criminal-like behavior" is, and the impeachment articles do not amount to that.
Nadler then moved on to Barr, who in 2018 penned a memo to Trump's legal team and the Justice Department before being selected as attorney general.
"We need not look to 1998 to find one of President Trump's key allies espousing his view," Nadler said. "Consider the comments of our current attorney general, William Barr, a man known for his extraordinary expansive view of executive power."
In the document, Barr argued that impeachment serves as a constitutional check on a president, despite his stance that a president cannot be charged with a crime, which coincides with an opinion from the Justice Department's Office of Legal Counsel.
"The fact that President is answerable for any abuses of discretion and is ultimately subject to the judgment of Congress through the impeachment process means that the President is not the judge in his own cause," Barr wrote.
To further make his case, Nadler also pointed to remarks from Graham during the impeachment trial of President Bill Clinton. Graham, who was an impeachment manager at the time, argued on the Senate floor that the "high crimes" referenced in the Constitution by no means had to be statutory crimes.
"It doesn't even have to be a crime," Graham said. "It's just when you start using your office and you're acting in a way that hurts people, you've committed a high crime."
Sen. Mike Braun (R-Ind.) told reporters Thursday he agreed that impeachment does not require a crime. However, he said additional context is needed for the matter at hand.
"When you have your underlying motivation, having such vitriol and so much depth to it, I think that counts for something," Braun said. "And when you hear the whole case laid out, to date, by people who kind of have those underpinnings, you can't really talk about anything until we hear the counterpoint."