Democrats Are Losing Millennial Support They Need to Win Midterms, New Poll Suggests
Millennials may not be as loyal to the Democrats as previously thought—and it could hurt the party at the ballot box in November.
A Reuters/Ipsos poll released Monday found that support among voters ages 18 to 34 has fallen by roughly 9 percentage points over the last two years. That means just 46 percent of registered millennial voters now identify with the Democrats, as compared to 2016, when the majority of the voting bloc backed the party.
Though an overwhelming two-thirds of the poll's 16,000 respondents said they don't like President Donald Trump, many of these young voters are being pulled to the right by a Republican Party they see as being stronger on economic issues. Some respondents voiced support for the Republican tax legislation and the party's messaging on jobs, which they said have made a material difference in their lives under a GOP-controlled Congress.
Experts said that when it comes to party allegiance, millennials are both more fluid and more easily swayed than the generations that came before them.
"They're not as wedded to one party," Donald Green, a political science professor at Columbia University, told Reuters. "They're easier to convince than, say, your 50- or 60-year-olds who don't really change their minds very often."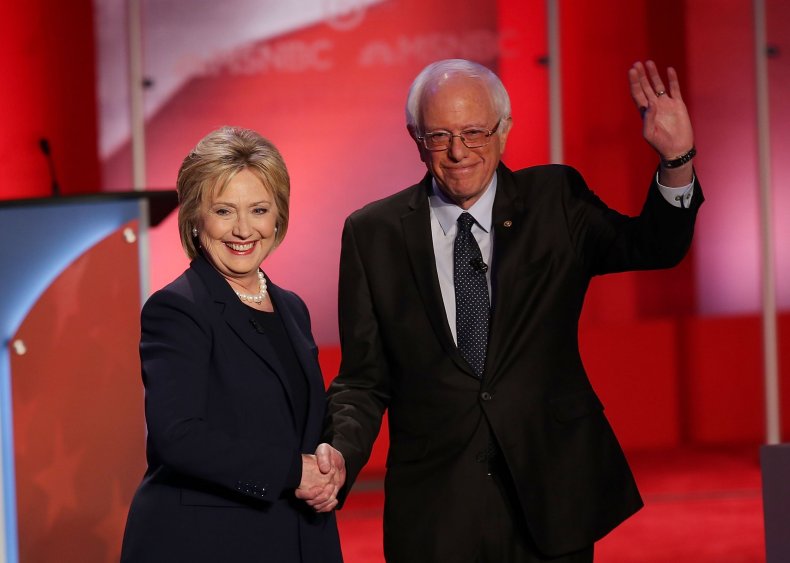 This trend may make some Democrats uneasy, especially going into a competitive midterm election with the goal of winning back at least one chamber of Congress. But others say there's little reason to panic.
"While people may not register for a particular party, they show up for a candidate who shares their values," Amanda Litman, the cofounder and executive of Run for Something, a group dedicated to running and recruiting young candidates, told Newsweek. "And with young people, those candidates are most often those who care about progressive causes like climate change, marriage equality and a woman's right to make her own health care decisions."
For proof, Litman said to look no further than Virginia Governor Ralph Northam's November win: The Democratic candidate defeated his Republican opponent, Ed Gillespie, by winning 69 percent of the millennial vote.
Vermont Senator Bernie Sanders overwhelmingly won over the young vote in 2016, outperforming both Hillary Clinton and Trump with the voter bloc. In fact, Sanders garnered more votes from Americans under 30 than Clinton and Trump combined, according to a June 2016 Washington Post report.
Sanders made tuition-free college and student debt relief prominent platforms in his presidential campaign, which perhaps explained his appeal to millennials, a generation burdened with roughly $33,000 of student loan debt on average.
But Litman said there's no lesson to be learned from Sanders in particular, adding that Democrats don't necessarily need to adopt all of his platforms or mimic his campaign. If they want to win over millennials, they just need to be genuine.
"Young people want candidates who are authentically themselves and who aren't bullshitting us," said Litman. "Candidates should have a problem they want to solve. We tell our candidates, 'You're not running to be something. You're running to do something.' To win, voters need to understand what that 'something' is."