Democrats May Have Ruined Chances For Witness Deal, Winning Over Moderate Republicans With Repetitive Arguments
On the final day for House impeachment managers to make their case to senators on why President Donald Trump should be removed from office, it become increasingly apparent that both political parties have a tough road to navigate next week on whether to subpoena documents and witnesses the White House previously blocked.
If Republicans choose to forgo demanding more evidence and testimony, they run the risk of additional damning information coming to light after the trial's conclusion. But the Democratic managers may have alienated the few moderate Republicans, who've yet to decide whether they need more evidence, by giving what GOP senators have characterized as repetitive and lengthy arguments.
Just hours before the Senate gaveled in Friday for Day Five of the impeachment trial, ABC News reported new audio where Trump said in 2018 to "take her out" in reference to ousted U.S. Ambassador to Ukraine Marie Yovanovitch, a revelation that adds to the significant evidence released about the president's Ukraine dealings since his impeachment last month.
"I'm going to let you judge the political ups and downs of decisions relating to the trial," Sen. Mitt Romney of Utah told Newsweek. He and his GOP colleague, Sen. Susan Collins of Maine, have signaled they'll be open to witnesses and are among a small group of Republicans that Democrats will look to for support. "I'm just trying to decide what's the right answer and carrying it out."
Democrats need at least four Republicans to side with them to subpoena documents and witnesses the White House blocked from impeachment investigators last year, such as former national security adviser John Bolton and acting White House chief of staff Mick Mulvaney.
But Republicans have accused the managers' narrative of Trump's alleged wrongdoing as being repetitive and unnecessarily drawn out over the past three days, raising the specter of whether moderate Republicans may now be less inclined to throw Democrats a bone and agree to witnesses.
"It became mind-numbing after a while. I got the general point you were trying to make the fourth time you told me," Sen. Lindsey Graham (R-S.C.) said. "They're overtrying their case, and I would just urge them to not do that because, eventually, it gets just hard to follow."
Sen. Rick Scott (R-Fla.) made a reference to the protester this week who was forcefully removed from the Senate as he screamed insults about Minority Leader Chuck Schumer (D-N.Y.).
"We saw that protester yell something bad about Chuck Schumer. I'm thinking about possibly doing the same thing so the Sergeant at Arms will take me out also because this is ridiculous," Scott said. "We've heard the same thing three days in a row."
Sen. Thom Tillis (R-N.C.) said the Democratic managers were "presenting the same information" on a "two-hour loop."
Some Democrats have conceded the managers' messaging has been too tedious. However, they argue that it's warranted, given the allegations that the president abused his power and obstructed Congress by withholding foreign military to Ukraine while pressuring its government to investigate a domestic political rival.
They've also said the GOP rebuttal to witnesses over the likelihood it would result in a lengthy court battle was moot because Trump could choose not to block the subpoenas and not claim executive privilege.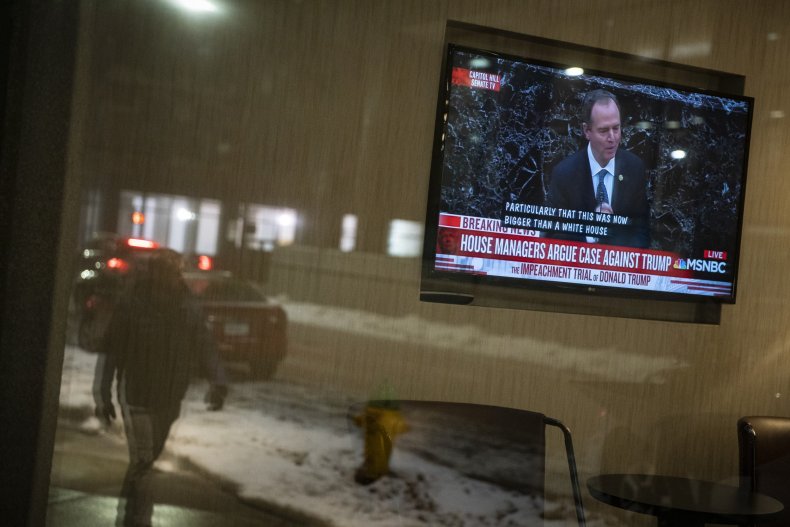 "Yes, it is lengthy, but this is the third time in the history of the United States we've had an impeachment of a president being considered," Democratic Whip Dick Durbin of Illinois told Newsweek. "I think we should take our time and do it right."
Sen. Doug Jones of Alabama, a moderate Democrat facing a tough re-election, told Newsweek that although the case was "getting a little tedious," managers have "done it in the right way it's a compelling case right now."
Other Democrats scoffed at such accusations by their Republican colleagues.
"Seriously? If your argument is, 'oh, I don't have to act to defend my country because someone talked too long,' you're not—Sorry," Sen. Chris Coons (D-Del.) told Newsweek, who groaned out of frustration. "Why don't you ask me that question again."
Rep. Adam Schiff (D-Calif.), who's lead the majority of the case as the lead impeachment manager, labeled the GOP criticism as "nonsense."
"This is not a trial over a speeding ticket or shoplifting," he said. "This is an impeachment trial involving the president of the United States."
One of the Republicans considered a wildcard, Sen. Lamar Alexander of Tennessee, who's not seeking re-election, continued to hold his cards close as to whether he's been swayed.
"I think that House managers have had a more than fair opportunity to present their case," he said. "I think the House managers have done a good job of making their arguments, but that doesn't mean I will agree with them."