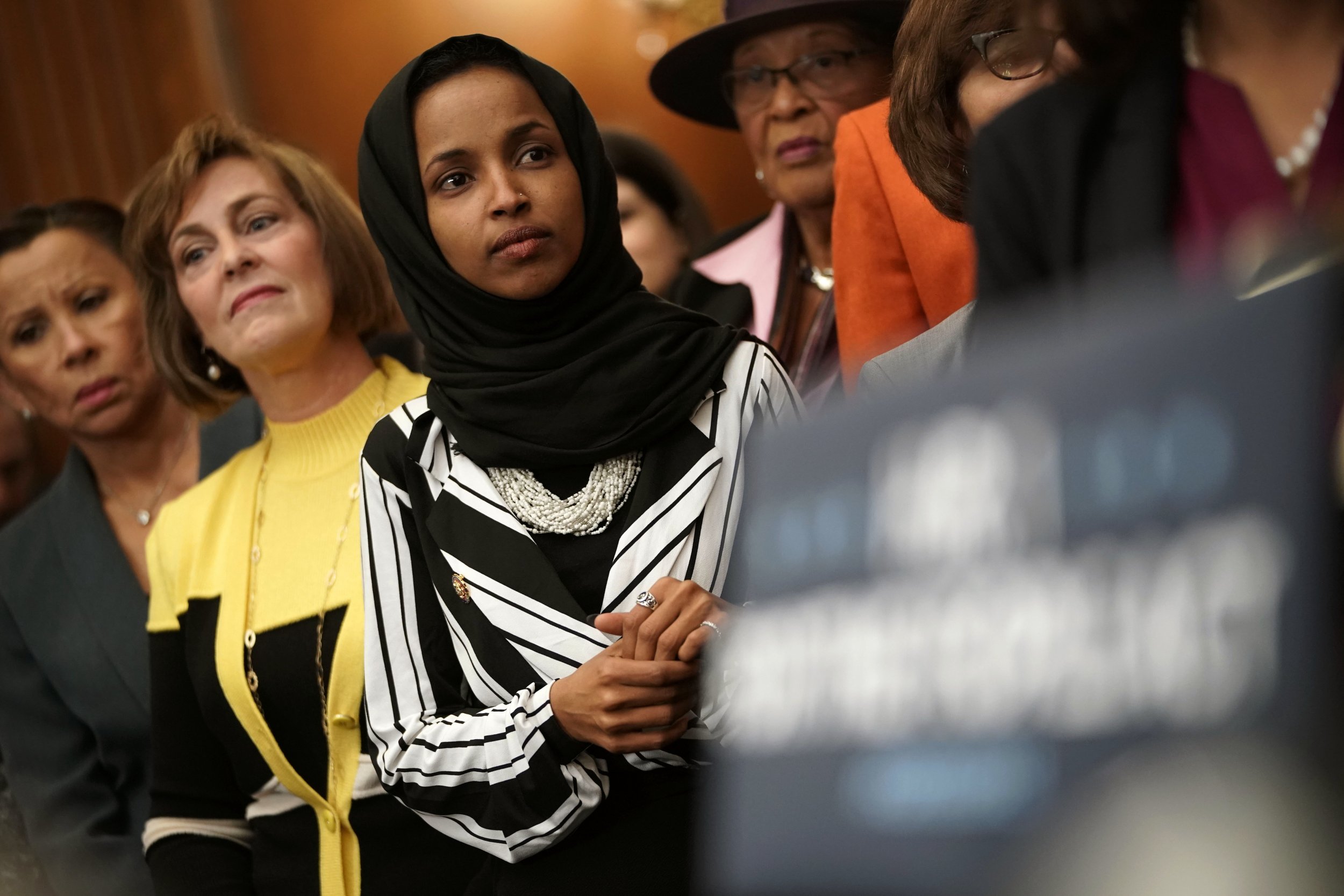 Democratic leadership in the House came to the defense of two freshmen representatives on Tuesday who have been accused by Republicans of holding anti-Semitic views toward Israel.
Representatives Ilhan Omar, of Minnesota, and Rashida Tlaib, of Michigan, are the first Muslim women to serve in Congress. Omar, a Somali refugee, and Tlaib, a Palestinian-American, have both come under fire for past and recent comments against Israel and for supporting the boycott, divestment and sanctions (BDS) movement. The movement's objective is to "end international support" for Israel when it comes to the country's treatment of Palestine and their occupation of the West Bank.
In a resurfaced tweet from 2012, Omar, who now sits on the House Foreign Affairs Committee, said that "Israel has hypnotized the world, may Allah awaken the people and help them see the evil doings of Israel. #Gaza #Palestine #Israel." In a response to anti-BDS legislation sponsored by Senate Republicans that was advanced on Monday with bipartisan support, Tlaib suggested lawmakers who supported the measure had dual loyalty, tweeting earlier this month they "forgot what country they represent."
The comments and support for BDS, among other things, have caused Republican critics to label the two women as anti-Semitic. Republican Congressman Lee Zeldin of New York filed a resolution last week directly aimed at Tlaib and Omar titled "Rejecting Anti-Israel and Anti-Semitic Hatred in the United States and Around the World."
Still, Democrats came to their defense on Tuesday, defending the lawmakers' positions and rejecting the notion their views were anti-Semitic.
"Clearly, I condemn anti-Semitism. I don't know that I draw the conclusion, however, that those attacking these two members are correct they are anti-Semitic," said House Majority Leader Steny Hoyer. "I don't accept that premise."
Hoyer took issue with a provision of the Senate's bipartisan legislation that came from GOP Senator Marco Rubio. It was considered a ploy by some to divide Democrats because it allowed local and state governments to no longer do business with companies who support BDS. The measure has been called unconstitutional by independent Senator Bernie Sanders, who claims it stifles free speech.
"I think there is clearly a question of drawing the line on free speech and the right of anybody to advocate a policy that they want versus actions to hurt an ally of the United States," Hoyer said. "I'm not sure the Rubio legislation drew that distinction properly."
Congressman Hakeem Jeffries, Democratic Caucus chair, also defended his colleagues, adding that the Republican bills regarding BDS were a "political stunt" that are "not a serious effort at advancing foreign policy interests."
"I found those two new freshmen members to be thoughtful colleagues on a wide variety of issues," Jeffries said. "We can have a robust debate on domestic policy and on foreign policy. I can say that the overwhelming majority of the House Democratic Caucus is strongly pro-Israel."
Omar clarified and defended her 2012 tweet last week, saying she "spent lots of energy" putting her words in context but "little energy is disavowing the anti-Semitic trope I unknowingly used, which is unfortunate and offensive."
"With that said, it is important to distinguish between criticizing a military action by a government and attacking a particular people of faith," Omar said. "I will not shy away of criticism of any government when I see injustice—whether it be Saudi Arabia, Somalia, even our own government!"
Tlaib has also received criticism for her ties to Palestinian activist Maher Abdel-qader and recent comments where she said Democrats were going to "impeach this motherf*****" in reference to Trump.