The choice is clear: Democrats must make student loan forgiveness a priority ahead of minimum wage while they hold legislative capital.
The path forward comes as a result of a recent decision to not include a $15 minimum wage increase in the multi-trillion dollar COVID-19 relief package currently making its way through Congress.
President Joe Biden said he was "disappointed" but "respects" the ruling.
At a recent CNN town hall, Biden expressed hesitation regarding bumping the minimum wage to $15—even though wages would increase incrementally until reaching $15 in 2025. After acknowledging he would be open to some kind of legislative negotiation that includes a gradual increase, he added, "It's totally legitimate for small business owners to be concerned."
In Biden's political defense, the bill looked dead in the Senate anyway.
Two Democrats—Joe Manchin of West Virginia and Kyrsten Sinema of Arizona—publicly expressed wariness regarding wage hikes as part of a package aimed to alleviate economic tribulations of citizens and small businesses.
The party's majority is so slim that just one vote against the package, due to minimum wage or otherwise, would have torpedoed it. If you include the fact that no Republicans would approve a package that included a $15 minimum wage—they want $10—it would have halted relief and put the onus on the left.
A minimum wage increase, which last occurred during the Obama administration, is not frowned upon. A majority of Americans support it. Wages have not increased with the rate of inflation.
According to a 2019 Congressional Budget Office report, approximately 1 million jobs could be lost due to minimum wage improvements. This put a dent in support.
Meanwhile, Biden and his administration have been upfront about forgiving $10,000 in student loan debt.
A Vox/Data for Progress poll iterated that 51 percent of college-educated and non-college-educated Americans support the elimination of $50,000 of debt for individuals making less than $125,000 per year. That 51 percent is comprised mostly of individuals who possess some kind of debt and is more widely supported by Democrats, Black people, women and people under 45 years old when compared with Republicans, older white people and men.
The benefit of Biden's pulpit is that he is allowed to invoke executive action to cancel student debt, as pressured by Senate Majority Leader Chuck Schumer and Senator Elizabeth Warren—both argue the president has the authority to release borrowers from loans due to the Higher Education Act.
In January 2020, the Legal Services Center of Harvard Law School sent a letter to Warren stating that canceling $50,000 of debt for approximately 42 million borrowers was "a lawful and permissible exercise of the [U.S. Department of Education] Secretary's authority under existing law."
Biden expressed reluctance to use executive action and not let Congress, as a co-equal branch of government, have a say. Progressives are worried.
Currently, about one in eight Americans have some form of student debt that totals about $1.5 trillion—compared to $250 billion in 2004. Student loan debt surpasses credit card debt.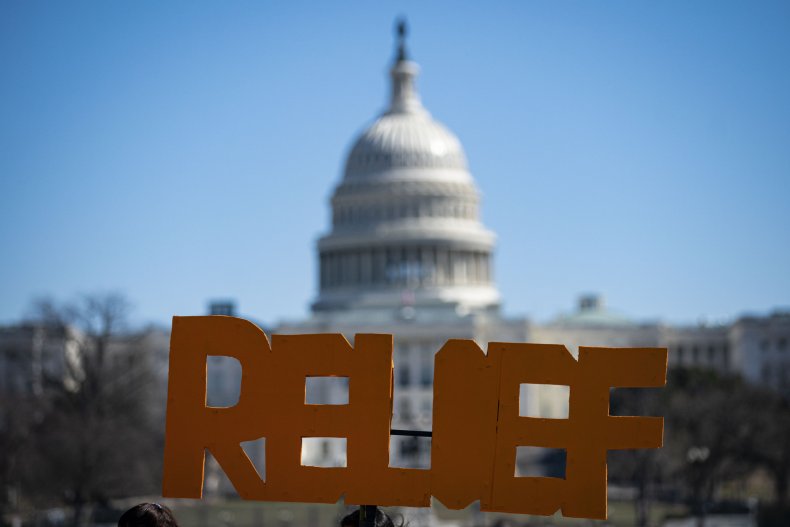 A longterm plan targeted to aid low- and middle-income workers, as opposed to absolving higher wage earners who possess more debt due to post-secondary degrees, would prove more beneficial—as would targeting obscene interest rates on existing debts.
Based on data in the fourth quarter of 2020 compiled by the U.S. Department of Education's office of Federal Student Aid, forgiving $10,000 would completely cancel debt for 33.6 percent of borrowers—while also benefiting the largest borrower group of 9.6 million individuals who owe between $20,000 and $40,000.
A one-time cancellation of the nation's outstanding student debt would translate to an average increase of $86 billion to $108 billion per year, according to a 2018 study by the Levy Economics Institute of Bard College—money that could go toward paying other bills, mortgages or starting a new business.
Low wage workers, whose numbers reduced dramatically since the onset of the coronavirus, have worked tirelessly. They deserve rightful compensation. But Washington legislators hold political footballs and not every pass reaches the end zone.
Even if wage increases were hypothetically included in the COVID-19 relief package, the effects would not be felt for years—at which point the rate of inflation will likely make $15 still seem much too low by mid-decade. It's low right now.
There is a benefit of fast-tracking the elimination of copious amount of student loan debt now, leading the economically fragile into a new world of opportunity.
It would provide a level of sanity and stability to those who procured debt only because they wanted to get an education.
Nick Mordowanec is a journalist based in metro Detroit. His work has been published in various outlets including Environmental Health News, Zenger News and The Gander.
The views expressed in this article are the writer's own.