There Were Twice as Many Republican Governors as Democrats When Trump Took Office—Now They're Almost Even
When President Donald Trump entered office in 2017, Republicans controlled twice as many governorships across the country as Democrats. But after the 2019 election cycle, Democrats have nearly pulled even.
Gubernatorial elections will be held in three states this year, including Kentucky, Louisiana and Mississippi. Two of those elections (Kentucky and Mississippi) were held on Tuesday night. Democrats picked up one governorship in Kentucky and will have the chance to hold on to their liberal governor in Louisiana on Nov.16.
The most high-profile governor's race of 2019 was between Republican incumbent Matt Bevin and Democrat Andy Beshear in Kentucky. Bevin, a Trump loyalist, was narrowly defeated by Beshear in a state the president won by a whopping 30 percent in 2016.
Bevin's defeat is a huge blow to Trump, who campaigned in Kentucky just one day before the election. During his rally, Trump warned conservatives that "if you lose, it sends a really bad message... you can't let that happen to me."
Newsweek subscription offers >
Despite the loss in Kentucky, Republicans were able to hold onto the Mississippi governorship. The state's Republican Lieutenant Governor Tate Reeves defeated Democratic Attorney General Jim Hood 52 percent to 47 percent.
Tuesday's election built on the momentum gained during the 2018 midterm election cycle, when Democrats flipped seven governorships. The governor's mansions in Illinois, Kansas, Maine, Michigan, New Mexico, Nevada and Wisconsin all turned from red to blue that year.
When Trump took office, Democrats controlled just 16 of the 50 governorships across the country. But after netting seven more in the 2018 election and one more in 2019, Democrats now control 24 governorships compared to the Republicans' 26.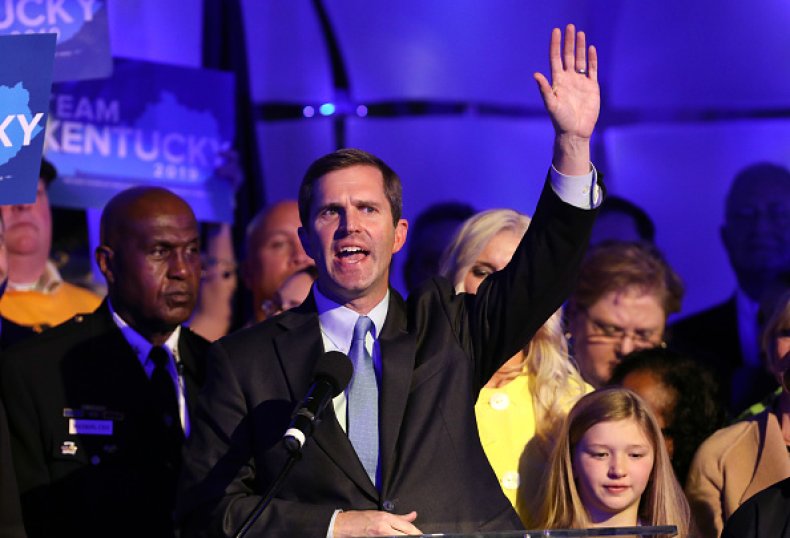 Newsweek subscription offers >
The upcoming Louisiana race will give Republicans the opportunity to increase their lead by one. Independent forecasters such as Cook Political Report have described the race between Democratic incumbent John Bel Edwards and Republican Eddie Rispone as a tossup.
Trump is expected to speak Wednesday at a rally in Monroe, Louisiana, to try to boost Rispone ahead of the election. On Monday, Trump urged conservatives to head to the polls to oust Edwards. He tweeted that the Democrat "is always fighting our MAGA Agenda."
In an endorsement video that is being circulated by Louisiana's Republican Party, Trump described Rispone as "a fantastic man, a great success. Everything he's touched has turned to gold." Meanwhile, Trump referred to Edwards as a "disaster."
Eleven more states will hold elections for governor in 2020. Next year's election cycle will have seven Republican seats and four Democratic seats up for grabs.
There Were Twice as Many Republican Governors as Democrats When Trump Took Office—Now They're Almost Even | U.S.