Democrats Newfound Skepticism of Lockdowns Puts Them on Collision Course With Unions
In a change of tune from 2020, Democrats are now speaking out against lockdown measures even as the Omicron variant leads to record-high case numbers across the U.S.
The Biden administration and Democratic leaders from New York to Illinois are stressing that schools should be kept open for students. However, the message has been met with pushback from some labor unions who contend that staffing shortages and inadequate COVID-19 protocols make such a mission impossible.
Such a standoff took place in Chicago, as the teachers union voted to return to remote learning temporarily to help keep students and staff safe amid a surge in COVID-19 cases. Mayor Lori Lightfoot repeatedly characterized the move as an "illegal work stoppage" and district officials responded by canceling classes altogether.
Five days of classes were canceled for more than 340,000 students before Lightfoot announced a tentative deal had been reached to return to in-person instruction on Wednesday. The Democratic mayor celebrated the agreement while the Chicago Teachers Union said they "prevented health care collapse" with the short quarantine.
Other unions across the country are also advocating for temporary returns to remote learning or stronger safety protocols.
Milwaukee Teachers' Education Association President Amy Mizialko told The New York Times that she anticipates a fight with local officials about possibly extending remote instruction. In San Francisco, the local teachers union is fighting for a more robust testing program.
"Learning is not normal," John Coneglio, president of the Columbus Education Association, told Newsweek. "We have massive staff absences. For example, we have a high school today that had 21 staff members absent and 15 of those were classroom teachers. That's 75 periods that need some sort of sub or sub coverage."
Coneglio continued: "I would just say that that rigorous instruction probably is not going on. So if politicians are selling this narrative that everything's normal in schools, it's not. It's just not."
The Columbus Education Association is calling for a two-week pause to in-person instruction to allow district officials to secure proper masks, conduct a deep clean of buildings, and potentially repair HVAC systems.
Coneglio said the association is looking for local leaders and the business community to "pitch in" by providing services such as free meals and flexibility to parents' work schedules until virus cases go down to a manageable level.
"This is a joint effort," he said. "The burden is placed squarely on the schools while everybody else gets to wash their hands on it."
Despite declining membership over the past few decades, union members still remain a powerful constituency. Exit polling showed union households accounted for 20 percent of the national electorate in the last presidential election.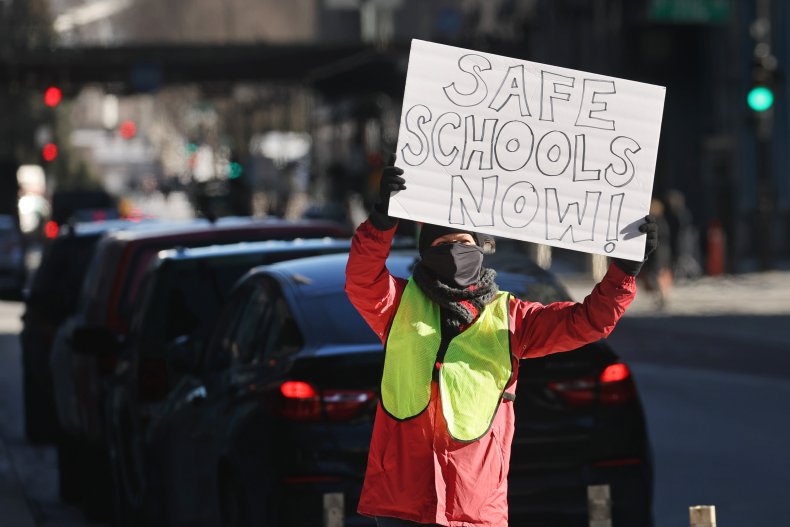 President Joe Biden won a majority of union voters in 2020, besting Donald Trump 56-to-40 percent. Biden outperformed Hillary Clinton's share of union households in the 2016 presidential race by five points.
"The Democratic Party's relationship with organized labor is very important," Dr. Peter Francia, director of the Center for Survey Research at East Carolina University and an expert on the role unions play in politics, told Newsweek.
Francia highlighted that union households were "especially helpful" in key battleground states such as Michigan, where that type of household favored Biden over Trump by a 25-point margin.
Union endorsements are key for candidates running for office, Francia said, as their support often leads to increased community volunteers. But he said the "most obvious risk to Democrats if they continue to clash with organized labor would be depressed voter turnout among union members in the 2022 election."
"In this environment, Democrats will need every vote they can get," Francia added. "If the labor vote isn't there for Democrats in a number of states and districts where union households still make up a respectable portion of the electorate, then Democrats may be in for [a] long night on November 8."
As to not further fracture their relationship, workers' rights activists say Democrats need to take into account unions' voices on the best way to manage the pandemic.
"Working people have expertise in what makes their workplaces safe in ways that politicians and even health and safety experts don't have," Adam Shah, the director of national policy at Jobs with Justice, told Newsweek. "It's important to not just say, 'We support workers,' but to actually listen to them and have them have a seat at the table."
Shah said the federal government should find ways other than vaccination to keep workers safe as its Occupational Safety and Health Administration (OSHA) vaccine-or-testing mandate for large employers faces numerous legal challenges.
"The Biden administration and mayors around the country really need to focus on making sure that tests are free and that masks are provided either by employers or by the government," he said.