Who Can Beat Donald Trump? Democrats Not Sure Joe Biden is Best Option After Debates
Democrats are not as confident that Joe Biden is the best option to take on Donald Trump in the 2020 election after last week's debates, which showcased the potential rise of Senators Elizabeth Warren and Kamala Harris.
According to a new Huffpost/YouGov poll, the former vice president's electability decreased 13 percent in just over a month. The survey polled 1,000 U.S. adults from May 9-10 and again after the debates from June 28-29.
In May, 70 percent of voters said that Biden, if nominated, could win the general election. By late June, Biden had fallen to 57 percent though he still led the crowded Democratic primary field.
As Biden's edge over the race dropped, Warren and Harris saw double digit increases as more Democratic and Democratic-leaning voters said the senators were capable of winning the general election. Warren went from 40 to 51 percent in terms of electability, while Harris jumped from 39 percent to 49 percent.
Senator Bernie Sanders, one of the front-runners of the Democratic primary, barely saw a change in electability before and after the first debate. He was at 45 percent support in May and 46 percent in June.
Meanwhile, Pete Buttigieg and Beto O'Rourke's electability among Democratic voters slipped after last week's event. Buttigieg fell from 28 to 26 percent support, while O'Rourke, who was largely considered to have underperformed in his debate, fell from 30 percent to 18 percent.
Democratic voters who watched the first round of debates, which were held on June 26 and 27, also said that their views of Warren, Harris and former housing secretary Julián Castro improved. Their view of Warren and Harris increased 58 percent, while their view of Castro improved 44 percent.
Warren, who has been surging in recent 2020 polls, had several stand out moments from night one of the debate. She was one of two candidates on stage to say she supports Bernie Sanders' Medicare for All plan. She explained that she backed the plan, which would replace private insurance with a government-run system, because she has seen the rise of healthcare costs bankrupt American families.
"Some politicians say Medicare for All isn't possible. What they're really saying is that they don't want to fight. Well, I do. Health care is a basic human right," Warren said to applause. "We fight for basic human rights, and that's why I'm fighting for Medicare for All."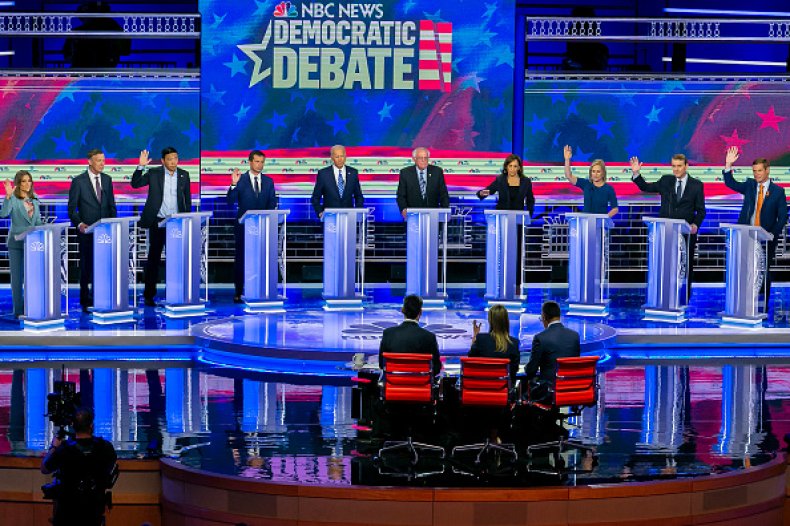 On the second night of the debate, it was Harris who stole the show in her biggest breakout moment since launching her 2020 White House bid in January. The California senator leaned into her experience as a former prosecutor as she addressed issues of race and immigration. But the most significant moment came during her emotional exchange with Biden on the issue of race. While she took a moment to tell the former senator from Delaware that she didn't think he was a "racist," she went on to criticize his record of voting against busing for black students.
"There was a little girl in California who was part of the second class to integrate her public school and she was bused to school every day. And that little girl was me," Harris said. "So I will tell you on this subject, it cannot be an intellectual debate among Democrats and we have to take it seriously."
Biden attempted to defend his record, but his response largely fell flat. "My time's up, I'm sorry," he concluded.
The former vice president was dubbed one of the biggest losers of the first round of Democratic debates as he struggled to effectively defend himself against attacks from his rivals about his age and his voting record in Congress.
According to an analysis by FiveThirtyEight, Warren and Harris overperformed during the first debate while Biden underperformed.
Even still, early 2020 polling has shown Biden as a clear leader in the Democratic primary and dominant victor over President Trump. According to an Economist/YouGov poll released last week before the first debates, Biden had 6 point lead over his closest Democratic competitor. The survey showed 24 percent of Democrats polled would vote for Biden if the primary were held today. Warren was second to Biden, with 18 percent support.
Trump's own internal polling conducted in March showed Biden defeating him in key states like Florida, Pennsylvania and Wisconsin. While the president has repeatedly denied the negative poll numbers, he has made Biden his biggest target of all 24 Democrats running for president.
When asked during the debate to share his first priority as president, Biden said to "make sure we defeat Donald Trump."