Democrats One or Two Votes Shy of GOP Support Needed to Block Trump's Supreme Court Nominee
Senate Democrats need the help of just four of their colleagues from across the aisle in order to block a Supreme Court nominee that's expected in the coming days from President Donald Trump.
But as of Monday evening, it appeared Republicans had enough support to fill the shoes of Justice Ruth Bader Ginsburg—potentially even before Election Day.
"We've got the votes to confirm Justice Ginsburg's replacement before the election," Senate Judiciary Committee Chairman Lindsey Graham (R-S.C.) confirmed Monday night on Fox News. "We're going to move forward in the committee, we're going to report the nomination out of the committee to the floor of the United States Senate so we can vote before the election."
Only one GOP lawmaker, Senator Mitt Romney, had yet to break his silence as of Monday night. The Utah Republican strongly indicated Tuesday morning that he'll side with Senate Majority Leader Mitch McConnell (R-Ky.) and support Trump's yet-to-be-named nominee. In a statement, Romney said that historical precedent suggests that election-year nominees aren't considered only if they are from the opposing party.
"My decision regarding a Supreme Court nomination is not the result of a subjective test of 'fairness' which, like beauty, is in the eye of the beholder," Romney said. "It is based on the immutable fairness of following the law, which in this case is the Constitution and precedent."
"If the nominee reaches the Senate floor," he added, "I intend to vote based upon their qualifications."
Even if Romney would oppose confirming a new justice in the run-up to the November 3 election, it already appeared almost certain that Democrats will be one vote shy. Senators Susan Collins (Maine) and Lisa Murkowski (Alaska), some of the chamber's most vulnerable Republicans, have been the only GOP senators to say the winner of the presidential election should determine who replaces Ginsburg. The liberal justice died on Friday at the age of 87 of complications from pancreatic cancer.
Several Republicans in tough re-election races, including Graham, Cory Gardner (Col.), Thom Tillis (N.C.), Martha McSally (Ariz.), Kelly Loeffler (Ga.) and Joni Ernst (Iowa), have issued statements or interviews that indicate they would vote to confirm a Trump nominee, even before the election.
McConnell on Monday vowed to hold a vote on Trump's forthcoming nominee "this year," with strong suggestions that he'll try to confirm them prior to Election Day.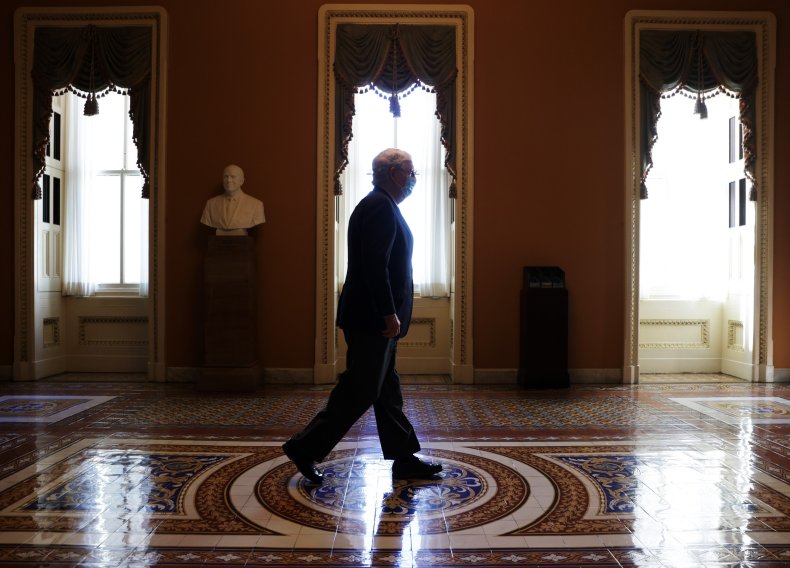 Democrats' final sliver of hope lies with Ernst, whose statement was vague and said she would "evaluate the nominee" once a final name is offered. Trump has a shortlist of five potential choices. His final decision is expected sometime this weekend.
"Once the president puts forward his nominee for the Supreme Court, I will carry out my duty—as a member of the Senate Judiciary Committee—to evaluate the nominee for our nation's highest court," Ernst said in a statement on Monday.
Democrats have lambasted their Republican colleagues for pushing to replace Ginsburg, who died 46 days before the election, by Election Day. Democrats have accused GOP lawmakers of hypocrisy because McConnell, with the support of Republicans, blocked President Barack Obama's nominee in 2016 more than 200 days before that year's November contest.
Republicans have defended their newfound position by arguing that unlike under Obama, the same party now controls the White House and the Senate, acting as a mandate from the American people to confirm judicial nominees.
"When a president exercises constitutional authority to nominate a judge for the Supreme Court vacancy, the Senate must decide how to best fulfill its constitutional duty of advice and consent," Gardner, who is also one of the chamber's most vulnerable GOP members, said in a statement Monday. "Should a qualified nominee who meets this criteria be put forward, I will vote to confirm."
Senator Chuck Grassley, who is not a vulnerable member but who was previously considered a toss-up, also threw his support behind confirming Trump's nominee on Monday. This despite the former Senate Judiciary chairman saying in July that he would oppose moving forward so close to a presidential election.
"Make no mistake: if the shoe were on the other foot, Senate Democrats wouldn't hesitate to use their Constitutional authority and anything else at their disposal to fill this seat," Grassley said in a statement.
"Over the years, and as recently as July, I've consistently said that taking up and evaluating a nominee in 2020 would be a decision for the current chairman of the Judiciary Committee and the Senate majority leader," Grassley continued. "Both have confirmed their intentions to move forward, so that's what will happen. Once the hearings are underway, it's my responsibility to evaluate the nominee on the merits, just as I always have."
This story was updated to add remarks from Sen. Graham on Fox News. It was further updated on Tuesday to state Sen. Romney's updated position.