Democrats Ossoff and Warnock Hold Razor-Thin Leads Over Loeffler and Perdue in Georgia as Runoffs Approach
Georgia Democratic Senate candidates Jon Ossoff and Raphael Warnock currently hold a razor-thin lead over Republican Senate incumbents David Perdue and Kelly Loeffler respectively as the Peach State's runoff elections approach, according to a new AARP poll.
The poll, which was conducted by Fabrizio Ward/Hart Research, found Ossoff leading Perdue by two points, as 48 percent of likely Georgia voters sided with the Democrat and 46 percent backed the Republican.
Ahead of the state's special elections, Loeffler—who was appointed by Governor Brian Kemp, replacing Johnny Isakson after he resigned from office before the end of his term—currently trails Warnock by just one point.
According to the AARP survey, 47 percent of respondents said they'd vote for Warnock, while 46 percent chose Loeffler.
Across partisan lines, the races are highly divided, with 45 percent planning to vote for both Democratic candidates, while 44 percent said they plan on voting for both Republicans.
The poll surveyed 1,250 potential Georgia runoff voters, including 857 voters aged 50 and above from November 30 to December 4. It reported a margin of error of plus or minus 3.8 percentage points.
Among those aged 50 and over, the poll found slightly different results, with both incumbent Republicans ahead. From these respondents, Loeffler and Perdue both received 53 percent of support, while Ossoff and Warnock garnered 42 percent.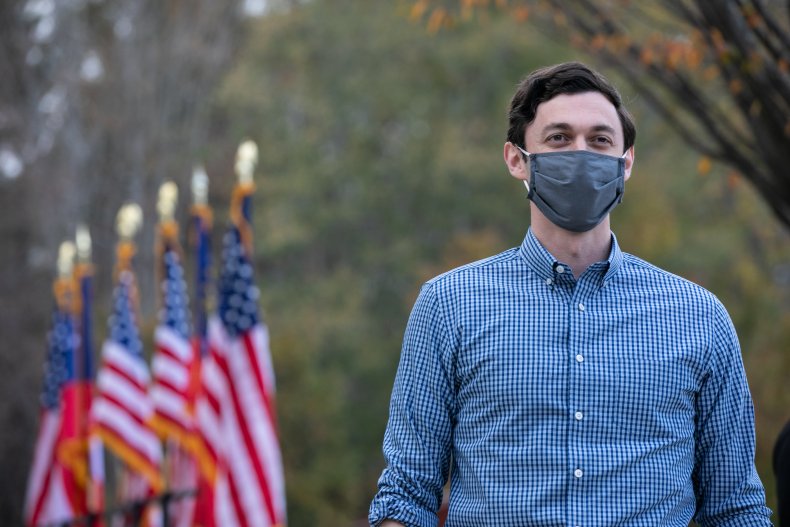 "The races are highly polarized along partisan lines, with nine in 10 50+ voters planning to vote either for both Republicans (51%) or both Democrats (40%)," it stated. "Perdue's and Loeffler's advantages stem in part from older Georgians' higher level of identification with the Republican party, as 50+ Democrats and 50+ Republicans are both voting similarly to partisans of all ages."
Additionally, the survey found that "Georgia voters recognize the national stakes of these decisions, but the impact is uncertain."
By a three-point margin (43 to 40 percent), the respondents said partisan control of the Senate was their reason to support both incumbent Republican candidates. Seventeen percent said they were not sure.
Meanwhile, 51 percent of voters who sided with both Democratic candidates said their reasoning was based on their desire to have senators in the state who cooperate with President-elect Joe Biden. In comparison, 40 percent of those who plan to vote for both GOP senators said their reasoning was based off of their desire to keep Biden "in check."
The poll's findings come less than a month before the state's runoff elections, which are set to take place on January 5.
Warnock's campaign declined to make any further comment following Newsweek's request. Newsweek also reached out to the campaigns for Perdue, Loeffler and Ossoff, but did not receive a response in time for publication.