Democrats Outspend Republicans by $33 Million With One Month to Georgia Senate Runoffs
The Democratic candidates running for Georgia's two Senate seats have outspent the state's Republican incumbents by more than $33 million, with just one month remaining until January 5's runoff elections.
The two parties are pouring money into their candidates because the outcome of the runoffs will determine whether Republicans retain control over the U.S. Senate. Republicans currently hold 50 seats in the next Senate. If both of Georgia's Democratic candidates win, Democrats would also hold 50 seats, and Vice President-elect Kamala Harris would break any tie votes after the inauguration.
Georgia Senators Kelly Loeffler and David Perdue are both headed into the runoff elections after neither won 50 percent or more of the total votes cast during the November 3 election. Loeffler, who was appointed to fill former Senator Johnny Isakson's seat by Georgia Governor Brian Kemp in late 2019, will face Democrat Raphael Warnock on January 5. Perdue, who has represented Georgia in the Senate since early 2015, will face Democrat Jon Ossoff.
According to data compiled by advertising tracking company AdImpact, formerly known as Advertising Analytics, the four campaigns have spent more than $189 million on runoff election advertising between early November and early December. The agency's data shows how each candidate's campaign has designated ad spending for broadcast, cable, satellite, radio and digital platforms in November, December and January.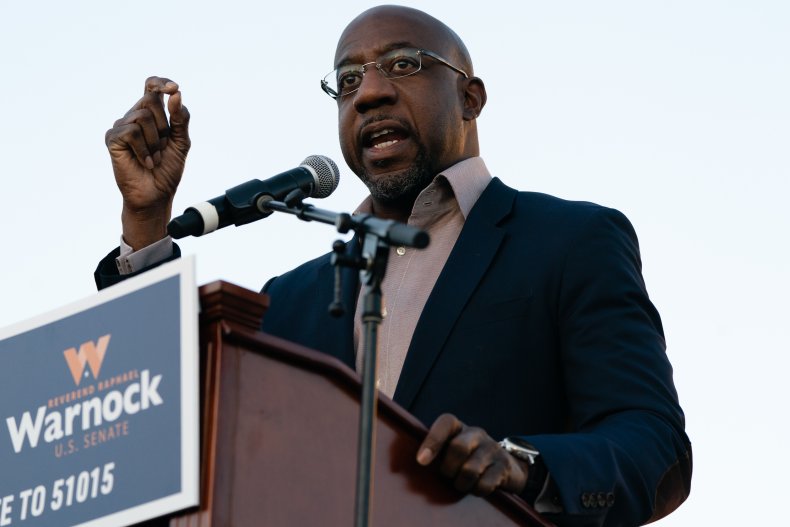 By Friday, AdImpact's data showed that Warnock spent just over $59 million thus far, making his campaign the biggest spender on advertising. Ossoff's campaign was behind Warnock's, with nearly $52 million spent on advertising. Both candidates designated between $36 million and $39 million of their spending totals for broadcast advertising, the data showed.
Compared with the Democrats, the Loeffler and Perdue campaigns have each spent millions less in their respective races. According to AdImpact's data, Loeffler's campaign has spent just under $45 million on advertising and Perdue's campaign more than $33 million. Like Warnock and Ossoff, both Republican candidates are emphasizing broadcast advertising, with each campaign spending under $26.5 million in that area.
In contrast with the runoff election advertising, each campaign spent significantly less between the start of 2020 and the general election. AdImpact's data shows that Ossoff spent the most before November 3, with about $31.8 million invested in pre-election advertising, while Perdue spent the least, at just under $14 million.
With so much riding on the runoffs, Republicans and Democrats across the country have been rallying their bases in efforts to financially assist their candidates' campaigns. By mid-November, The New York Times reported that Warnock and Ossoff had each raised close to $40 million, while Republicans raised about $32 million for Loeffler and Perdue in the six days immediately following the general election.
On Thursday, the president of the Senate Leadership Fund, Steven Law, told Fox News that Republicans raised $71 million in support of the Loeffler and Perdue campaigns between Election Day and November 23.
Newsweek reached out to the Loeffler, Ossoff, Perdue and Warnock campaigns for comment on fundraising totals ahead of the runoffs but did not hear back in time for publication.