Senate Democrats on Tuesday sought to officially rebuke President Donald Trump for having federal authorities disperse peaceful protesters outside the White House by using tear gas, among other means.
The resolution, a symbolic measure not often used against a sitting president, states that Congress "condemns the President of the United States for ordering Federal officers to use gas and rubber bullets against the Americans who were peaceably protesting" in Lafayette Square, a small park on the north side of the White House.
The text goes on to accuse Trump of "violating the constitutional rights of those peaceful protestors" because officials used forcible measures, including tear gas, smoke canisters, rubber bullets and riot shields, to quickly disperse the large crowd so the president could walk to the historical church across the street for a photo op with a Bible.
Senate Minority Leader Chuck Schumer's (D-N.Y.) attempt to pass the resolution by unanimous consent was blocked by Majority Leader Mitch McConnell (R-Ky.).
The move comes the day after another night of protests in the nation's capital and the deployment of thousands of National Guard troops in an attempt to quell the unrest that resulted in violence over the weekend. In other cities, protests on Tuesday night turned deadly.
Curfews in cities across the country, as well as the District of Columbia, have been unable to stem the protests and violence that are continuing over the May 25 killing of a black man, George Floyd, by a Minneapolis white police officer.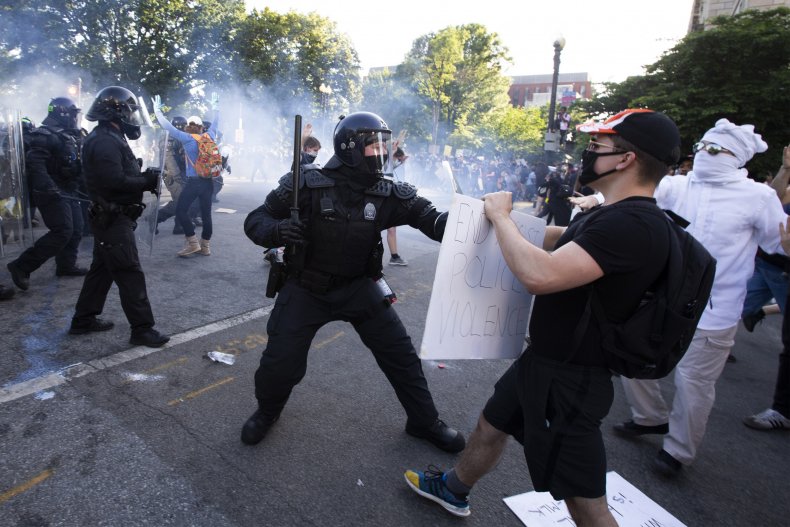 Democrats were quick to chastise Trump for how he handled the protesters on Monday. The president has branded some demonstrators as domestic terrorists.
As federal law enforcement officials dispersed what was previously a peaceful crowd, Trump addressed the nation for the first time since the onset of the racial injustice protests. He vowed to end the violence by deploying military troops to states that do not mobilize their National Guard to combat violent protests.
Trump then took a short walk that was reportedly designed to be a show of strength from the White House's Rose Garden through Lafayette Park to St. John's Episcopal Church, where a fire set by looters broke out Sunday night. He stood for the cameras in front of the boarded-up church across from the White House while raising a Bible, a move that earned him searing ridicule from a top bishop. Trump did not offer a prayer.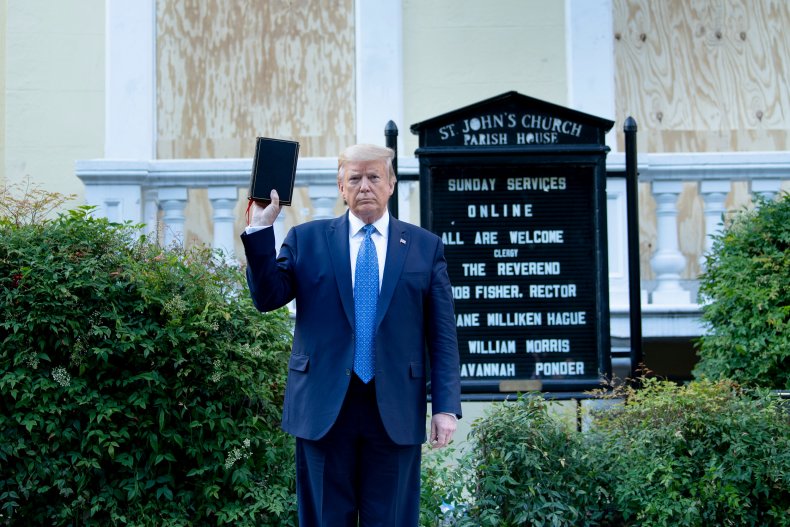 "If Donald Trump wants to gas someone next time, start right here. If he wants to shoot somebody with our federal officials, rubber bullets, start right here," Sen. Cory Booker (D-N.J.) told reporters inside the U.S. Capitol building as he thumped his chest with his fist. "If he wants to trample them with horses while they peacefully assemble, come to this body. Because what he did to those Americans in that square yesterday, he did to all of us. Shame on him."
Senator Tammy Duckworth (D-Ill.) labeled Trump a "draft-dodging, wannabe tinpot dictator" who is perverting "the honor of our military" by threatening to use it against Americans. Duckworth is a former U.S. Army lieutenant colonel who lost her legs during the Iraq War and is confined to a wheelchair.
The Democrats' resolution also condemned the violence that has played out on streets across America. It states that "violence and looting are unlawful, unacceptable and contrary to the purpose of peaceful protests."
Despite curfews, including in D.C., violence continues to unfold at some of the demonstrations in various states.
The U.S. Park Police—which along with the U.S. Secret Service, FBI, military police and local police agencies dispersed the White House protesters—denied to local news station WTOP that USPP agents deployed tear gas. Media reports and eyewitness accounts describe difficulties seeing and breathing, irritations consistent with tear gas. The USPP did not respond to Newsweek's request for comment.
Many Senate Republicans have so far defended Trump's actions, denied accounts that tear gas was ever used or have declined to comment about the chaotic events that unfolded on the streets of Washington Monday evening.
However, at least three Republicans—Ben Sasse of Nebraska, Tim Scott of South Carolina and Susan Collins of Maine—expressed concern over the president's actions.
"It was painful to watch peaceful protesters to be subjected to tear gas in order for the president to go across the street to a church that I believe he's attended only once," Collins said. "I thought that the president came across as unsympathetic and as insensitive to the rights of people to peacefully protest."