Democrats Planned a Pink Wave 2.0—And They're on Track to Get It
Nearly 75 percent of the women who Democrats have tapped to flip House seats have recently outraised their GOP opponents and are within striking distance of winning, a Newsweek analysis showed—the strongest showing yet that 2020 could bring another pink wave reminiscent of 2018.
House Democrats are looking to turn 31 red districts blue as part of their "Red to Blue" program, confident in their ability to not only hold on to their majority but also to expand it. As part of this plan, Democrats hope to increase the number of women serving in the House and potentially set a new record. All but five of these 31 candidates are women.
Women are significantly underrepresented in Congress. But if a few of them can win while Democrats maintain their vulnerable female members, the party will upstage their 2018 milestone of electing the most women to serve in Congress.
"House Democrats are on offense," Democratic Congressional Campaign Committee (DCCC) Chairwoman Cherri Bustos (D-Ill.) told Newsweek in a statement.
Of the 26 Democratic women challengers in the DCCC's Red to Blue program, 19 either brought in more cash than their GOP opponents in the second quarter or have raised more total money, a Newsweek analysis of campaign finance filings showed. A mix of recent internal and public polling for the individual races also suggests Democrats are within striking distance of winning several historically Republican districts, which went for President Donald Trump.
For example, Democrat Christina Hale leads Republican Victoria Spartz in Indiana by six points. Democrat Candace Valenzuela is also up by six points in Texas against Republican Beth Van Duyne. And two recent polls showed Independent Alyse Galvin, who is backed by Democrats, ahead of GOP Representative Don Young of Alaska.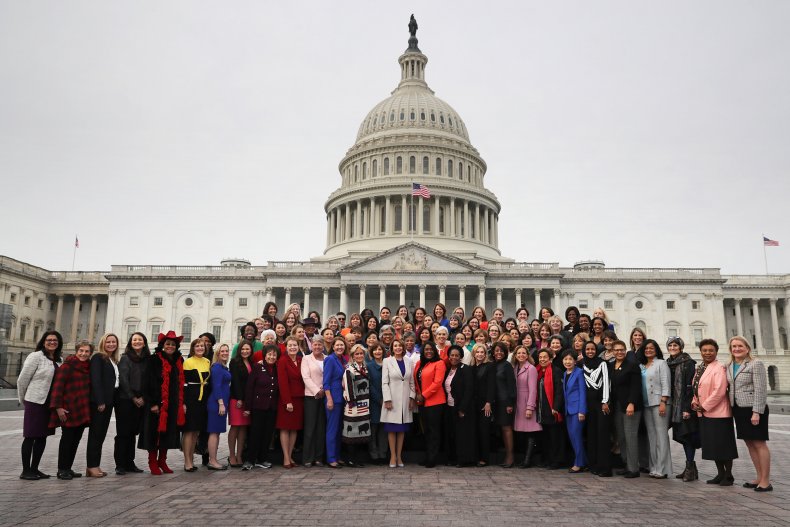 "It means our congressional body looks more like America. The better represented the American people are, the better our policies," Valenzuela said. She's vying to become Texas' first Afro-Latina congresswoman in a race against GOP Rep. Kenney Marchant.
Democrats aren't alone in running a record number of women candidates in the House this election cycle. The GOP is also attempting to address the underrepresentation of women—they comprise 50 percent of the population—in Congress, too. However, nationally, more than 60 percent of the nearly 600 women candidates running in the House are Democrats.
Women currently make up only about 23 percent of the House, the vast majority of which are Democrats.
"What's with that?" said Alyse Galvin. She's an independent but will caucus with the Democrats if she's successful in becoming the first female Alaskan in the House by unseating the longest-serving member of Congress, Rep. Don Young. He's been in office since 1973—47 years.
"Women know how to get things done, we know crisis management like nobody's business, especially moms," Galvin said.
Democrat Christina Hale, who's up against Republican Victoria Spartz for Indiana's 5th Congressional District, said it's time for women to bring "practical, empathetic leadership" to the nation's capital.
"I'm proud of the fact that so women aren't waiting to be tapped on the shoulder," Hale said. "They say, 'I got this, I'm gonna run.' And that's a great thing for the country."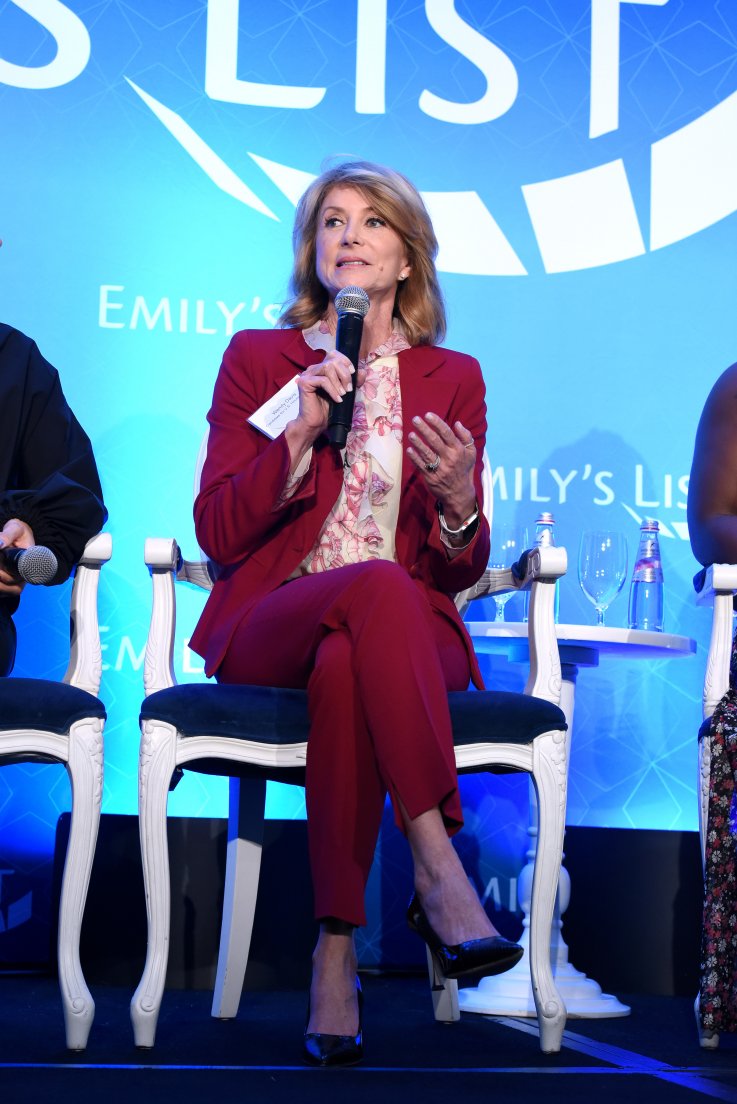 Wendy Davis speaks onstage during EMILY's List Brunch and Panel Discussion "Defining Women" at Four Seasons Hotel Los Angeles at Beverly Hills on February 4 in Los Angeles, California.
Getty Images for EMILY's List/Getty
Galvin, Valenzuela and Hale are just three of the more than two dozen women Democratic challengers that DCCC has its hopes set on. All three had recent polling that showed them beating their Republican opponents. Trump carried the district Hale is running in by 12 points.
House Democrats are looking to once unimaginable states and districts for Democrats to gain seats, including Texas, Indiana, Missouri, Montana and Alaska.
Democrat Wendy Davis, whose 2014 unsuccessful bid for Texas governor raised her national prominence, was trailing Rep. Chip Roy (R-Texas) by just a single point in an internal poll last month.
The race between Democrat Kathleen Williams and Republican Matt Rosendale for Montana's only seat is a virtual toss-up, according to polls. Trump won the state in 2016 by 20 points.
"Montana—who would have ever thought, in this congressional seat, that we are going to be in play in Montana?" Bustos said.
Coupled with major fundraising hauls by Democrats' most vulnerable incumbents—most of whom are defending districts previously carried by Trump—and a president on the ballot with waning poll numbers, the party can only envision its House majority expanding. DCCC raked in nearly $40 million in the second quarter, marking another fundraising period where the group eclipsed the National Republican Congressional Committee (NRCC), which brought in roughly $35 million.
The DCCC's "spending to defend incumbents directly contradicts their claims they are on offense," NRCC spokesman Michael McAdams told Newsweek in a statement, referring to Democrats' spending habits for Fronteline Democrats who are fighting to maintain seats they flipped in 2018.
"If they really were going to back these long-shot socialist candidates, they'd do more than just run low-dollar digital ads in these districts," McAdams added.
The DCCC could add up to a dozen candidates to its Red to Blue program by the time election day rolls around. More than a dozen of the current candidates, including Hale and Valenzuela, received the endorsement of former President Barack Obama on Monday.
"House Democrats have built a massive battlefield and recruited doctors, judges, combat veterans and teachers who are helping us reach deep into Trump-won territory," Bustos said.
This story was updated to include a statement from the NRCC.