On Monday, James Clyburn, the Democratic U.S. Representative for South Carolina, warned Steve Scalise, Republican U.S. Representative for Louisiana, that he will no longer recognize Republicans to speak in meetings of the House Select Subcommittee on the Coronavirus Crisis if they are not wearing face masks.
Clyburn serves as Chair of the coronavirus subcommittee and must formally recognize House members before they're allowed to speak.
In a June 29 letter to Scalise, Clyburn expressed his "profound disappointment" that Republican members of the subcommittee refused to wear masks at its Friday, June 26 meeting.
"Masks save lives," the letter stated. "Wearing masks at indoor gatherings is strongly encouraged by the Centers for Disease Control and Prevention (CDC), and the Attending Physician of the Congress has issued, clear, unequivocal guidelines that require Members to wear masks at all committee hearings."
Despite posting signs about the masks outside of the meeting room, offering disposable masks for members to use and reminding subcommittee members about his mask requirement, Clyburn wrote, "Every single Republican Member of the Subcommittee refused to comply."
"Unfortunately, the Republican Members' refusal to wear masks undermined the safety of everyone in the hearing room," Clyburn added.
Clyburn's letter said that any members who don't wish to wear masks can attend meetings remotely by video conference.
Newsweek reached out to Scalise's office for comment. This story will be updated with any response.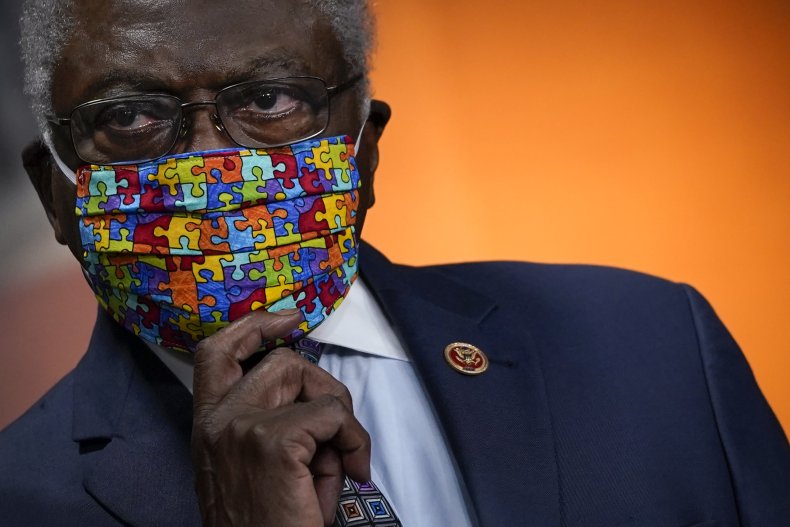 On Friday, Scalise said that face masks were an extra precaution not always used in other House proceedings.
"I understand doctors might look at things differently and want to give even extra precautions, but the precautions that have been out there are clearly being followed," Scalise said.
"None of us would want to put anybody else in harm's way. It's why the House has been having votes on the House floor safely, properly, with social distancing, with the necessary supplies to make sure we can wipe down spaces," he added.
While the most visible Republican leader, President Donald Trump, has said that he supports the CDC recommendations to wear masks in public, he himself has also said, "I don't think I am going to be doing it." He has largely declined to wear masks while in the public eye since the epidemic began.
His usual refusal to publicly wear a mask may reflect a partisan divide over face masks in general. A May 2020 poll by the Kaiser Family Foundation found that 89 percent of Democrats report wearing a mask either usually or every time they leave home—only 58 percent of Republicans do the same.
However, a greater number of other Republican leaders have started voicing support for mask-wearing, including Vice President Mike Pence. On Sunday, Pence urged Texans to wear facial coverings after he spoke at a 2,000-person church event where masks weren't required.
On May 26, Ohio's Republican Governor Mike DeWine said via Twitter, "Wearing a face covering is not about politics—it's about helping other people." On the same day, Republican Senate Majority Leader Mitch McConnell of Kentucky posted an Instagram photo of himself in wearing a mask.
Republican U.S. Representative Fred Upton of Michigan added "#wearyourmask" to his Twitter handle and posted an image of himself wearing a mask and asking citizens to "remain vigilant." Republican John Cornyn of Texas also posted an Instagram suggesting that his followers wear masks when social distancing isn't possible.