Democrats Poised to Kill 'Skinny' GOP Stimulus as Republicans Corral Party Support
Prepare for partisan barbs.
Congress is headed for an impasse—once again.
Senate Republicans on Thursday will try to advance their slimmest coronavirus stimulus to-date, a roughly $500 billion proposal that Democrats will be able to block because of the 60 votes needed to advance the bill to final passage.
"[Senate Majority Leader Mitch McConnell] is not interested in passing a bill, not interested in helping the American people who are in pain. Just scoring political points," Senate Minority Leader Chuck Schumer said Wednesday. "He seems to be the secretary of cynicism."
"It won't pass on Thursday, and we'll be right back where we are today," the New York Democrat added.
Those in Washington knew how this latest attempt to pass relief would end as soon as Republicans unveiled their bill earlier this week: Republicans will say Democrats would rather do nothing than do something while Democrats will say Republicans are unwilling to return to the negotiating table and offer substantive aid.
The GOP proposal includes money for small-business loans under the Paycheck Protection Program, reopening schools, the U.S. Postal Service, coronavirus testing, $300 weekly enhanced unemployment benefits that last through December 27 and legal liability protections.
What it does not include are several Democratic demands, including a higher rate of boosted jobless benefits, another round of $1,200 checks (which the White House supported), more state and local funding, rental assistance and food security.
But for Republicans, Thursday's vote is centered on a major election peg: Can Republicans, for the first time since the historic $2.2 trillion Cares Act passed in March, coalesce around a singular stimulus measure? GOP leadership has their sights set on scoring 51 votes, majority support that can offer cover for vulnerable members when they return home to their districts just weeks before the election.
"I think the opportunity to signal their support for a targeted, responsible and responsive package this week is going to be essential," said Sen. Todd Young (R-Ind.), chair of the National Republican Senatorial Committee. "If far-left Democrats refuse to agree to a package that includes priorities of theirs...then I would challenge them to try and go back and sell that to their constituents."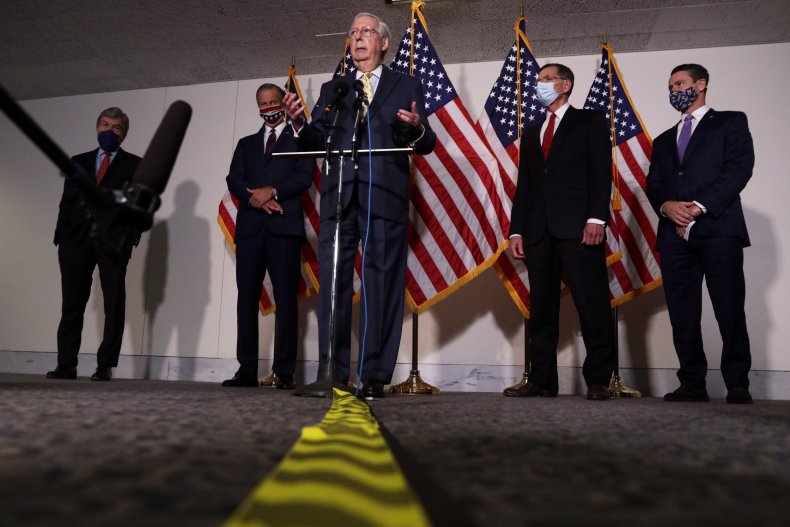 Notably, a $1 trillion GOP measure unveiled in late July failed to muster enough support among Republicans to even receive a vote. McConnell estimated at the time that roughly 15 to 20 GOP senators were opposed to any costly piece of legislation amid a skyrocketing national debt.
"Republican senators have a chance this week to at least nail down some of their priorities, if not everything," said Sen. Roy Blunt (R-Mo.), the No. 4 Republican. "It's not the vote I'd like to have, but I hope it's helpful to them because they've all been trying to work hard to get to a conclusion."
Republicans appear primed to get their 51 votes, which would allow them to lose two of their members, assuming no Democrats cross the aisle. Fiscal conservatives like Sen. Pat Toomey (R-Pa.), who balked at the previous $1 trillion proposal, said he will support it. And at least one moderate Democrat, Sen. Doug Jones (Ala.), said as of Wednesday that he remained undecided.
At least one Republican, Senator Rand Paul (Ky.), has signaled he will vote against the measure, citing his opposition to additional spending.
"I'm optimistic that we'll have a good vote on our side," McConnell, a Kentucky Republican, told reporters. "I would hope this would appeal to some of the Democrats."
With just 54 days until the election, this could be Congress' final chance at passing economic relief. The White House has rebuffed demands from House Speaker Nancy Pelosi (D-Calif.) and Schumer to increase its offer of $1.3 trillion to roughly $2.2 trillion—a price point midway between the Trump administration and the HEROES Act that the House passed along party lines this summer.
Blunt had blunt words for the near-term prospects of a major stimulus bill getting done if Congress only passes a stop-gap spending measure this month to keep the government open, and then skips town for several weeks of campaigning.
"My guess would be that if we leave in September with a [continuing resolution]," Blunt said, "we will not come back to do anything before the election."
Senate Appropriations Chair Richard Shelby (R-Ala.), who said he spoke with McConnell and Treasury Secretary Steve Mnuchin—a key negotiator for the White House—was less optimistic. Shelby said Congress may never be able to pass more aid, even after the election during a lame-duck session.
"Unless something really broke through," he said, "it's not gonna happen."
Democrats Poised to Kill 'Skinny' GOP Stimulus as Republicans Corral Party Support | U.S.